10 Best Websites to Watch TV Shows for Free
In today's era of affordable and widespread internet access, having a television with a satellite dish is no longer necessary. The trend has shifted. Instead of shelling out a fixed fee for streaming your beloved shows on TV, you now have the liberty to enjoy your favorite series online whenever you please.
A range of top-notch streaming websites offers the chance to legally watch TV shows for free. While this concept has been around for a while, concerns about the perils of downloading from the web linger.
Fear not; legitimate and secure platforms offer free content sans tricky obligations. Let's explore them.
Part 1. List of Best Websites to Watch TV Shows For Free
Disclaimer: The information provided in this article is intended for educational purposes only. HitPaw does not have ownership, hosting, operational control, reselling rights, or distribution of streaming applications, add-ons, websites, IPTV services, or related content.
1. AllTVshows
Looking for a way to catch up on your favorite TV shows without shelling out money? AllTVshows is here to help. It's an organization that provides free access to a wide range of TV shows and movies.
This platform is a bridge, pulling content from various websites to provide a seamless streaming experience. Moreover, subtitles are available for those who aren't fluent in English. Missed the latest episode due to a hectic schedule? No worries, you can now watch all those missed episodes.
The bonus is that you can even download the episodes for offline viewing. The built-in browser on the site makes navigation smooth, and the download button beneath the title image ensures you can enjoy your shows anywhere, anytime.
2. Project Free TV
For those who want to dive straight into TV shows without dealing with sign-ups or downloads, Project Free TV is a golden find. This platform houses an extensive collection of TV shows, from the latest releases to timeless classics.
Its database is regularly updated, guaranteeing you have enough content to watch. The videos are presented in high-definition quality, adding to your viewing pleasure. The initial impression might be a bit ad-heavy. But once the show starts, the viewing experience becomes uninterrupted.
3. Tubi TV
Tubi TV is a treasure trove for TV series enthusiasts, particularly those seeking content that might not be available on other platforms. Tubi TV eliminates the need for registration or sign-in hassles, offering a vast selection of movies and TV shows in both English and other languages.
Its user-friendly interface ensures easy navigation, and the absence of ads heightens your enjoyment. One of the platform's strengths is its compatibility with Android and iOS apps, making on-the-go streaming a breeze. The only downside is that it primarily features English content and might offer a limited range of 4K content.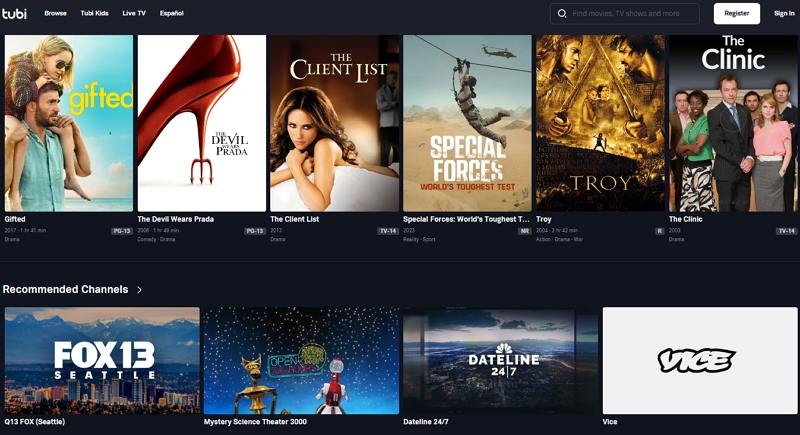 4. TV Muse
If you're the kind who loves to have options – stream or download – TV Muse could be your go-to. This streaming site not only allows you to watch TV series episodes but also enables you to download them for offline viewing. With a reputation for hosting many TV shows and movies, TV Muse is a favorite destination for many.
Its user-friendly design, marked by ample white space, is easy on the eyes. Unlike many other streaming websites, TV Muse doesn't bombard you with pop-up ads, ensuring a smooth experience. While the site's main focus is TV shows, it also boasts a noteworthy collection of movies. Plus, features like the TV Schedule or Calendar help you prepare for upcoming releases.
5. Soap2Day
For a website that offers a vast library of TV series, Soap2day takes the cake. The platform allows you to filter shows based on various criteria, such as year, genre, IMDB rating, and popularity. Searching for a specific series is a breeze using the search bar.
The best part? No need to create an account to start watching. However, be warned that you might encounter irritating ads and pop-ups without security tools like NordVPN, Brave Browser, and an ad blocker. Besides TV series, Soap2day is also a solid option for movies and sports streaming.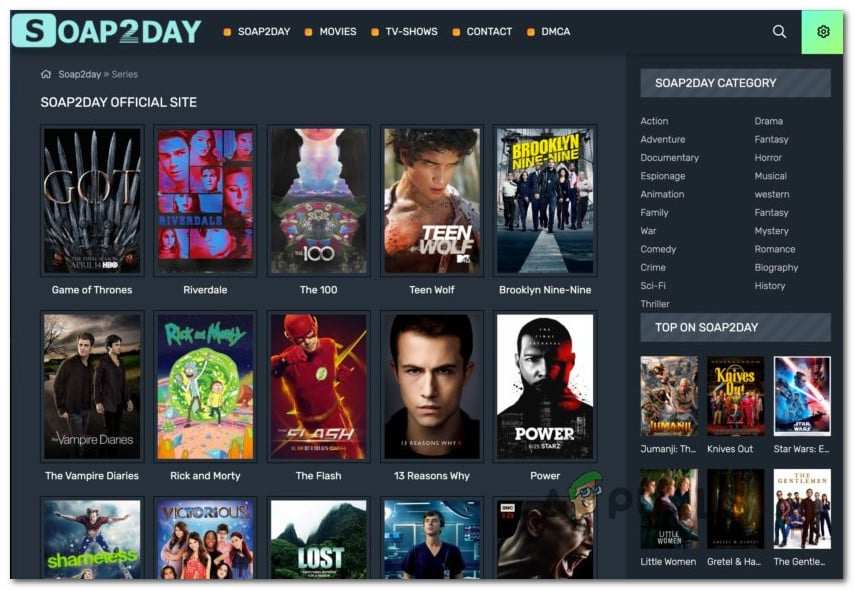 6. WatchSeries HD
If you're a true TV show enthusiast, Watch Series is the place for you. This platform lets you catch up on shows you missed on television. It offers full episodes of your favorite TV series for free, saving you the hassle of hunting them down elsewhere.
The website provides multiple video links, giving you options to watch TV shows online. These links often offer good video quality, though some might take longer to load due to being hosted on different servers. Patience rewards you with the best viewing experience for your cherished TV series.
Watch Series boasts good video quality, enhancing your experience of watching your beloved shows. It's a unique platform that lets you get closer to your favorite TV series online, all without spending a dime.
7. TV Land
TV Land, as its name implies, is your virtual land of TV shows. This platform hosts various genres like animation, war & politics, and Western. With 720p and 1080p HD resolutions, you can enjoy these shows with high-quality visuals.
TV Land is home to popular series such as "Younger" and "Teacher," even featuring award-winning shows. Unlike some websites, TV Land sticks to its TV roots by adhering to a schedule. If you're curious about when your favorite series airs, they provide a TV schedule guide for your convenience.
8. Fmovies
FMovies is often touted as one of the finest destinations for TV show downloads. With around 14.26 million visits, it's a user favorite. Besides an extensive TV show collection, FMovies also offers a wide range of downloadable movies. From horror to romance, it covers diverse genres, spanning nations like India, Spain, South Korea, and China.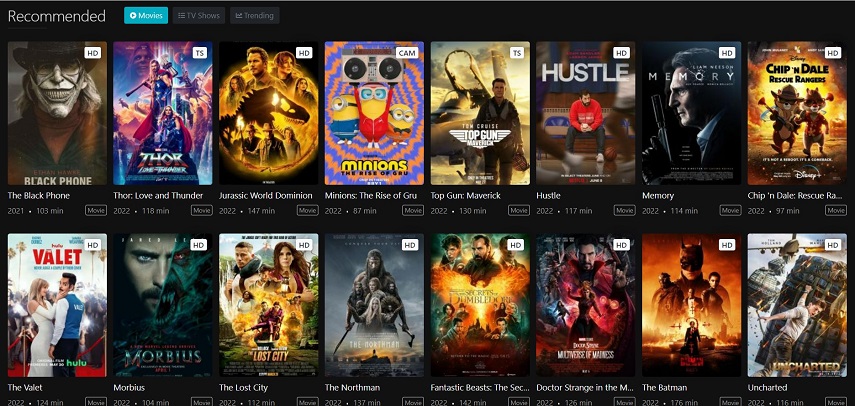 The site accommodates varying network speeds, enabling streaming of recent episodes. If you're on the move, FMovies' official Android app ensures you never miss an episode.
9. Crackle
Crackle is a top-tier web series streaming site, though it's not accessible in India without a VPN. Its content is categorized for easy navigation, spanning comedy, action, drama, and crime genres. What's refreshing is the optional registration – you're not compelled to sign up.
Moreover, Android and iOS apps are available for those who want to watch TV shows on the go. While Crackle is a gem for viewers, it's only accessible in the US and commences with ads before your chosen content.
10. Pluto TV
Pluto TV takes streaming to another level with its live TV channel offerings spanning various genres like soaps, news, and sports. You can access it on computers, tablets, and mobiles, offering ultimate flexibility. The platform's user-friendly design ensures hassle-free navigation.
Pluto TV mimics a cable-like experience, making familiar content available quickly. The only catch is it's currently only available within the US, and there's no DVR function for live streams.
These platforms stand out for their unique offerings and convenience in online TV show streaming. Whether you're an avid binge-watcher or prefer scheduled TV, there's something for everyone on these websites.
Part 2. How to Download TV Series to Watch Offline
If you're eager to watch your favorite TV series offline, we recommend using HitPaw Video Converter – a user-friendly HD video downloader. This powerful tool supports downloading shows from over 10,000 websites, including popular platforms like YouTube, Facebook, and Vimeo.
Highlighted Download Features in HitPaw Video Converter
Download HD TV shows, movies, videos and music from 10000+ sites without subscription
Download YouTube videos, playlist and music to any format you like
Download YouTube live stream
Save your favorite TV shows to 8K/4K resolution
Download subtitle along with video
Batch downloads support
120x faster download speed
The Steps to Download TV Shows from YouTube
Step 1:

Free download and install HitPaw Video Converter. After opening the software, navigate to the Download tab.

Step 2:Go to your web browser, open the website containing the video/TV show you wish to download, and copy its URL from the browser address bar.

Step 3:Return to HitPaw Video Converter, and click the Paste URL button. This action automatically transfers the copied link to the interface, prompting a dialog window. Alternatively, you can directly drag and drop the video URL into the provided box.

Step 4:Upon pasting the URL, HitPaw Video Converter will swiftly analyze the link. The program will display the video and audio details in the original video. It's worth noting that you can download videos in resolutions up to 8K using this tool. You can select the file type, subtitles, and whether to download the cover thumbnail.

Step 5:Initiate the downloading process by clicking the Download button. You can access to the downloaded TV show for offline playback after downloading is completed.
With HitPaw Video Converter, securing your beloved TV series for offline entertainment has never been easier. Enjoy uninterrupted viewing anytime, anywhere.
The Bottom Line
In a world of screens and stories, these top 10 websites are places to catch TV shows for free. With user-friendly interfaces, they make streaming a breeze. From timeless classics to trending hits, there's a show for everyone.
Watching TV shows online sometimes are not available; thus you can use HitPaw Video Converter to download TV series to computer for offline watching. This video downloader supports most of the vide sharing sites and supports downloading videos up to 8k resolution.