Where to Watch 3D Movies Online in 2023
Gone are the days when watching 3D movies was online possible on big screens and theatres. Due to advancements in technology, viewers can now watch 3D from the comfort of their homes. With the help of 3D-compatible TVs and laptops and computers as well as other gears, users can also experience watching 3D movies online. Even though this is possible, many users are not aware from where to download or get 3D movies online. If you are among such users, then this article will definitely help you. Keep reading to know more about top sites to watch 3D movies online and how to convert 2D videos to 3D video for more enjoyments.
AI-powered 2D to 3D Video Converter
3D videos can provide a more immersive and engaging experience compared to traditional 2D videos. With the help of HitPaw 2D to 3D Video Converter, you can convert 2D to 3D videos easily and quickly. Free download this 2D to 3D video converter and enjoy the 3D movies more conveniently!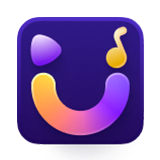 Part 1.

The Best Place to 3d movies Online Free without Downloading

This section lists the best sites that allows users to watch 3D movies online. Read below to know more.
1. Vudu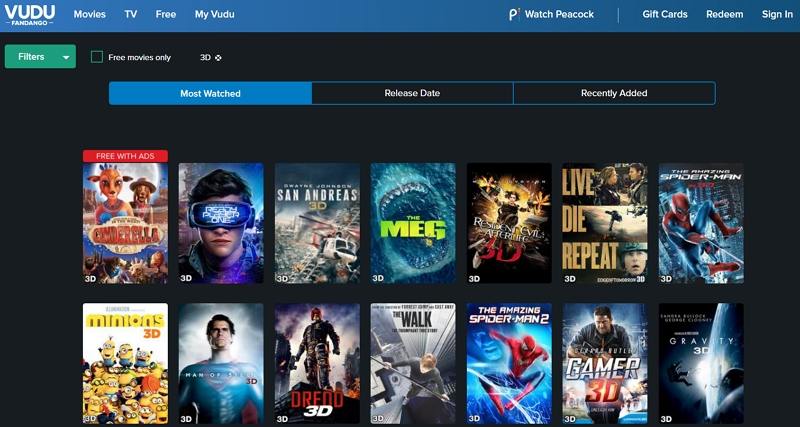 Being one of the best platforms to watch 3D movie online, Vudu offers 3D movie experiences with tons of compatible devices such as your TV. Users can access movies from Vudu from many platforms, such as Xbox, PlayStation, and TiVo. The platform also work directly with Movies Anywhere, an online site that permits users to access any movie they buy on Vudu via Prime Video, iTunes, and Google Play. On the other hand, it is essential to note that users can watch 3D movies online free without downloading on other services in standard 2D.
Pros
Offer a diverse range of 3D movies.
Provide high-quality streaming, enhancing the 3D viewing experience.
Work on various devices, including smart TVs, streaming devices, and mobile devices.
Support family sharing for purchased content.
Cons
3D movies can be more expensive than 2D content.
The 3D movie library on Vudu may be limited.
Stable, high-speed internet is necessary for streaming.
2. 3D ONLINE FILMS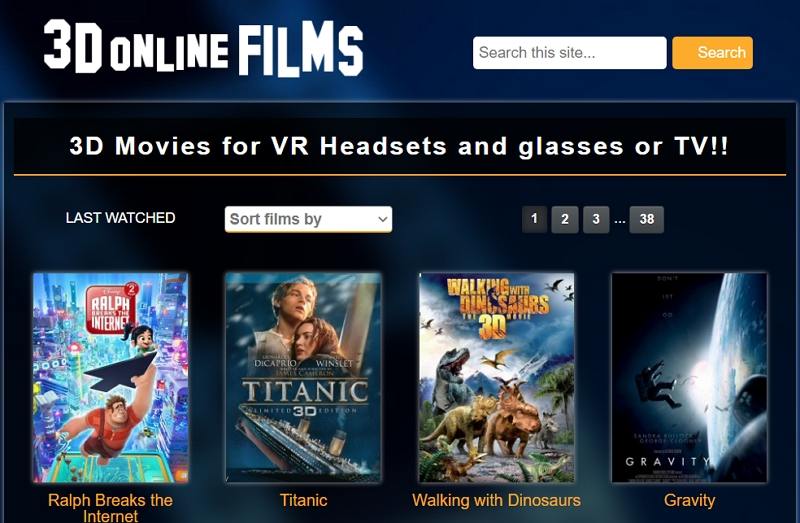 3D Online Films is another platform that can be used to watch 3D movies online free and provides the newest movies in 3D for users to view and download. Although there is constant pop ups and a lot of ads that occupies almost the whole page, but nothing can stop a movie fan to view or download 3D movies for free from this platform. Users can select video subtitles before downloading from a range of languages such as Spanish, English, Chinese, Russian, or French. This 3D movie online free site offers popular series, TV shows, comedy, award ceremonies, movies, and cartoons for free, for users.
Pros
Popular video-sharing platform that supports 3D content.
Choose 3D movies from various genres and titles.
Adjust the streaming quality based on their internet connection.
Cons
The selection of 3D movies may be limited.
You need Donate or Subscribe for watching movies.
3. 3dmovies.club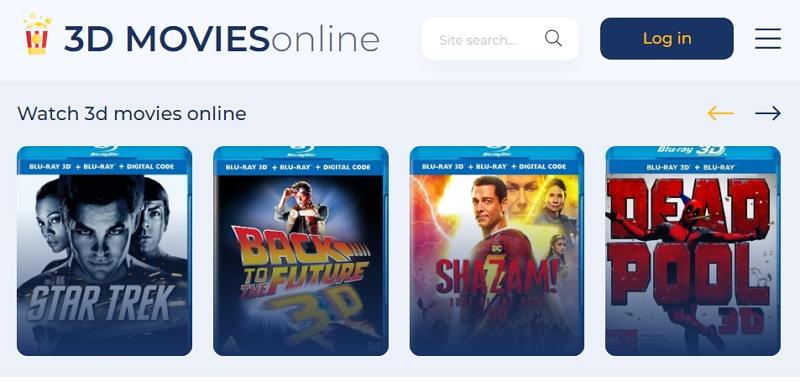 Users can watch 3D movies online for free using 3dmovies.club, which hosts 3D movies that were recorded at 2K resolution or above on film and available on the latest Blu-ray 3D formats along with other 3D legacy formats on DVD, Blu-ray, and VHS. Apart from this, this free online 3D movies site is being updated constantly where users can view and download the newest 3D films. Any viewer can search the required 3D movies under its preset categories, such as adventure, action, comedy, fantasy, and many more. Users can also directly search their movie on the top search bar, as well.
Pros
Offer the latest 3D movies.
Provide a range of 3D movies available for streaming.
Watch 3D movies online in VR glasses or 3D TV.
Cons
You need to log in as premium user to view FULL video.
May pose security risks, such as malware or phishing attacks.
4. YouTube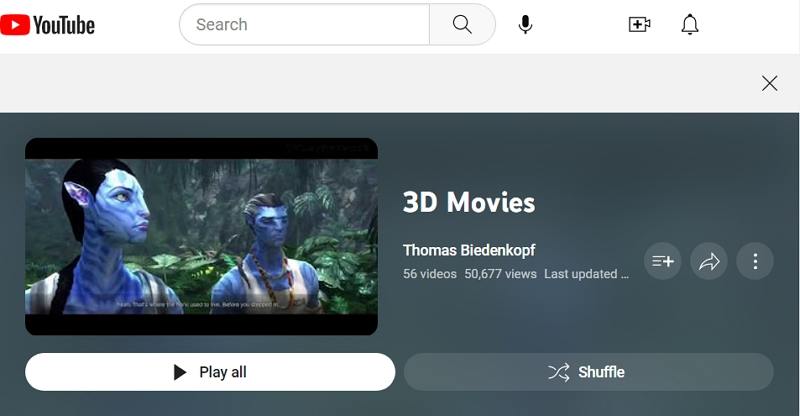 Among the many great resources available for watching and downloading 3D movies, one of the most popular 3D movies free online options is YouTube. It is a great place for free 3D movies online streaming, with a huge range of movies available for streaming. A number of popular movies are available on YouTube in 3D, and the platform also provides different 3D educational content and other documentaries.
It also provides different 3D movies for streaming with a huge range of 3D movies available on Blu-ray. YouTube provides a huge selection of 3D movies, including blockbuster hits and obscure indie films, making them a perfect choice for movie fans of all categories. Whether you are in the mood for comedy, romance, action, or anything, users would surely find something that suits their needs on this free 3D movies online platform.
Pros
YouTube offers a vast library of free 3D content.
Many 3D videos on YouTube are available for free
Easily accessible on various devices
Some channels offer exclusive 3D content
Cons
The quality of 3D videos on YouTube can vary
Some 3D movies on YouTube may infringe on copyright
Users may encounter interruptions due to ads
Full-length 3D movies may be limited
Even though above platforms will surely have all the required 3D movies that you need, sometimes they cannot be sufficient. What if you need a movie to watch a 2D movie in 3D? These platforms only host movies which were originally released in 3D. At such times, you need a 2D to 3D converter to convert your favorite movie to 3D without any trouble.
Part 2.

How to Convert 2D Movies to 3D for Watching at Home

HitPaw Video Converter can do 2D to 3D conversion easily and you do not need any special knowledge to use this tool. It offers different 3D effects to meet your needs and does not degrades the video quality during conversion. In fact, HitPaw offers output in the highest possible quality including HD, 4K, 5K, and up to 8K.
Offer various 3D styles, such as anaglyph, side-by-side, top-bottom.
Control the depth of the 3D effect at your will
Intuitive interface with easy-to-use controls for a seamless conversion
Real-time preview of the 3D effect before finalizing the conversion
Support 3D-capable devices, including TVs and VR devices
120x faster speed for quicker results without compromising quality
Follow the below steps to know how to use this tool for 2D to 3D conversion.
Step 1.To begin with, download, install, and launch the tool. Now, navigate to the Toolbox section and choose 2D Video to 3D feature.

Step 2.Select split mode from the list of 3D effects offered by the tool. You can drag to tweak the Parallax value on the right Parallax value line to get sharper effect.

Step 3.Now, select the output format and the saving folder for the end result.

Step 4.Lastly, click the Export option to save the 3D video to your device.
Part 3.

Frequently Asked Questions about Watching 3D Movies Online

Q1. Does Netflix have any 3D movies?

A1. Yes!. However, there are some things that you need to keep in mind before starting. Users will need to be located in the US as 3D is only presently available in the US. Also, users will require a compatible 3D TV. In addition to this, users will need a good internet connection too.

Q2. Can we watch 3D movie online?

A2. Yes! You can easily watch 3D movie on Netflix and any of the sites mentioned above to watch 3D movie online.

Q3. Is there an app to watch 3D movies?

A3. Yes. There are many apps that users can use to watch 3D movies. One of the apps that you can use to watch movies in 3D is the YouTube VR app. This app allows users to watch movies on YouTube in 3D.
Conclusion
With that being said, we just had a look at different platforms that can be used to watch 3D movies online for free. We also had a look at HitPaw Video Converter that can convert 2D to 3D easily. The tool offers different 3D effects to meet all your needs and does not degrades the video quality during conversion.