What is the Best Streaming App for PC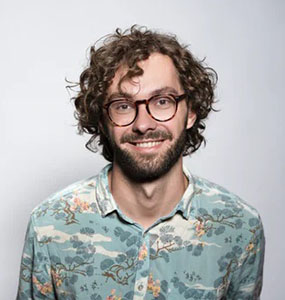 The technological advancements of the current era have made us all digitally driven. Smartphones, smart appliances, social media, and other digital technologies have surrounded us day and night. One such booming industry is the streaming industry which has grabbed a significant audience across the globe.
Today, live streaming services and apps are making it much easier for users to live stream without requiring much technical knowledge. But the main challenge many face is how to pick the best streaming app for PC?
Therefore, this article will present the top professional streaming software for PC in 2022 along with their key offerings. So, let's get started!
Part 1. The Best Professional Live Streaming App on PC for All Platforms
HitPaw Screen Recorder stands as the best available professional-grade live streaming app on PC known for offerings streams with a variety of elements. Its massive list of exclusive, high-quality templates and user-friendly interface elevates the live streaming experience of users.
The key features of HitPaw Screen Recorder:
Simultaneously Stream Videos: It lets you stream both pre-recorded and live videos simultaneously to over 30+ platforms, such as YouTube, Facebook, Twitch, etc.
Same Time Streaming and Recording: It can act as both a live streaming tool and a screen recorder at the same time.
Advanced Operation Studio: Its advanced operation studio lets you add window, screen, game, texts, webcam, and many more at the same time.
User-Friendly: It offers a click-based, intuitive interface that is easy to use for most users.
Customize Recording Area: It can record full screen or customized portions as per the user's request.
Secure: It offers a 256-bit SSL certificate guarantee.
In short, HitPaw Screen Recorder is the best streaming app for PC owing to its feature-rich offerings that fulfill almost all the needs of live streamers.
Follow the below steps to learn how to use HitPaw Screen Recorder for live streaming PC:
Step 02 Click the "Live" tab from the main dashboard and then click "Live Streaming".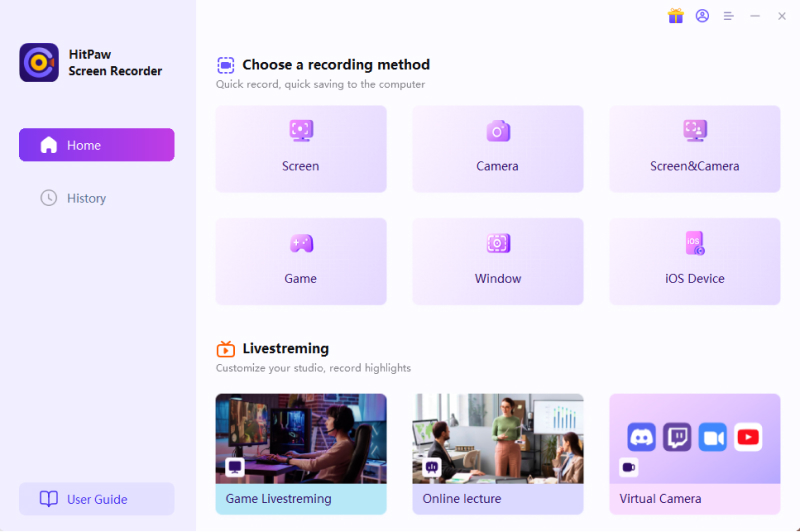 Step 03 Click "Add Source" to add window, screen webcam, game, texts, or similar others that you want to live stream.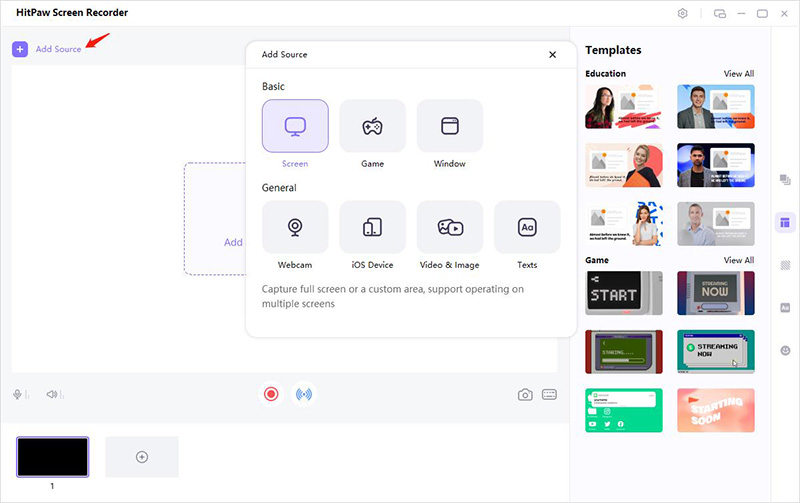 You can even use the built-in templates to have a more customized live streaming experience.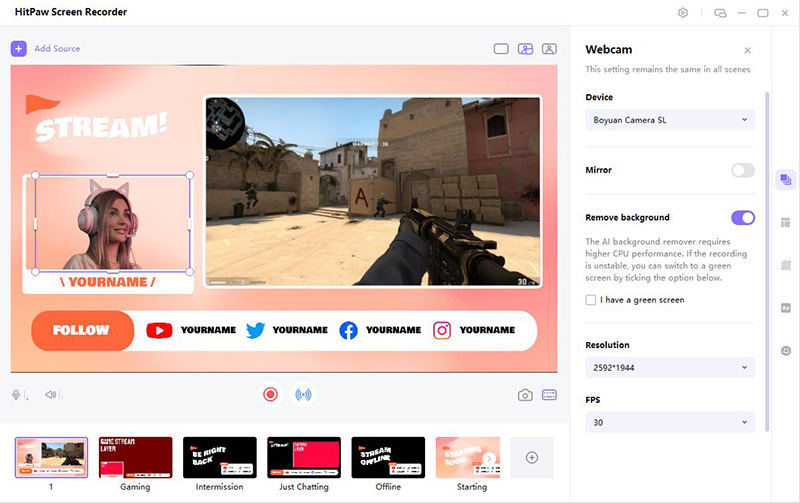 Step 04 Once you have set the source and template, now you have to stream it on the platform of your choice. For example, let's assume you want to stream a live video on YouTube. To do that, click "Go Live" from the top right and then pick "HitPaw Camera" under "Webcam".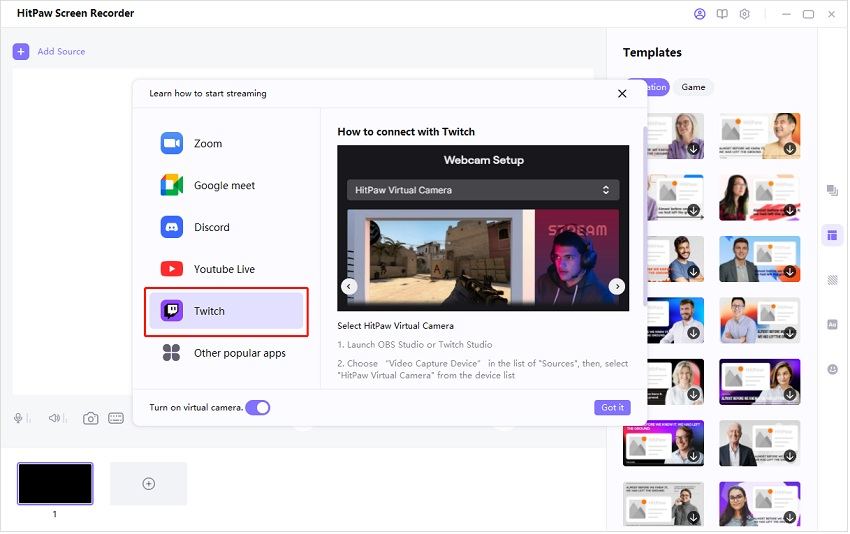 This way, you can instantly set the source and template with HitPaw Screen Recorder and then use it to stream your live video on YouTube, Facebook, Twitch, etc.
Part 2. Other 6 Streaming Softwares for PC
2.1 evmux Live Streaming
evmux has made its name in the list of best streaming software for PC owing to the powerful customization features accessible from the intuitive user interface. With its easy-to-use drag and drop editor, users can create fully-customized scenes before time. Moreover, whether it's overlays, backgrounds, remote guests, or similar other features, evmux offers them all and many more.
Key Features:
1

Web-Based Live Studio: Its "Live Editors" empowers users to execute web-based editing of the show seamlessly before the stream or even during the stream.

2

Dedicated "Green Room": It lets off-stage speakers communicate with each other without causing any interruption for others.

3

Multiple Local Cameras: It supports multiple cameras so that you can enhance your stream quality with different viewing angles.

4

Same Editor & Multiple Broadcasts: It offers support for streaming and recording multiple broadcasts at the same time and managing them from the same editor.

5

Custom Stream Overlays: It empowers users to create customized stream overlays and backgrounds seamlessly.
Pros
It offers a ton of features access in the free plan.
It offers a user-friendly interface.
It is an online tool, accessible from anywhere, anytime.
Cons
Its premium plans are a bit expensive.
2.2 OBS Streaming App
Open Broadcaster Software (OBS) is an open-source, free streaming software for PC designed to serve both live streaming and video recording purposes. Despite being open-source, it offers most of the basic capabilities that a user needs to stream. Users can instantly use this live stream app for PC through a free download.
Key Features of OBS:
1

Create Scenes: It offers real-time, high-performance video and audio capturing and mixing. Users can use images, webcams, text, window captures, and many more to create scenes.

2

Custom Transitions: It lets users switch between countless scenes easily through its custom transitions.

3

Audio Mixer: It offers a user-friendly audio mixer with many built-in filters, such as noise suppression, noise gate, etc.

4

Settings Panel: It lets users access a wide range of configuration options from the settings panel.

5

Studio Mode: It offers studio mode that lets users properly preview scenes and sources before making them live.
Pros
It is a free tool.
It is available for Windows, Mac, and Linux.
It supports all the popular streaming platforms.
It offers easy-to-use configuration options.
It lets monitoring of 8 different scenes at the same time.
It is highly customizable via plugins.
Cons
Being open-source, it lags some premium features that proprietary software offers, such as customized templates, multi-streaming, etc.
It lags centralized support.
It might take some time for newcomers to learn how to use the tool.
It requires plugins for advanced features.
2.3 vMix
vMix is another live stream app for PC that also lets users to steam, present, and record productions in real-time simultaneously. With vMix, users can add multiple cameras, web streams, images, chroma key, virtual sets, etc. Streamers actively use vMix to run gaming events, concerts, webinars, etc.
Key Functions of vMix
1

Multiple Inputs: It supports inputs like video camera, audio files, video files, webcams, NDI, DVDs, PowerPoint, etc.

2

Replay: It offers a replay feature, which is useful for gamers to view videos in slow motion.

3

HD Virtual Sets: It provides HD virtual sets with real-time high-quality chroma key.

4

Audio Mixer: It comes with a built-in audio mixer.

5

Transition Effects: It offers 13 transition effects, including zoom, fade, cut, vertical slide, vertical wipe, etc.
Pros
It offers professional tools for color correction and monitoring.
It comes with all the basic and pro features for live streaming.
It offers 60 days free trial.
It comes with multiple plans both in subscription or lifetime license form.
Cons
The vMix software is only available for Windows.
The user interface is a bit struggling to grab for new users.
2.4 Wirecast
Wirecast is a live streaming software for PC developed by Telestream, known for offering TV-like live stream production. It is compatible with a range of camera inputs, devices, and capture cards.
Key Features of Wirecast
1

Multiple Inputs: It can simultaneously run live inputs and other video capture, such as NDI, USB, Wirecast Go, etc.

2

Audio Ingest: It offers multi-channel audio ingest.

3

Encoding: It offers GPU-accelerated encoding, while the encoding option involves audio delay, live switching, titles, picture-in-picture composition, etc.

4

RTMP Support:: It supports live streaming to any RTMP destination.
Pros
It is compatible with both Windows and Mac.
It offers an intuitive, user-friendly interface.
It supports instant replays.
Cons
It requires significant storage space in the PC.
It is a bit expensive and requires a Studio version to get access to many features.
2.5 Zoom
Zoom, the pandemic's most popular video-conferencing app, offers intuitive streaming support. It is meant more for industrial use, where teams can do meetings, chats, events, webinars, etc. What users like the most about Zoom is its user-friendly approach for streaming and accessibility from PCs and smartphones.
Key Features of Zoom:
1

Easy and Instant: Zoom makes everything from starting conferencing, joining them, or doing other similar activities an easy and instant approach.

2

Handling: It can simultaneously handle hundreds of participants during webinars and business meetings.

3

Recording: It lets users record streams.

4

Monetization: It lets users monetize their webinars or streaming events via paid registration.

5

Scalable: It has a lot to offer through its rich features and capabilities, making it a highly scalable platform.
Pros
It offers a user-friendly interface.
It is compatible with Windows, Mac, and Linux. It also offers dedicated apps for iOS and Android devices.
It is free to use for small businesses.
Cons
Its live streaming features are limited compared to other dedicated apps.
Its customer service is a bit delayed.
Its premium plans can go out of the budget for some corporations.
2.6 XSplit
XSplit is the last stream software for PC on our list. XSplit is best suited for gaming, social, and online events streaming. Its layout wizard just requires a few seconds to create professional, high-quality scenes. Moreover, it can project active scenes to another display or monitor.
Key Features of XSplit:
1

Add-ons: It empowers users to do more customization through add-ons, such as whiteboard, audio mixer, replay feature, etc.

2

Easy-to-Use: It offers a user-friendly interface with a lot of customization options, making it easy for anyone to use it.

3

Automate:It lets users add their own custom scripts and macros to automate key options.

4

Unlimited Scenes: Its premium plan offers unlimited scenes and 24/7 support
Pros
It offers a powerful user interface that provides limitless customization.
It supports all the top broadcast platforms.
Add-ons can be used to enhance the tool's capabilities.
It runs over an ad-free environment.
Cons
It only supports Windows operating system.
It shows a watermark in the free version when used as a virtual camera.
Conclusion
The streaming industry is in full swing currently. Therefore, streamers need tools that are feature-rich and can be used easily and instantly. Above we have discussed the 6 best available live stream app download for PC in 2022. So, you can pick one of them based on what features you are targeting the most.
However, if you are looking for an all-in-one comprehensive best streaming app for PC that offers all the basic and advanced features, then HitPaw Screen Recorder should be your pick. Its feature-rich offerings along with a simple click-based interface make it instant to create any scene in seconds and then stream it on any platform.