What Is the Best Pixel Art Maker in 2023
Pixel Art feels like a blast from the past and has come into trend again in recent years. Back in the 70s and 80s, Pixel Art was really popular. Some famous games like Mario, Metroid and The Legend of Zelda were made using Pixel Art. However, that was not a creative or conscious decision, but in that era, there were many hardware limitations, and it was impossible to show life-like images. However, with time, computer graphics has evolved a lot, and now we don't see images in the form of hard-edged individual pixels, but we see them as one big life-like picture. Now life-like images have become so common that people want to see something different, and that's how Pixel Art came back in trend as it brings back all the nostalgia and looks unique and different.
If you want to take a trip down memory lane and are looking for apps, websites or software to make pixel art, then you are in the right place, as we have picked the 5 best Pixel Art Makers for you.
What is Pixel Art?
Before we learn about how to make pixel art or what is the best pixel art program. We will learn about what is pixel art. Pixel Art is a form of art that uses Pixels as a building block for making an image. So many pixels combine, and we see a single image on the screen. All pixels are individually edited while keeping all the technical limitations in mind.
Back in the day, dedicated graphic designers used to do all this, which used to be quite tiring and difficult. However, in this era, no one has so much time and energy, and that's why people look for the best software for pixel art to make their lives easy and quickly create attractive pixel art.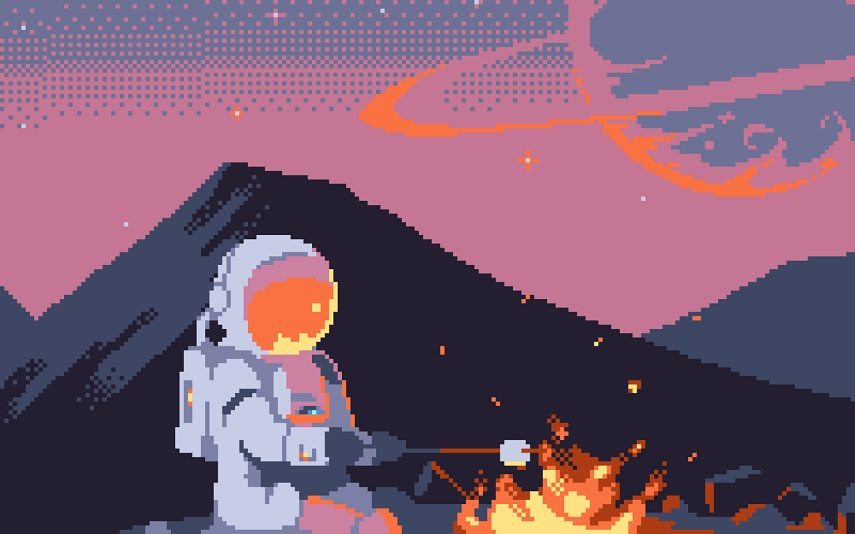 Best 5 Pixel Art Software to Make Pixel Art
We share the top 5 pixel art programs to make Pixel Art generation super easy for you. We will give you an overview of every photo pixelator along with its pros and cons so that you can pick the best pixel art generator.
1. Pixilart
Pixilart is a great pixel art maker with various options to make Pixel art generation easy for you. The best thing about Pixilart is that it is an online pixel art maker, so you don't have to download any software or app to use this. All you have to do is visit the website and start creating your pixel art right away. Another outstanding feature of Pixilart is that it is a community-based website, so you can create your account, share your pixel art with the world, and see and admire other artists' work.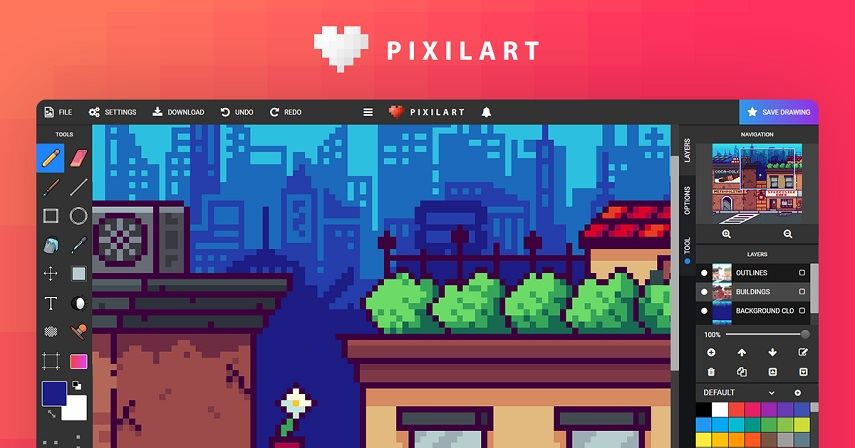 Pros of Pixilart
It is a free website.
Dithering options.
Has a wide range of tools and features.
Easy-to-use interface.
You can see the work of other artists and share your art as well.
Cons of Pixilart
The autosave option often does not work, and you can lose your recent changes.
2. Piskel
Piskel is another great pixel generator that works both as free pixel art software as well as an online pixel creator. Piskel is a great option for all beginners as its interface is not loaded with options, which could scare many beginners. Only important functions and tools are displayed on top and included in the software or website. It is also great for people who have to shift frequently and can't take their PCs everywhere, so they can easily switch between online and offline pixel art generator.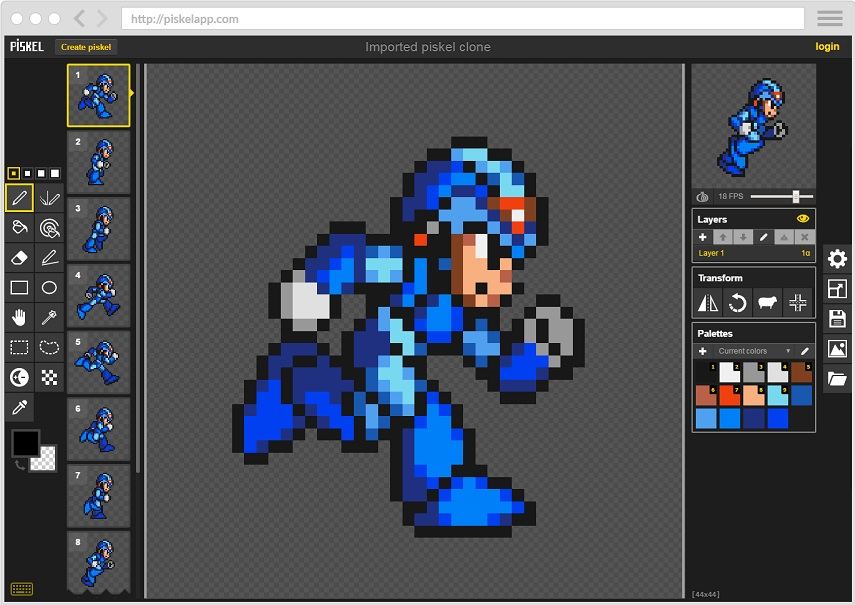 Pros of Piskel
Available both online and offline
Great for beginners
Dithering options
Cons of Piskel
The online version is only optimized for windows
Lacks advance tools
Does not have an undo option
3. Pixel Studio
Pixel studio is a great pixel maker for both iOS and Android and allows you to edit and create your Pixel Art anytime, anywhere. The best part about the Pixel Studio is that it is loaded with features and gives you all options of any best pixel art software in a mobile app which is very rare. Currently, Pixel Studio has a rating of 4.7 on the Google Play Store and 4.6 on the Apple Store.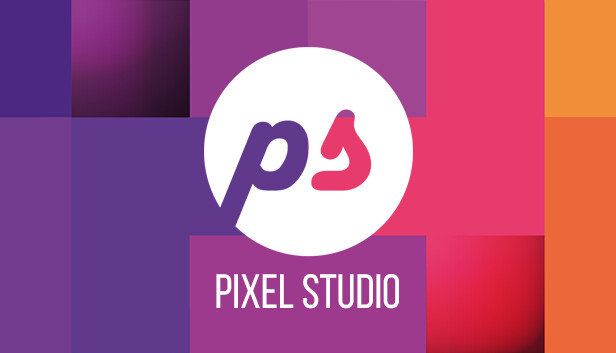 Pros of Pixel Studio
Works great on both Android and iOS devices.
Has all the basic and advanced features of any good 8 bit image converter software.
Available for free on both app stores and allows cross-platform sync.
Cons of Pixel Studio
The user interface is difficult to understand for beginners.
Loaded with too many options that get activated with a simple click or swipe.
Users often lose their work because they cannot locate the save option.
4. Pixaki
Pixaki is a great pixel art converter that is available only for iPads. It is beginner friendly but, at the same time, has some amazing advanced features for animation and also works as a minecraft pixel art generator. It works well with the Apple Pencil and makes the artist feel like he is drawing on pen and paper.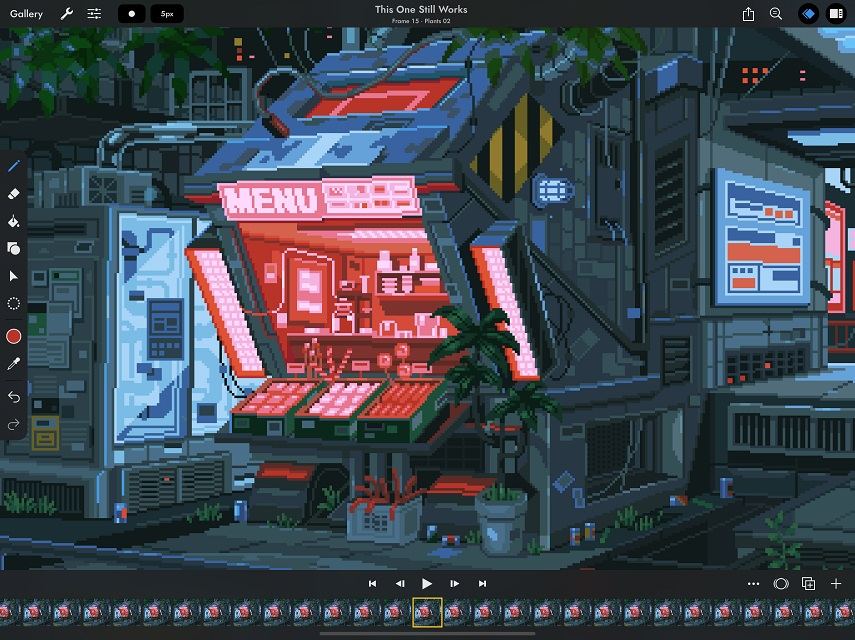 Pros of Pixaki
Erases double pixels with pixel correction option
Dithering option to paint in different patterns
Beginner-friendly interface with some great advanced features
Versatile and can be used as a pixel art maker from image and pixel art animator
Cons of Pixaki
Only available on iPad.
The free version only has basic features that come with any pixel art software free, and for more advanced features, you have to pay $27 to the app store.
5. Aseprite
Aseprite is a paid Pixel art software available for all operating systems. Many artists love it because it has some amazing options for creating gifs and pixel art with precision, and the easy interface allows them to view their work side by side. The price for this paid software is $19.99.

Pros of Aseprite
Great for both beginners and advance level artists.
Options and tools are distributed well and don't make the interface crowded and confusing.
Has some amazing tools for creating pixel-perfect gifs and animations.
Cons of Aseprite
It is paid software.
Does not have a tile map option.
Pro-tips: How to Upscale a Pixel Art?
Many people have this misconception that pixel art is supposed to look blurred and distorted, which makes it Pixel art. however, this approach is totally wrong as such art will only give a headache to the viewer. It is not going to be a pleasant experience for anyone. Upscaling the quality of your Pixel Art is important. Otherwise, you can end with Pixel Art, like the example below.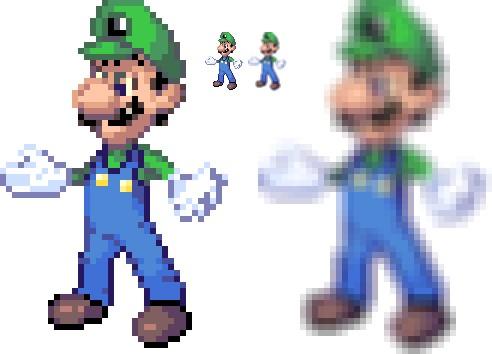 Now, this pixel art does not look good at all, as it is extremely blurred. Back in the 70s and 80s, people were okay with such blurred art pieces as they were not acquainted with super clear HD images, but in this era, people are not used to seeing such blur images, and they only look odd. As a pixel artist, you should always increase the quality of your pixel art to make it look appealing.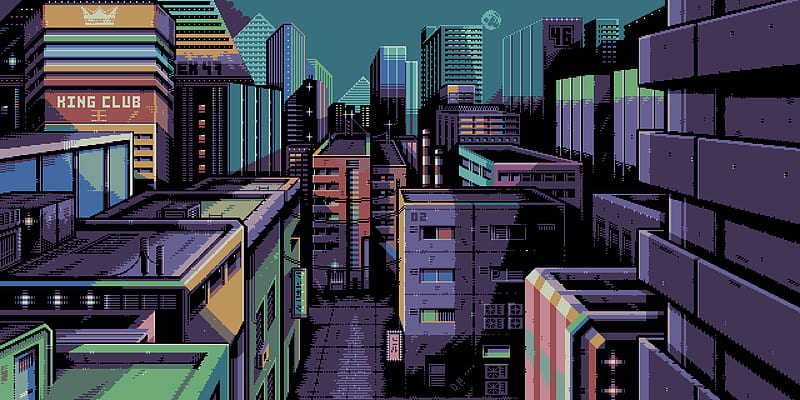 Most free apps, websites and software don't offer the option of upscaling your pixel art's quality, but you can do that by using the Hitpaw Photo Enhancer. It is a great software for enhancing the quality of any image to HD and uses AI models for enhancing the quality.
Features of HitPaw Photo AI
Improves the quality and resolution of images and makes any image HD.
Intelligent software with batch processing allows it to work without much human intervention.
Processes multiple images at the same time and saves your time and effort.
Brings life to any photo.
100 AI-powered image enhancer available for Windows and Mac.
How to Use HitPaw Photo AI to Upscale Your Pixel Art
Download HitPaw Photo AI Software and upload all your pixel art.
Pick the AI model best for upscaling the quality of cartoon images.
Preview the changes and then export your HD pixel art.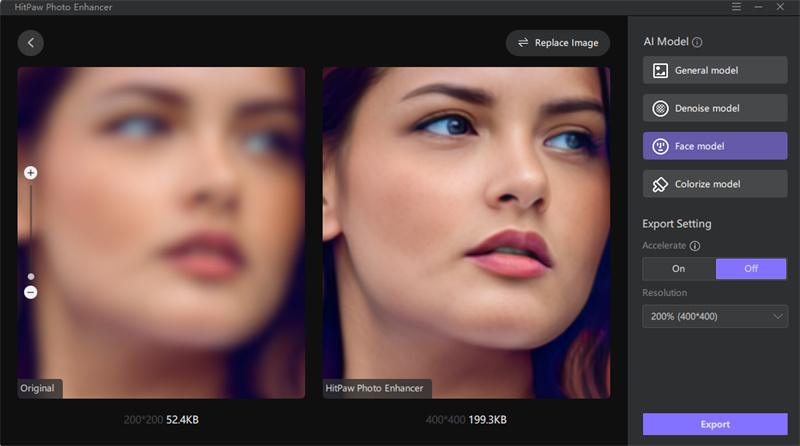 Last words
Pixel art had come back in trend because it takes us back into the era when things were simple and sweet. Creating pixel art was a need of the time then, and creating them required a lot of patience and technical knowledge plus, the hardware limitation made things even more complicated. But now we are in a different age where making pixel art has become easier and with the correct tips and technologies, you can create appealing pixel art quickly. Any of these five Pixel Art makers and the Hitpaw Photo Enhancer will help you create HD-quality attractive pixel art.