Top 7 Desktop and Online Photo Resizers You Need to Know
Taking pictures is easy, but editing them is the hard part, mainly because you need to be good with a few software to pull it off. However, not every software is the best for photo resizer. But there is no need to worry. In this article - we have made a list of the most popular resize photo tools for you. Read on to explore more about resize photo without losing quality.
1.

No Quality Loss & Even Clearer! Best AI Photo Resizer and Enhancer You Need

There are many photo resizing tools available in the market. But the best tool that has no quality loss after resizing a photo is the HitPaw Photo AI. It is one of the most versatile photo editing tools on the internet. It offers a number of tools that will help you edit your photos in a few clicks.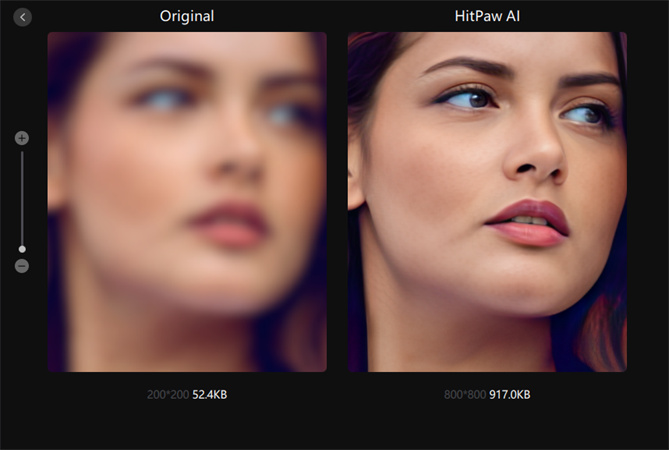 Easy-to-use one click operation
4 AI model to cope with all photos
Its most notable feature is that you can modify the pip position and size
Up to 16 languages available
Step 1.Download & install the software by clicking the button below.

Step 2.From the HitPaw software, look for the customize option.

Step 3.Now, set the photo size to your desired width/height.

Step 4.You can export the image now.
And also here're steps how you can use it to enhance photos:
Step 1.Launch the HitPaw software on your computer.

Step 2.From the options. select an AI model (depending on what you want).

Step 3.You can preview the photo and export it after you are satisfied.
2.

6 Popular Sites to Resize Photo For Your Urgent Need

Apart from HitPaw - there is some other online photo editor resize available on the internet. You can use these instead of HitPaw if you are in a hurry and cannot afford to download software on your computer. Although the quality of these photo image resizer will not be as good as the HitPaw software it will do the job.
Image Editor
The image editor is an online photo editor resize. You can use it on your computer if you want to resize your photo quickly. The best thing about this tool is that you can access it anywhere from any computer. You don't have to download anything on your computer. Other than that, the Image editor has a very easy interface. Anyone can use the tool to resizing a photo.
ILoveIMG
ILoveIMG is another website that you can use to resize photo in inches on your computer. This online tool provides you with all the basic editing tools that you require to edit a photo. You can also use google photos resize images using ILoveIMG.
Other than that, you can perform plenty of other things tasks using ILoveIMG. For example, you can watermark your image and generate memes using this online tool. Moreover, you do not need to download anything - just hop to the website and get going.
Adobe Express
Adobe Express is the best tool for social media-related photo editor resizing. One of the most amazing things about this tool is that Adobe Express has plenty of templates for each social media platform. So, if you want to resize photos for platforms like Twitter and Instagram - Adobe Express will have your back.
Picresize
Picresize is a comprehensive online tool for photo resizing. It has plenty of features that you can use to perform different features. Other than resizing your photo - you can use filters on your pictures and convert your image to PNG or JPG.
If you are looking for an online tool that will help you perform a number of tasks within a few seconds. Picresize is the best that you can get from an online tool.
Simple Image Resizer
Simple Image Resizer, as the name describes is an easy tool that you can use for image resizing. The best thing about this tool is that it does not decrease the quality of the image. So, if you are looking for an online tool that will not ruin the quality of the image - Simple Image Resizer will have your back.
Photo Resizer
Photo Resizer is an uncomplicated online tool if you are looking to resize my photo. The website has a few tools that will help you get the job done. However, you will face some issues as the website will ruin the image quality during photo resize.
3.

Why you need HitPaw for resizing your photos?

Although online resizer tools are readily available over the internet. However, you should avoid using these tools. It is because they have a few issues. For example, online resize tools offer slow speed - so you will have to spend more time trying to resize the image. Other than that, when you use an online resizing tool, you will be vulnerable to viruses.

Moreover, online resize tools can also result in quality loss. So, you will not be able to export the image in good quality. HitPaw can also enhance your photos in one click.
Conclusion
Online resize tools are handy when you want to resize an image. However, these tools can lead to quality loss. Therefore, you should use the best photo resizer like the HitPaw Photo AI software to get this job done. It is because you will be able to render the image in 2K and 4K resolution. It is a much better option that using an online tool for resizing photos.