[2023 Updated List] 7 Photo Noise Reduction Software to Refresh Your Photo
AI noise reduction technique is nowadays getting very popular because of its amazing efficiency and accuracy, through artificial intelligence we can now enhance the quality of our images and make them look better in every aspect.
1.

[BEST Solution] AI Photo Noise Reduction! 100% Automatic to Remove Your Photo Noise

There are several ways of photo noise reduction, including the old-school long and complex procedures, which require a lot of time and effort. But fear not, because there are now 100% automatic noise reduction tools, which can enhance the quality of your image and make it look astonishing.

One among these tools is the HitPaw Photo AI, it is one of the best AI photo enhancers, avAIlable for both Windows and Mac devices, and it provides automatic image-enhancing features with just a simple click.

The HitPaw Photo AI is an better solution than AI photo noise reduction online tool, it is a very efficient and user-friendly software, that ensures that the images are upscaled with ease and without any quality loss.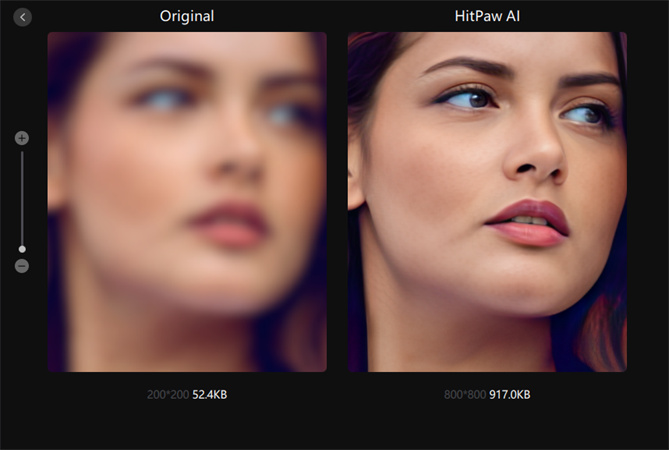 The AI one-click enhance model helps in automatically upscaling the image in just one go, without any complex procedures.
The HitPaw AI noise reduction photo Enhancer provides 4 different AI models to choose from while enhancing your image, which enhances the outcome and gives the user different options to choose from.
The HitPaw AI Photo Enhancer also allows the user to customize their photo size and upscale the resolution up to 4k and make it look astonishing and alluring.
It also supports batch enhancing, which means that the HitPaw AI Photo Enhancer can upscale multiple pictures at the same time, making it more time efficient and beneficial for the user.
Here's the method how to use it:
Step 1.Download and install this software by clicking the button below.

Step 2.Upload your image by clicking on "Choose files".

Step 3.Select the denoise model for removing the noise.

Step 4.Click "Preview" to see the effect and export.
2.

Top 6 Photo Noise Reduction Software to Clean Your Photo

There are several other AI photo noise reduction software avAIlable, which can upscale your images using artificial intelligence:
DXO Pureraw 2
DxO PureRAW 2 is an amazing denoising software, and it is unrivaled when it comes to noise reduction. The key advantage of utilizing this tool is the sophisticated use of artificial intelligence to remove noise in your photographs. It has a highly user-friendly interface that allows you to instantly increase the quality of your images with a few clicks.
Pros:
Simple and user-friendly procedure
Noise reduction is unrivaled
Cons:
It does not have a photoshop plugin
It produces very large size DNG files
ON1 NoNoise
ON1 NoNoise AI is the most recent addition to this best noise reduction software comparison, and it has rapidly become a very popular noise reduction software for photography. Its artificial intelligence skills put it on par with its immediate opponents.
Pros:
It offers a lot of tools to improve the image
The AI algorithm is amazing and provides astonishing results
Cons:
The interface is not user-friendly
It sometimes becomes very slow
Adobe Lightroom
3.Lightroom's digital noise reduction is quick and easy, which is why it's one of the most popular AI photo noise reduction tools.
Pros:
The noise removal tool is very easy to use
It also provides other photo editing tools, which are very useful
Cons:
It is not perfect at securing details
It is not efficient as it uses traditional methods
Adobe Photoshop
You may process the noise reduction in Photoshop using Adobe Camera Raw, one of the best photo noise reduction software which has the huge benefit of being able to make modifications much more selectively.To remove digital noise, you may also use noise reduction filters and more complex approaches such as blending noise reduction or stacking noise reduction. 
Pros:
It provides a variety of noise reduction tools
It has multiple plugins to choose from
Cons:
The noise reduction process is very time-consuming
The detail recovery is not up to the mark
Noiseware
Noiseware simplifies noise reduction by allowing you to reduce noise with a single click and without having to make manual selections or alter other settings. Noiseware features several preset modes based on the amount of noise you wish to remove, as well as adjustable options for manually adjusting the noise reduction.
Pros:
It is very easy to use
It does not require high computer specifications
Cons:
It is avAIlable only as a photoshop plugin
The noise reduction module is old and outdated
Luminar NEO
Luminar NEO is another excellent picture editor recognized for its AI capabilities, and it includes a noise reduction option. To decrease noise with Luminar NEO, in addition to the basic noise reduction options, you can apply more specific edits with masks and layers, exactly like in Photoshop, with the added benefit of non-destructive processing.
Pros:
It is very simple to use
It is comparatively cheaper
Cons:
It sometimes can be very slow
It does not offer any plugins for Lightroom and Photoshop
Conclusion
AI noise reduction photo editing is an extremely amazing feature, and The HitPaw Photo AI is an outstanding tool to enhance your images using artificial intelligence automatically with just a simple click. It makes your work more efficient and easier.