[2023 Updated] 5 Methods for Perfectly Old Photo Restoration
Looking back at the old photos takes you back to the past when you lived that moment. However, seeing those moments in really bad-quality photos doesn't feel good.
Taking help from professionals for old photo restoration is very expensive. In this article, we will discuss how you can restore old photos without taking them to a digital photo repair specialist. So, let's learn how to give your old photos the love they deserve.
1.

How to Restore Old Photos with Photoshop Step By Step

Photoshop is a popular photo editing software that makes restoring old photos super easy for you. Here is how you can do it step by step.
Open photoshop software and add your original photo into the software. Your image will be a background layer so lock it to make no adjustment to this.
Make a new layer and make all adjustments to this layer on the top of the original image.
To erase creases, use a spot-healing brush. Also, fix the tears in the image and remove blemishes caused by mold or water damage. So, heal all the areas you want to fix with the spot-healing brush.
To fix the smooth details, use the Clone stamp tool.
Next if you have a black-and-white image, then create a new layer to colorize your image using neural filters. For this, click filter > Neural filter > colorize.
Now export your restored image in the image format of your choice.
2.

How to Restore Old Photos Online Free with These 3 Tools

As the world of technology is advancing, new tools and apps are available to make old photos restoration more convenient for you. In this section, we will discuss three apps that are effective in how to restore old photos. Have a look at these restore old photos apps.
Vance AI
As its name indicates, this is an AI-powered app that helps you to restore photos 100% automatically. It is also effective in removing scratches from old photos as well as fixing tears, sports and sepia. So, in less than 10 seconds you can have your restored photo without any hassle of imperfection removal and color correction. Here is how to use it.
Visit the official site of Vance AI and upload your image
Click on "start to process"
Now download the processed image by clicking the "Download" option
HotPot AI
HotPot AI is another photo retoucher in the list which helps you to restore old photos online free. It also sharpens the image and repairs pictures using AI technology. Whether it's about removing scratches, sharpening colors, or enhancing faces, this tool does its job in a good way to let you cherish your old memories. Here is how it works.
Visit the official site of HotPot AI and upload your image
If your image has scratches then turn on the option for it and click on "Restore". It will take 30-90 seconds to process your image
Once the process is completed, download your image by clicking on the image
Phowd
This tool is helpful if your photos are badly damaged and need complex repair and restoration. It can also colorize black-and-white photos in a professional way. They offer affordable services with impressive results. So, if you want to remove scratches, clean up, enlarge sharpen, colorize or refurbish your photo, you can consider Phowd for it. Here is how to restore photos using this tool.
Open the official site of Phowd and upload your image
Now choose the kind of editing your want to do from the given options of basic correction, standard editing, and advanced retouching
See the preview of your restored image and download it using the economy project package
3.

Lossless Old Photo Restoration with AI to Bring Your Photo Back to Life

Sing a professional photo enhancer tool makes the process easier to have old photos restored. Using photoshop software to manually edit your image requires a lot of hassle and of course you need to be an expert in using a brush and making new layers for editing.

This comes with practice and taking proper training on how to be a pro in photo editing. If you want to restore an old photo then you want to do it quickly because no one wants to indulge themselves in an intensive photo editing job. HitPaw Photo AI has made this process easier for you.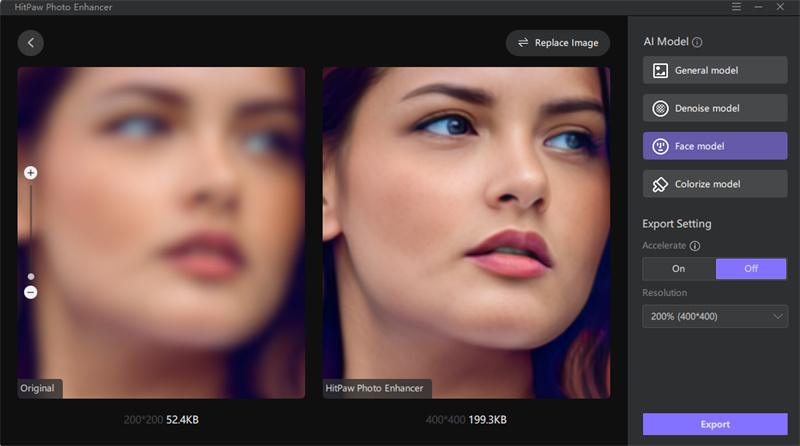 It offers impressive and excellent photo restoration results using its AI technology. It goes deep into the millions of pixels of your photos and fixes them from the root. So, it does the finest editing in just one click and you don't need to perform anything manually.
AI-powered tool
One-click editing
Four models are available
Batch processing is also possible
Performs all editing especially for face in a highly professional way
Here is how to restore old photo using HitPaw Photo AI
Step 1.Download and install the software by clicking the button below.

Step 2.Launch HitPaw Photo AI on your computer and add your image to it. You can also use drag and drop method to bring your old photo into the software.

Step 3.Select an AI model of three models available. Each model is devoted to a particular task so choose the one which suits your image.

Step 4.Start the image process. You can also preview the restored image by clicking "Preview the effect".

Step 5.Save the restored image by clicking the "Export" option.
Conclusion
Old photo restoration is such a difficult task especially when you don't know the basics of editing and someone suggests you use photoshop to restore an old photo. Using such tools is an easy job for photo editing specialists. As a beginner in the world of photo enhancement, we suggest you use HitPaw Photo AI and let this tool perform this editing on your behalf.