[2023 Updated!] TOP 10 Photo Resizer APPs to Set Your Photo Size Freely
A photo resizer app is a handy tool that you can use to resize your photos. If you are looking for one, many options are available on the Internet. However, only some applications are up to the mark. But do not worry. We have done our homework to find out about the top 10 app to resize photos.
1.

Best Resize Photo APP: Customize Your Photo Size and Enhance Your Photo

When it comes to quality, no one can beat the HitPaw products. Be it photo enhancing or photo resizing. The HitPaw Photo Enhancer tool will always have your back. If you're looking for a tool to resize photos - you can't find a better tool than the HitPaw photo enhancer for apps to resize photos.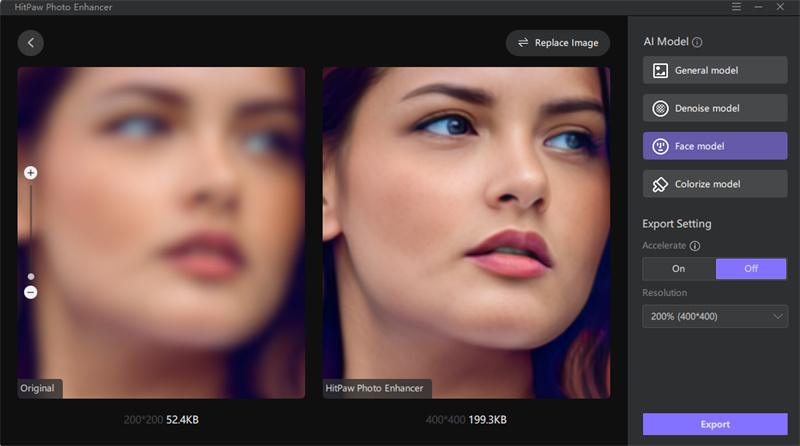 This tool offers one-click photo enhancement. Other than that, you also get 4 AI models to work through. And the tool lets you process photos in batches so you can save time. Moreover, you can customize your Photos to 2K and 4K quality.
Customize your photo size to 2K/4K
4 AI models
AI one-click enhance
You can use it in 16 languages
Here's how you can use the HitPaw photo enhancer for resizing photos app.
Step 1.First, download the HitPaw photo enhancer tool on your computer and install it.

Step 2.Then upload the images onto the photo enhancer tool by clicking on "choose images".

Step 3.Press on the drop-down menu and then click on "customize".

Step 4.From the options, adjust the height and width according to your preference.

Step 5.From the "preference" section - you can choose your AI processor as the CPU or GPU to support the tool. Once you make your choice, click "OK" to continue.
2.

Top 10 Photo Resizer APPs for Your Android and iOS Devices

We have compiled a list of the top 10 app to resize photo for your android and iOS devices that will help retain the quality of the original image.
Image Size
Image size application is particularly crafted for image resizing. Hence, the app does not compromise the quality of the image. You will get your desired results by using this app to resize your pictures.
Pixlr
If you're looking for an app that can perform many tasks, Pixlr will have your back. Apart from resizing your photos, you can also enhance the quality. On top of that, you can also access basic photoshop features using this application.
Picsart
Picsart is an application that has been around for ages. Due to this, the app has many photo editing features, including an app for resizing photos. Additionally, Picsart also offers a way to collaborate with other artists in real time. Hence it is great for working with your colleagues on a project.
Resize Me
Resize Me is a reliable application that can help resize your photos. Other than that, it also includes some fine-touching features that you can use to adjust your photos.
Photo & Picture Resizer
Photo & Picture Resizer is the best resize photo app because it doesn't compromise the quality of your images. The app works seamlessly on your phone - with a few ads (at least, it's free).
Reduce Images
If you're a photographer, Reduce Images will be the handiest and best resize photo app you will come across. The app resizes the photos in an instant. Other than that, you can also share the photos with your clients as soon as you're done with the process.
XGimp
XGimp is the perfect option if you're looking for an all-in-one photo resize app. Since the app has been designed from a desktop version, the interface has many advanced tools that are worth your time.
Resize
Resize is the best photo resizing application for retaining the quality of the original image. The best thing about this application is that it can also be used for resizing videos. Hence you will only have to use one application for videos and photos.
Instasize
Instasize is an app made specifically for people who like to play around with their photos. The app will resize your photos for you and allow you to use filters for your photo to make them look better.
Photo Resizer
Photo Resizer is the handiest application for people who are less tech-savvy. It is because the photo resizer app has an easy user interface. Hence, you will be able to resize any photos without much hassle.
Conclusion
If you're looking for a photo resizer app, then HitPaw Photo Enhancer is the best tool that will fit all your requirements. Unlike other photo resizing tools, the HitPaw photo enhancer would not compromise the quality of the image. Other than that, you can also process your photos in a batch to save time.