What Is Deep Nostalgia? Description and Its Best Alternative!
Have you ever looked at your grandma's photo in awe of her, and all you wanted was to see her smile one time? Yes, we all wish we could see our elders as they were. However, until recently, there wasn't any way you could do it.
But you must give it to technology to make our dreams come true. Using the deep nostalgia tool, you can make your old photos lively and live in the past for a few moments. Read on to find out more about myheritage deep nostalgia. 
1.

What is My Heritage Deep Nostalgia? 

If you are sitting in your lounge with old photos hoping to see these moments in real life. There's a way you can do it. With the help of my heritage deep nostalgia, you can make your old photos lively.

And no, it's not complicated to use this tool. All you have to do is upload the image/scan the image that you want to animate, and my heritage app will take care of the rest.
The best thing about this application is that the final product looks so real that you will be filled with happy tears looking at your old photos, but there is a catch to it. Myheritage deep nostalgia is a paid application, so you will have to spend a few dollars on seeing your granny smile on her wedding day. 
2.

Best My Heritage Deep Nostalgia Alternative: HitPaw Online to Animate Old Photos

In case you don't have any spare money to spend on the deep nostalgia app, there is no need to worry. We have the perfect alternative for you. With the help of the HitPaw Online Old Photo Animator, you can create the same magic as deep nostalgia my heritage.
Here is how you can use it.
Upload the image you want to animate.
Select the proper position with portrait.
The website will automatically generate an animated GIF
3.

AI Colorize Your Old Family Photos and Fix Your Face Portraits Easily

We all have this itch within our hearts to fix our family portraits. So you can add color to these amazing moments. As Gen Z, we don't realize how blessed we are to capture our life moments using our phones. Back in the day, it wasn't possible. But, if you want to see your grand dad smiling in his teenage properly, you can use the HitPaw Photo AI tool to colorize your old images.

The best thing about this software is that there is no hard way to go about it. All you have to do is upload the image to the tool and let it take the lead. Besides that, the HitPaw Photo AI tool also has batch processing options where you can colorize a bunch of photos with just one click. 

If you're sold, here is how you can use it.
Step 1.Download & install the software by the button below.

Step 2.Open up the tool and upload the images that you want to fix. 

Step 3.Choose the colorized model from the options.

Step 4.When you are satisfied with the results, export the images onto your device. 
4.

Bonus Tip: An Interesting Tool to Make Your Photo Turn into Cartoon/Anime/3D style

If you spend a lot of time on Instagram, you must've come across people turning their pictures into cartoons or anime. And if we are honest, it is quite fun to do that. But a lot of people don't know how to convert pictures into cartoons or anime. Well, there is good news for you. You can use the HitPaw Photo AI tool app on android to animate your photos to entertain yourself and your friends.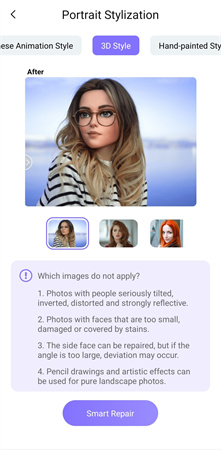 There are tons of features loaded within this app that you should use at your convenience. For example, you can animate your photos to a 3D style to give a twist to them. Other than that, you can also create your own manga using the Japanese anime style. And lastly, with the help of the beautify feature - you can get rid of all the imperfections in your pictures.
Quick and easy to use.
One-step solution for all your photo problems.
A great tool to use if you're on the go.
Conclusion
Deep nostalgia photos have been making rounds on the internet lately. They're just so good that they transport you into another universe. Although my heritage is a great tool to put life into your photos, with the help of the HitPaw Photo AI tool - you can do the same job without spending a dime on it. So, you don't have to jump from one tool to another.