Sound like Tiko with 6 Best Tiko Voice Changers 2023
Tiko is an American YouTuber that uses voice changers when making videos. With more than 6.9 Million subscribers on YouTube & +2 Million followers on TikTok, he is one of the most popular content creators in the US. There are a lot of content creators who want to sound like Tiko. But what voice changer does Tiko use? Don't worry; we have come up with a list of Tikos voice changer that will help you to sound like Tiko. Checkout these 5 best Tikos voice changers.
Who is Tiko, and What is Tiko Voice Changer?
Formerly Jayden, who is famous by Tiko online, is an American YouTuber who streams & uploads Fortnite & Omegle videos on YouTube. Although he was inaugurated in August 2017, his videos started getting viral in 2019 afterward.
While in his early days, he used his own voice recording for the videos. Then he started using new types of voice in his videos to attack the audience. Does Tiko use a voice changer? Yes, of course, he does. Who sounds like a baby? His viewer mainly like him because of the hilarious & captivating humor he creates using Tiko Voice Changer by sounding like a baby. The song, "Fishy on Me," uses a similar baby voice using the voice changer, and is an instant hit with more than 120 million views.
3 Best Tiko Voice Changers for PC to Sound like Tiko
Several voice changer software options for PC are available if you want to emulate Tiko's unique voice style. You can find a lot of Tiko voice changing software online. It is therefore difficult to choose the right one.
With these voice changers, you can alter your voice to sound like Tiko and add a touch of creativity to your content. Install the software on your PC and use it. Take a look:
HitPaw Voice Changer- Best Anime Voice Changer for PC
With cutting-edge voice-learning technology,HitPaw Voice Changer stands out as an exceptional choice for those seeking a top-notch tiko voice changer for PC. It provides an array of voice effects and filters that can be seamlessly applied to the user's voice. The interface is designed to be user-friendly, allowing effortless navigation through various settings and effects. Furthermore, it enables real-time voice modulation during live conversations, rendering it invaluable for online gaming, voice chatting, and voice-over recordings.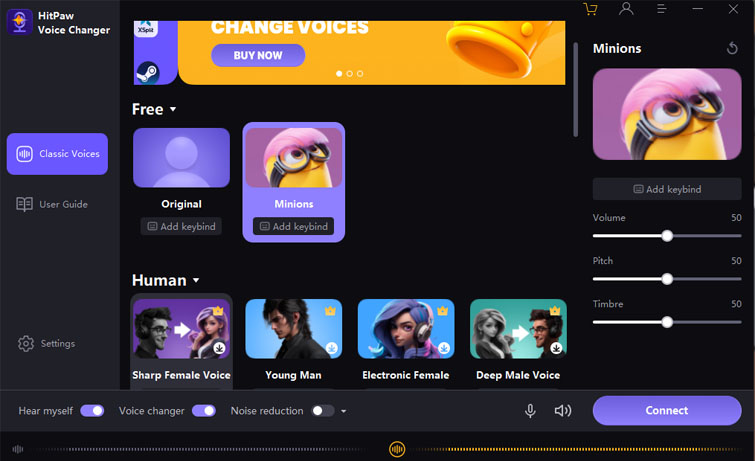 Features
Change your voice with various voice-changing effect in real-time
Integrate perfectly with all popular games and programs
Perfect voice modifier for gameplay, content creator, Vtuber, or live streamer
Remove noise and echo while changing voices
Change voice effortlessly with high quality
VoiceMod
Voicemod is quite popular among gaming nerds searching for an optimal Tiko Voice Changer. The app creates realistic voices by applying advanced AI & deep learning technologies. You can either use your voice, upload audio files or select from the in-built library of voice filters.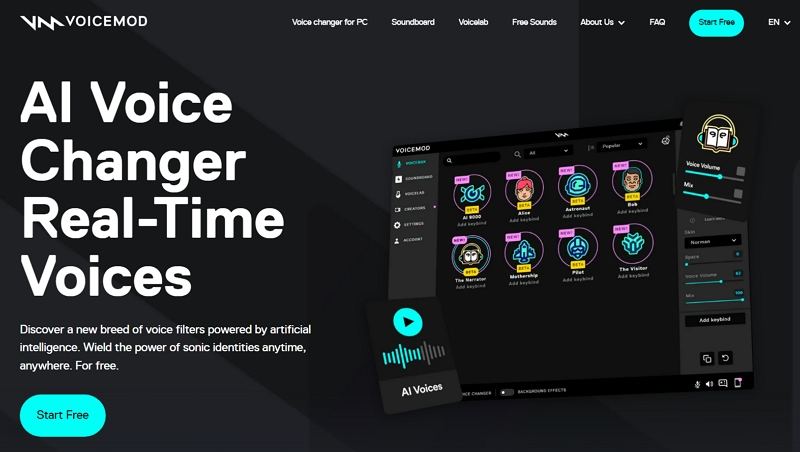 Compatibility: Windows & macOS
Key Features:
It aids you in building an exclusive identity online.
The library offers over 100+ voice filters & sound effects.
It has a Soundboard which features tons of sound clips for your videos
Users can avail of smooth integration with external applications like Twitch, Fortnite & many more.
How to Sound Like Tiko?
Download the Voicemod voice changer app & install it on your PC.
Open the app; go to the bottom of the window. Activate 'HearMe' & 'Voice Changer'.
Now goto the left Menu & select Voicebox. Among several other voice effects, you will see the Baby voice.
Voxal Voice Changer
Looking for Tiko voice changer free? If you are seeking a voice changer for Tiko's creaky voice on Macbook, Voxal Voice Changer is the finest choice. The software offers free & paid versions for various uses.
Compatibility: Windows XP/Vista/7/8/10
Key Features:
9 human voices to turn your voice into diverse gender at diverse ages.
Nine strange & silly voices like Chipmunk's voice to make you sound funny.
Seven sci-fi voice effects offer voices like Darth Vader.
Other device effects make your voice echoic & ethereal.
Twelve fantasy voice effects for characters from fantasy works, such as Frankenstein & Dracula.
How to Use this Tiko Voice Changer?
First, finish the Tiko voice changer download, install, and launch.
Click Options on the top of the screen to choose your preferred Microphone & speakers.
Choose the Squeaky in the Strange & Silly category on the left-hand side of the interface.
Double-click audio effects to adjust the voice. Select Preview on the top toolbar, & talk to your Microphone to hear whether the applied effect is satisfying.
Open other applications ifyou want to speak with the effects & enjoy Tiko's voice.
Clownfish
Clownfish is a prevalent Tiko voice changer app designed for voice changing & editing. The app is recognized for its outstanding features & support for desktop applications.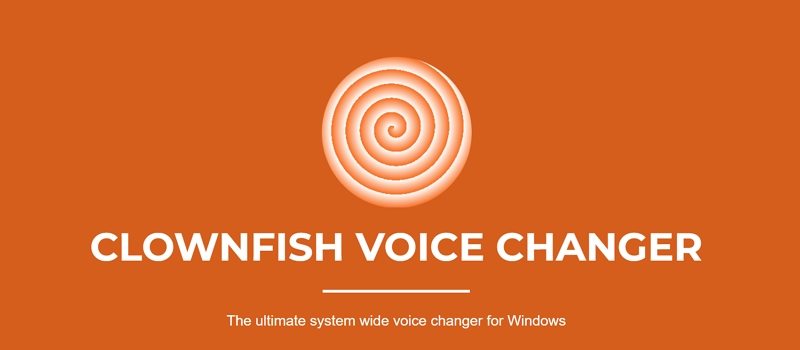 Compatibility: Windows7/8
Key Features:
You could gain multi-language support to reach both native & global audiences.
A voice changer for Twitch, Fortnite, & many more with ease.
Offers customization choices to standout from others.
Voice modulation in real-time.
How to use this voice changer for Tiko?
Install & run Clownfish voice changer tiko. Remember to check system compatibility since Clownfish has 64-bit & 32-bit versions.
After effectively installing Clownfish, tap the desktop "Hide" icon on the bottom-right corner, & you will see the Clownfish icon. If the icon is grey, right-click it & select "Turn on" to activate Clownfish on your PC.
Next, continue to select your Microphone. Then, goto Setup & tap Microphone to choose the voice input device. You could also choose the sound output device under the Audio Output option.
Right-click Clownfish Voice Changer, then click Set Voice Changer. On the pop-up window, set the voice filter as "Baby Pitch." To make the voice sound more like Tiko, play with the Pitch slider till you find what works finest. You can also adjust microphone settings like bass, sensitivity, and treble.
2 Best Tiko Voice Changer Online
If you prefer not to go through the hassle of installing software and are looking for online voice changers, there are several options available to fulfill your needs. These online voice changers allow you to modify your voice without the need for any downloads or installations. Here are a few recommended online voice changer platforms that you can explore:
Jayuzumi
Are you tired of ordinary sound experiences? Look no further than the Jayuzumi.Tiko Soundboard is the ultimate solution for amplifying your fun with interactive sound effects! With the Tiko Soundboard, you can take your audio adventures to a new level.
Key Features:
Tiko Soundboard offers a diverse selection of pre-loaded sound effects.
It allows you to customize your own. You can record and upload your unique sounds or import existing ones.
Whether you want to make your friends laugh with a funny catchphrase or set the mood with a specific soundtrack, the Tiko Soundboard empowers you to do so easily.
How to Create Tiko Voice with Jayuzumi?
Open the website of Jayuzumi.
Follow the setup instructions to set your microphone other settings.
Select Add audio effects to choose audio effects from the list. You can adjust each audio effect with the parameters. The one you should choose is Pitch.
Name the voice effect & save it to the Voicebox.
Open the game or live streaming platform you use and record videos.
Peal.io
Peal.io is an online platform & a soundboard full of diverse voice memos. The website has many sound effects & voices that gamers can use while gaming. Furthermore, the voices have an entirely natural tone, so you can easily joke with your friends.
Key Features:
Natural-toned voice memes & emoticon.
It's a free website to use.
A library including voices that are hard to detect as fake
A very colorful & user-friendly interface
Create your own video & GIF memes using the voice changer Tiko.
How to Create Tiko Voice?
Open the website of the Peal.io.
Launch the application & go to settings to set the default mic & headphones on the voice changer.
Now you have to go to the Soundboard tab of the app. Allocate hotkeys & keys for the voices on the soundboard you want to use.
Change the audio settings to voice changer - virtual device as default input device & headphones as output device and start recording..
Conclusion
Making videos using voice changing is a way to express joy and fun. You can spread this pleasure worldwide like Tiko, who used this method to make the days of millions of viewers. Also, his fantastic yet eccentric songs bring cheerfulness & merriment to many lives. With the Tiko voice changer softwares we listed, you can also make videos like him.