6 Best Music Voice Enhancer with AI in 2023
Audio Enhancement has witnessed amazing progress throughout the years. After integrating with AI technology, these program has become more advanced. With AI-powered voice enhancers, users can easily improve the quality of their audio recording, such as removing noise from the background, adding music, Improving the quality, and more.
In this guide, we will explore the top 6 Music Voice Enhancers with AI. From noise cancellation to audio restoration, these voice enhancers will reshape your audio clips by providing high-quality Audio Content.
What is A Music Voice Enhancer with AI?
Music Enhancer AI uses the Artificial Intelligence to analyze and modify the audio files. Once Music Enhancer completes analyzing, it will restore the audio clip with better sound quality and improved soundstage.
This program will automatically recognize the poor audio quality in the sound recording and fix it in no time. With the help of these programs, users can easily adjust music files and remove unwanted background noises as well.
Why you Need a Music enhancer AI?
This AI-based tool can be used in various scenarios within the music industry. Music producers use these AI tools to improve the sound quality of their recordings while providing new ideas in Melody.
In Live Concerts, Music Artists uses this AI Music Enhancer to remove irritating noise and optimize the sound quality.
Content creators use this tool to enhance the audio quality of their content and make it more interesting for their audience by adding different sound effects and filters.
Live Streamer uses this tool to enhance the audio quality of their videos while live streaming, which will improve user engagement and content appeal.
5 Useful Music Voice Enhancers with AI
Here are the top 5 useful Music Voice Enhancers available online that will help you improve the audio quality of your sound recordings.
1. Veed.io
Veed.io is the best AI vocal enhancer that can eliminate background interference with a single click. This tool automatically improves the sound quality by blocking sound interruptions.
All you have to do is follow a few simple procedure: simply upload your audio clip to this platform and then press on the clean audio button. Now, this program uses AI technology to remove all noises. Once your video is ready, you can download it in an MP4 format and share on platforms likes YouTube, Facebook, and more.
Key Features
Simple and Straightforward Interface
Provides advanced audio-enhancing features to improve sound quality
Enhance your audio clip with a simple process
Allows you to download videos in popular format that are easily shareable on social media
Impressive Customer Support
2. LALAL.AI
The next AI Music Quality Enhancer on our list is LALAL.AI. LALAL is a powerful tool that uses AI technology to remove background noises from the audio clip.
The unique algorithm automatically eliminate unwanted sounds such as noises, music and more and provides clear voice recordings.
Many streamers use this program to remove the background audio from their videos to prevent copyright issues or avoid legal charges. Musicians use this tool to reduce the background noise and other sounds that the microphone recorded during song recordings.
Key Features
Provides excellent quality
Best for Streamers, Journalists, Transcribers and Musicians
Uses AI technology to remove unwanted background sounds
Easy-to-use interface
You can record audio clips directly in the App
3. Audo.ai
Audo.AI is another AI audio enhancement tool specially designed to cater to anyone who wants professional-looking audio clips.
With its user-friendly interface, users can easily enhance their audio clips without having any professional help. This program facilitates easy uploading and allows you to clean your audio files with a simple click.
Audo.AI allows its users to remove unwanted sounds, ensuring top-notch audio quality. After enhancing your music file, you can download the audio file in MP4 format and then share it on platforms like YouTube and more.
Key Features
Advanced Noise Removal feature
Adjust the volume of your sound recordings
User-Friendly Interface
Clear your audio clips with a single click
Allows you to download files in MP3 and MP4 formats
Integrates with streaming platforms such as Discord, Twitch and more
4. AI Mastering
AI Mastering is an MP3 Voice Enhancer that utilizes AI technology to apply automatic audio mastering processes to music tracks. Audio Mastering is the final step in the music production process. In this process, the Music files go through the Music Enhancer tool to get optimized and polished before the release.
Traditionally, audio mastering is performed by professionals, but now, with the help of this tool, anyone can perform this process and polish their audio clip in no time.
With its AI technology, users can analyze and process the music tracks and apply adjustments to achieve the best sound quality.
Key Features
This tool is affordable compared to others
It provides you with quick results, mostly within minutes
Allows musicians and producers to achieve professional sound results
It can clear multiple tracks at a time
Has a friendly interface
5. Krisp
The Last AI song Enhancer on our list is Krisp. Krisp is an AI-powered noise cancelation program that can mute background noises during video or audio calls. With the help of this tool, users can easily eliminate unwanted sounds to improve their audio quality.
This program uses deep neural networks to analyze the audio files and remove the background noises, ensuring that the other person only hears the sound transmitted.
Krips is available on various devices, including Windows, Android, Mac, and iOS. The best part of this program is that it works perfectly with communication platforms like Zoom, Slack, Discord, and Twitch.
Key Features
Unlimited noise, Background voice cancellation
User-friendly interface
Available on devices like Mac, Windows, Android and iOS
Produce crystal clear audio clips
Affordable pricing as compared to other
Premium support
Bonus Tip: HitPaw Voice Changer- Best Voice Changer for PC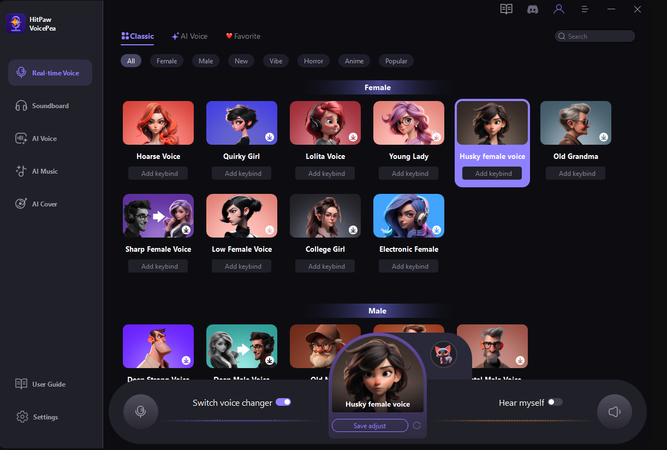 HitPaw voice changer is the best voice modifier available on PC. This program allows you to transform your voice into any character in real-time. The best part of this program is that it has a straightforward interface that allows users to navigate and operate the program easily.
It offers a wide range of voice effects, which includes the voices of celebrities, singers, cartoons, anime, and more. All the voice effects and filters available on HitPaw are realistic and high in quality.
Further, this tool supports over 300 PC programs, including games and chatting apps. It supports platforms like Discord, Twitch, Zoom, Skype and TeamSpeak.
HitPaw also offers some amazing functions like TTS, Voice Cloning, Soundboards, Speed controller, and more.
Key Features
Ability to alter your voice in real-time
Offers a wide range of celebrities' voices such as Drake, Kayne West, and more
Compatible with Windows and macOS
Supports all the platform that uses a Microphone
Includes features like TTS, Voice Cloning, and more
FAQs of Music Enhancer AI
Q1. How to improve audio quality using AI?
A1. To improve your audio quality, start using an online audio voice enhancer program. These programs eliminate unwanted sounds and noises from the background. Hence providing you with a crystal-clear audio clip.
Q2. What is the best AI for music?
A2. There are hundreds of AI Music Enhancer tools available online. Above, we have mentioned the top 5 voice enhancers that will help you produce high-quality audio clips.
Final Thought
Music Enhancer AI tools has totally changed the music industry; with the help of these tools, music producers and artists can now enhance the quality of their sound recordings without hiring a professional. In this guide, we have mentioned the top 5 Music Enhancer tools available online.