6 Popular Halloween Voice Changer to Prank or Scare Your Friends
You might require Halloween voice changer to disguise yourself during the Halloween. To get the best during the Halloween season and to scare your family members and friends, it is necessary to change the voice to the scariest level as possible. An ideal voice changer must be able to change your voice to scary voices of terrifying characters such as Thanos, Ghost, Jigsaw, Goblin, and Joker, among others. But, do you know which tools to use? This article will list the best voice changer tools for you so that you can enjoy this scary season. Read below to know more about different scary voice changer tools.
Part 1. Top Halloween Voice Changers for Desktop/Mobile/Online
This section lists the best voice changer Halloween apps for different platforms such as PC, mobile, and online. Keep reading to know more.
1. HitPaw Voice Changer (Windows and Mac)
The best voice changer for Halloween costume is HitPaw Voice Changer. It offers tons of different voices, including the ones related to the Halloween season. The voice effects such as Ghostface, Vecna, Jigsaw, and different horror voices are provided by this tool. This Halloween costume voice changer changes your voice into a frightening sound. You can experience the fun pranking with friends on Halloween.
Vast collection of scream and scary voice-changing effects for Halloween
Ability to change voice in real-time so that it can be used on the go
Perfect for funny conversations, live streams with a scary touch
Enhance your experience in horror online games
Generate online content with a deadly sound
Set the keybind and switch your voice with 1 click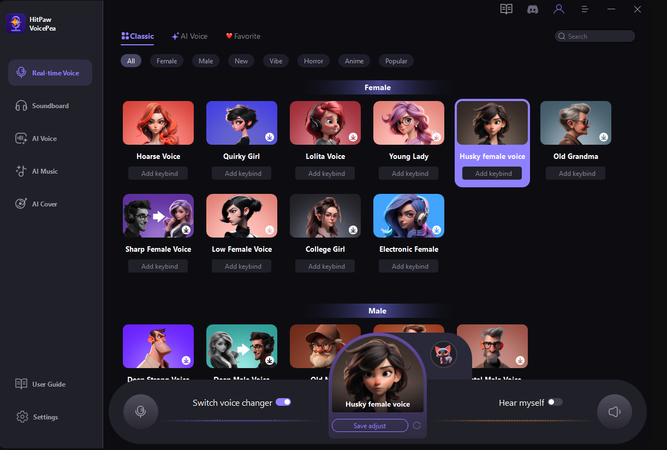 2. Scary Voice Changer & Recorder (Android)
With this voice changer Halloween costume app, users can change their voice into awful ones. In addition to this, Scary Voice Changer & Recorder records users' voices as well. Also, users can rectify the pitch and the voice frequency of the sound if they are recording. This additional feature helps users in making the low or high intensity of their voices.
Creepy Voice Recorder
Voice Customization
Apply Ringtones
Free of cost
3. Scary Voice Changer App (Android)
If you wish to create a scary ringing tone that will make your family members and friends scared this Halloween, then Scary Voice Changer app can be a good choice. Users can make some fantastic tones with this Ghostface voice changer spirit Halloween app. The app comes with different horror cellphone tunes that will suffice your needs. Users can even disguise their voice with terrifying noises. You can use the app to make thriller clips without much efforts.
Record and save voice memos
User-friendly interface
Offers scary ringtones for smartphone
Edit the pitch and frequency of the sound along with other filters
4. Creepy Voice Changer (Android)
If you wish to prank your family members, you may feel the need to get Creepy Voice Changer. It is a scary voice changer that provides many horrific voices to pull off the prank. With this app, users can alter the pitch of their audio files. Cover singers and animation makers also use this app for commercial reasons.
Provides voice disguiser where users can record horror noises
Ability to dub and to do voice acting practices
Offers different horror sound effects, including helium, snake hise, female to male, ogre, and male to female, etc
5. Voice Changer Plus (iOS)
With Voice Changer Plus, users can select from tons of sound effects and fun voices. Also, users can even play their voice backward. In order to hear the recording in a different voice, users can select a new voice and tap play. The app is a very fascinating yet simple to use. With this app, users can apply different fun effects to their voices and record a speech with less effort.
Make voice sound like Darth Vader, Bane, death, an alien, a robot, Optimus Prime, a demon, and more
Adjust the pitch, speed, and modulation of your voice
Can save that file on your device
6. LingoJam Scary Voice Changer Online
LingoJam is one of the best online tool to change voice that can personalize the voice and pitch. The tool changes your voice without delay and at the same time offers a huge range of pitch-changing filters to suffice all needs. The platform requires a proper internet connection to work. Users can either upload an audio file or record their voice using a microphone. Next, all they have to do is adjust the pitch, apply voice filters, and let the platform do the job. The tool is free, and the UI is also easy to understand. Users can use different voice filters such as SpongeBob, chipmunk, male to female, and many cartoons and celebrities.
Ability to apply different voice effects on pre-recorded audio files
Simple UI to cater to all needs
Ideal for making deep fake voiceovers
Part 2. Change Voice with Voice Changers Halloween Device
This section talks about different voice changers Halloween devices that users can use. Have a look.
1. Spirit Halloween Voice Changer
Spirit Halloween voice changer is a tool sold by Spirit Halloween and is suitable and perfect for the Halloween season. It is a small black box with white stripes all over it, two LED's on the top, and a speaker hole in the middle. A wire coming from within the box leads to a small microphone. After speaking into the microphone, users' voice will be changed and played back via the box and speaker in real time, with various different voice effects available. With this tool, no one will be able to know your true voice during Halloween when you use the voice changer Spirit Halloween device to complete your disguise. Users can complete any costume with this device.
Specification
Battery Type: AAA (not included)
Dimensions: 4.25" H x 2.75" W x 1.37" D
Care: Spot clean
Material: Plastic
2. Scary Halloween Voice Changer
Scary Halloween voice changer device helps users to directly change their voice and sound like an alien or a scary person. The device is an audio amplifier that is able to incorporate users voice, add effects internally, and create the voices. Users can scare their friend by carrying the device with them for Halloween costume parties. Whenever you are generating content for streaming platforms or digital media, users can use this device to add effects to the voice. This device assists users to match the vibe of their costume for Halloween.
Specification
Offers two voice filters, monster and alien filters
Ability to adjust the volume and pitch using the buttons
Runs completely on battery and needs 3 AA batteries
Part 3. How to Get a Scary Halloween Voice with Halloween Voice Changer
With that being said, let us have a look at how to get your voice changed to scary one with the help of HitPaw Voice Changer. Follow the below steps to know how to use the tool.
Step 1:Download, install, and launch HitPaw on your device. On the main screen, go to Settings >> drop-down menu >> and select the input and output you are using.

Step 2:Next, select the voice effects as per your preference and select the effects to apply it.

Step 3:To adjust the settings, turn on the Voice Changer and Hear myself options. Check if the preview is as per your preferences.

Step 4:Once everything is set, you can adjust the volume as per your preferences.

Step 5:

Now, launch any program where you need to change your voice. In the program voice settings, select HitPaw Virtual Audio Input option for Input Device.
Conclusion
Having said that, we just had a look at different voice changer tools and devices that can be used to change your voice for the Halloween season. The best option is to use HitPaw Voice Changer, since it offers users tons of different voices, including the ones related to the Halloween season. You can replace voice with extraordinary and immense horrible voice filters and apply awful effects to their voice.