6 Best FNaF Voice Changers for PC & Online
The FNaF put wonderful emphasis on the vocals of its characters. The voice of every character portrays its role and significance in the overall storyline. This feature made people connect with their voice effects.
Today, fans not only distinguish their voices but also want to speak like them. These voices are useful for interaction with friends, social media posting, fun activities, fan videos, YouTube Videos, & marketing.
We will show you how to convert your voice into the vocals of FNaF characters by voice changers. Here are six of the best FNaF AI voice generator for both PC and online.
What is FNaF, and Who are the Voice Actors?
Five Nights at Freddy's (FNaF) is a horror & original point-and-click video game. Released in 2014, it has 9 video games now. Each game circles around locations regarding a fictitious restaurant "Freddy Fazbear's Pizza" reserved by animatronic characters.
The leading player is a nighttime servant who uses safety cameras, whistles, doors, lights, & vents to protect himself against wizards. The story is exposed through voice recordings, mini-games, & Easter Eggs featuring diverse points. The franchise also has spin-off games, a new trilogy, & other media activities. For horror game fans, FNaF is once in a lifetime masterwork.
The Five Nights at Freddy's (FNaF) franchise would not be complete without the brilliant FNaF voice actors who bring these characters to life. There are 36 actors who have voiced 57 characters in the Five Nights at Freddy's franchise. For example, Dave Steele provided the voice for the character Phone Guy in the first two "Five Nights at Freddy's" games.
Heather Masters is known for voicing Circus Baby in "Five Nights at Freddy's: Sister Location." She has also voiced other characters in the series.
PJ Heywood provided the voice for William Afton (also known as Purple Guy) in various "Five Nights at Freddy's" games.
4 Useful FNaF Voice Changers for PC
The list below provides the 4 best FNaF voice changers. We introduce each & give its features to help you fast identify which voice changer to use.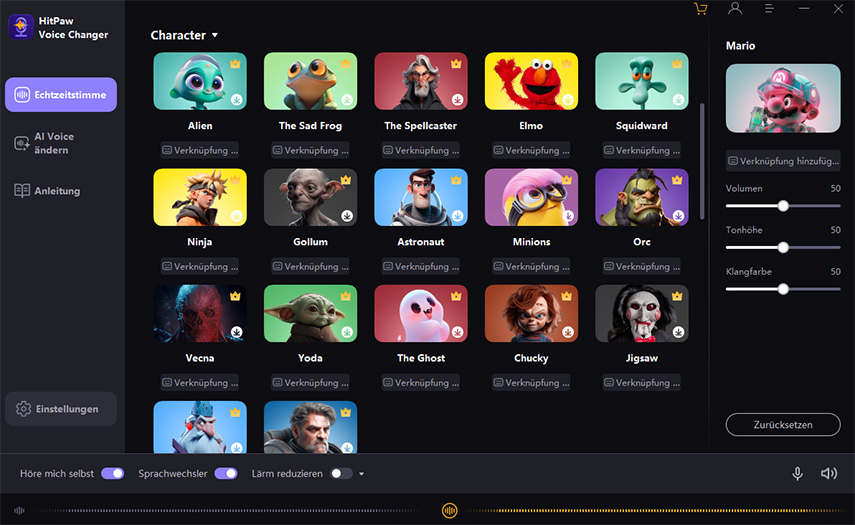 HitPaw Voice Changer is a real-time PC voice changer for online gaming, streaming platforms, & generating voiceovers for videos. Hitpaw allows to change your voice to sound like Glamrock Freddy. It got all the features that you require in a premium FNaF AI generator.
The software is compatible with all the most popular services, for example Elgato Stream Deck, Streamlabs OBS software, Twitch, Omegle, TikTok Live Studio, and Gamecaster. The Best Freddy Fazbear Voice Changer works with video streaming, chat, and AR filter apps as well. It is the perfect solution for anybody looking for an FNaF voice changer app to download & install on their PC.
Price: $15.95 month. Other plans are also available.
Pros
Generate extremely realistic voice in real time
A range of voice effects & filters to apply to the changed voice
Adjust pitch, tone, speed to attain desired roxanne wolf voice changer
Best for live streaming, online gaming, or voice chats
Seamless incorporate with popular platforms, such as Skype, Discord,
Eliminate background noise or enhance the clarity of the voice
Cons
It is comparatively a new product in the market
Here're easy steps that how you can use HitPaw Voice Changer.
1.Go to "Settings", and click the drop-down button to select the input and output you are using.

2.Choose the effects you prefer and click to apply it.

3.Turn on the "Voice Changer", "Hear myself" and try to speak to your microphone to listen how your voice sound like. If the surrounding environment is noisy, you can manually activate noise reduction. Please don't set the noise reduction level too high, as it may filter out some sounds.

4.After selecting the desired sound effects and previewing them, you can adjust the volume according to your preferences.

5.Change Voice on Discord:Open "Discord", Click your "User settings" and go to "Voice & Video, Then select "HitPaw Vitrual Audio Input" from the drop-down list of input device.

2. MorphVOX

The MorphVOX Voice Changer is a fun &easy-to-use freddy security breach voice changer program that lets you to sound like Glamrock Freddy. The tool is famous for its advanced features. The tool changes voice in real-time and is thus perfect for online gaming & communication. This free voice changer for PC comes with two operating modes as well. This voice changer FNaF app lets you combine diverse sound effects & background sounds to mask your voice. You can use it with diverse apps & games to trick your friends. Also, it works with several online chats & all voice platforms.

Price: $39.99 USD

Pros

You can do optimum voice change effects.
There are many in-built voices & sounds available for its users.
It offers you several voice parameters to change your voice.
It allows users to perform reasonable customization of voice editing & changing.

Cons

It is not easy to use; you require to learn it before using it.
The Mac version is better than the Windows version.

3. Voxal Voice Changer

Another alternative for the best FNaF voice changer pc is Voxal Voice Changer. It is perfect for users seeking voice customizations. The free version of the tool offers lots of features that users can use to change their voice. It comes with lots of brilliant voice presets for boys, aliens, girls, robots, & much more.

Users can directly record new files or use the present ones. Though there are tons of improved features to be used for voice changing on Discord, Valorant, Skype, and different other programs. You can also generate your own FNaF voice effects with advanced editing tools.

Price: Free (home use only), Free Trial or from $1.11/month

Pros

A huge preset filter's library.
Low CPU use.
Compatible all application.

Cons

Limited options in the free version.

4. Clownfish Voice Changer

Clownfish Voice Changer is one of the best FNaF animatronic voice changer for PC options & also the most user-friendly & easiest to use. The tool offers easy approaches to change voice from one style to another. Along with this, the tool also permits users to use it on different platforms for free. This tool is an easy yet effective FNaF sb voice changer that is compatible with Discord, Hangouts, Viber, Steam, & different other gaming or chat apps.

Price: Free

Pros

It has an in-built sound player, which is effective for audio management.
Beneficial sound players & audio control features.
It has text-to-speech support.
You can use it as a background music player.
It supports the VST plug-in.

Cons

Limited voices, only 14 voices for selection.
2 Great FNaF Voice Changers Online
Here we will discuss 2 great FNaF Voice Changers Online which you can change your voice without FNaF voice changer download.
1. Voice.ai
Voice.ai is an FNaF voice changer online software that can be used to change your voice in real-time while speaking with others through diverse platforms for example Skype, Zoom, & Discord.
The website offers a diversity of voice effects, including female, robotic, male, and celebrity voices. Voice.ai lets users to upload audio files & convert them into different voices. Supported OS are Windows 8 / 10 / 11. In this app Unlimited voices offered by users are available.
Price: Free
Pros
Supports record mode & live mode
Supports singing mode & breaths reduction
Abundant voices offered by users
Offers several celebrity & character voices
Supports audio file voice changing
Cons
You need to upgrade to remove the watermark from audio
Require to pay for training a voice
2. voicechanger.io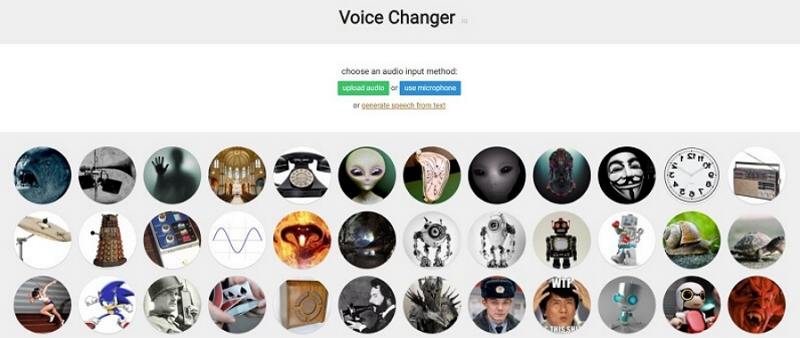 Voicechanger.io is a fun & easy-to-use online Freddy ফazbear security breach voice changer app that lets you change your voice into Glamrock Freddy in real time. You can download this FNaF Glamrock Freddy voice changer & use it with your computer or tablet, but there is no reason to install anything if you want to try it out.
Enter your name, select a voice, & click "OK." The app will play some noises while it records your voice, then play them back in a diverse voice. You can also drag sliders to adjust speed, pitch, and other factors.
It is easy to share the results of your experiments on social media or send them as audio files via email or text message. The app does not need registration or sign-in; you only require a microphone connected to your computer or device
Price: Free
Pros
Over 100 Sound Effects
Easily Uploads Files
Free FNaF Robot Voice Changer
Cons
Not For Professional Purposes
FAQs of FNaF Voice Changer
Q1. How do I make my voice sound like Glam Rock Freddy?
A1. With Voice changer Glamrock freedy, anybody can make voice like the popular character.
Q2. Who is Freddy's VA?
A2. Kellen Goff is a voice actor from the United States who has been involved in the Five Nights at Freddy's franchise.
Final Thought
These top recommended voice changers put forward amply of options to sound like Glamrock Freddy with FNaF Voice changer. Each one is loaded with top-notch intelligence in features and& hundreds of effects. If you are interested in sounding just like your favorite character, then ensure to look out for FNaF AI voice changer, they are user-friendly, & the effects are just outstanding.