Top 5 Alternatives to Voicemaker in 2023
In the fast-paced digital world of today, the ability to convert text into speech has become increasingly valuable. Whether you're a content creator, a podcaster, or simply someone looking to add a unique touch to your audio content, having a reliable voice changer at your disposal can make all the difference. One popular option in the market is Voicemaker, an online tool that offers an array of features to transform text into high-quality speech. However, it's always beneficial to explore alternative options to find the perfect fit for your needs. In this article, we will dive into the world of voice changers and explore five of the best alternatives to Voicemaker in 2023.
From intuitive interfaces to diverse voice options and customizable features, these alternatives offer a range of functionalities that can enhance your audio content creation. So, let's embark on this journey to discover the top alternatives and find the perfect voice changer that suits your requirements.
Part 1: What is Voicemaker?
Voice maker In is a popular online tool that enables users to convert text into speech. It offers a range of features and functionalities that make it a convenient option for those looking to generate high-quality audio content.
However, like any other tool, voice maker online has its pros and cons. Let's have a look at its features also. You can also access some of the features of voice maker online free.
Features
Voicemaker employs advanced algorithms to generate natural-sounding voice recordings.
Voice Maker provides a diverse selection of voices.
With it, you have control over various speech parameters.
Voice Maker online supports multiple languages.
It allows easy integration with text-to-speech (TTS) APIs, voice assistants, chatbot frameworks and more.
Price:
Basic plan costs $5/month
Advanced plan costs $15/month
Pros
High-quality voice generation
User-friendly interface
Wide variety of voices to choose from
Customization options for voice modulation
Multiple output formats
Text to speech voice maker is of high quality
Pros
Limited Voicemaker in free version features
Pricey premium plans
Restricted voice options for free users
Occasional inconsistencies in voice quality
Limited language support
Part 2: 5 Useful Alternatives to Voicemaker
Now, let's explore five alternative online voice changers that can be considered as reliable alternatives to text to speech Voicemaker. These alternatives offer similar functionalities and can be valuable options depending on individual preferences and requirements.
1. Veed.io
Veed.io is a versatile online voice changer that provides users with a wide range of features to modify and enhance their audio content. It offers an intuitive interface and allows users to create captivating voiceovers with ease. The pricing plans of Veed.io are competitive, making it an attractive option for users looking for affordability.
Pros
User-friendly interface
Extensive library of voice effects
Real-time voice modulation
Affordable pricing plans
Collaborative editing features
Pros
Limited free version capabilities
Some advanced features require a subscription
Occasional glitches in the user interface
2. Speakatoo
Speakatoo is another noteworthy alternative to Voicemaker that offers a range of powerful voice generation features. With Speakatoo, users can transform their text into natural-sounding speech using various voice options. The platform's ease of use and competitive pricing make it a strong contender in the market.
Pros
Simple and intuitive interface
Diverse voice options
Realistic speech synthesis
Cost-effective pricing plans
Multilingual support
Pros
Limited customization options
Certain advanced features are only available in premium plans
Occasionally slower processing times
3. Texttovoice.online
Texttovoice.online is an online voice changer that focuses on simplicity and efficiency. It allows users to convert text into speech quickly and conveniently. The platform offers a variety of voices and speech styles, making it suitable for different types of content creation.
Pros
Fast and efficient conversion process
Multiple voice options
Easy-to-use interface
Free to use with limited features
Responsive customer support
Pros
Limited customization options
Advanced features require a subscription
Occasional limitations in voice quality
4. TTSmp3
TTSmp3 is a reliable online voice changer that offers a range of voice options for converting text into speech. The platform provides users with various customization settings to personalize their voiceovers. TTSmp3 is known for its simplicity and affordability.
Pros
Simple and straightforward interface
Wide selection of voices
Customization options for voice modulation
Free to use with limited features
Competitive pricing for premium plans
Pros
Limited free version capabilities
Some advanced features are restricted to premium users
Occasional delays in processing times
5. Colossyan
Colossyan is a powerful alternative to Voicemaker that offers advanced voice modulation capabilities. It provides users with a wide range of voice effects and customization options to create unique and engaging audio content. Colossyan is suitable for both personal and professional use, and its pricing plans offer flexibility to accommodate different needs.
Pros
Extensive collection of voice effects
Advanced customization options
Real-time voice modulation
High-quality audio output
Affordable pricing options
Pros
Learning curve for beginners
Some advanced features require technical expertise
Limited free version features
Bonus Tips: Best Alternative Voice Changer to Voicemaker to Make More Fun
HitPaw Voice Changer
Apart from the alternatives mentioned above, HitPaw Voice Changer is worth considering to add a touch of fun and creativity to your voice modifications. With HitPaw Voice Changer, you can enjoy the following features: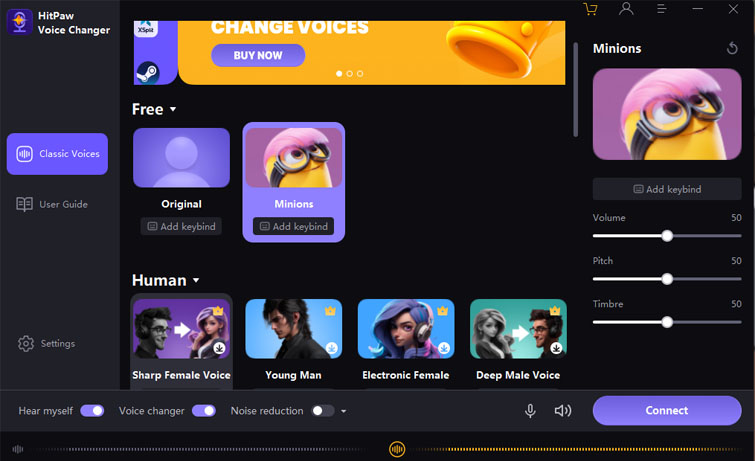 Generate voices that sound realistic and like a real human voice.
Convert your voice to the most realistic and natural voices in real time.
Instantly transform your voice to imitate famous characters, celebrities, or iconic voices.
HitPaw Voice Changer is an useful software for its extensive features and versatility. It provides an exciting way to experiment with different voice styles and create engaging audio content.
Part 4: FAQs of Voicemaker
Q1. Is Voicemaker free to use?
A1. Voicemaker offers both free and premium plans. The free version has limited features, while the premium plans provide access to advanced functionalities.
Q2. Is there a free text to speech generator?
A2. Yes, some online voice changers, including Voicemaker, offer a free version with limited features. However, premium plans usually provide more comprehensive options.
Conclusion
In conclusion, if you're looking for alternatives to Voicemaker in 2023, there are several reliable options available. Each alternative comes with its own set of features, pricing plans, and pros and cons. Consider your specific requirements, budget, and desired level of customization to make the best choice for your voice-changing needs.