Age Limit for Twitch: How Old Do You Have to Be to Stream on Twitch?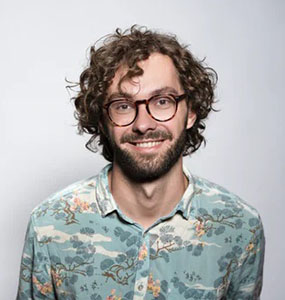 Twitch is a network for live video streaming that may be accessed via a website or an app. Although live videos can depict any activity, Twitch's content is mostly concerned with gaming. Twitch is a popular website for young people and adults to watch or create live videos of others. And maybe more and more teenagers want to live stream for their favorite games and others. But there are strict Twitch age requirements on how old do you have to be for Twitch.
For parents, other than care about age limit for twitch, they will also want to know something else. So, how do you get more viewers on Twitch? Here are our demonstrations about the subject of people's chats on other channels, and how old do you need to be to stream on Twitch?
Part 1. The Twitch Demographic
Before knowing the twitch age requirement, we will talk about something you need to know. Twitch plays a key role in the internet world as a provider of leisure and youth-centered society online due to its status as a massive conglomeration of very well players and broadcasters of all sorts.
Furthermore, the large bulk would be between the years of 16 and 34, as well as they over-index for higher earners in the top 10%. This demographic divide may be seen in all five sites, but in Latin America, wherein Twitch involvement is greatest, it shrinks to 58%. A big number of people of different ages that how old to stream on Twitch. So, it is important to mention that millennials make up roughly 71% of Twitch's audience. Since many Twitch users fall just short of the age limit for Twitch, age-related rules are even more important to follow. Take a peek at the demography below to see the statistics.
Part 2. Age Limit for Twitch: Can a 10/11/12/13 Year Old Stream on Twitch?
For a teenager who wants to live stream on Twitch, there is no doubt that " how old do you have to be on twitch"and "can a 13/14 year old stream on twitch" would be the most important things.
1.Age Limit for Twitch
So, how old do you have to be to have Twitch? Twitch rules specify that anyone under the age of thirteen is not allowed to also have a Twitch account or stream. Teenagers over the age of thirteen should only use Twitch for viewing or broadcasting under the direction of their parents or guardians. Online streaming games allow players of all ages to talk about their experiences with someone while discovering new ways and techniques as long as these conditions are satisfied.
You could still use Twitch unless you're under the age of 13 or 16, but unless you broadcast with parental guidance. Although Twitch's stated policy forbids members there under the age of 13, these networks are typically recommended for individuals above the age of 15.
2.Is Twitch Safe for 11 Year Olds or Other Streamers?
They provide a variety of options to help your youngster remain secure when watching or broadcasting on Twitch.
Also, Twitch provide a variety of options to help your youngster remain secure when watching or broadcasting on Twitch.
Chat Filters
Despite the fact that Twitch's Community Standards and Terms and Conditions of service spell out whether or not this is appropriate behavior, you may personalize your spectator experience. Filtering potentially inappropriate language throughout all Twitch streams you visit is possible with viewer-side chat filters.
Stream Moderation
Develop a moderation approach when you or your adolescent starts broadcasting on Twitch. From the Creator Panel, you may change your Moderation settings. Their Discussion Services section gives a summary of something like the Twitch features that can assist you in maintaining a safe and happy chat. However, also with moderation, bullying can occur, thus we provide numerous options for dealing with abuse on Twitch.
Part 3. How to Stream on Twitch under the Age Limit for Twitch with Ease
After learning something about how old do you have to stream on twitch, you may want to know how to stream on Twitch under the age limit.
Whenever users come to find your Twitch account, among the first things they see here is your channel page. This should be well-designed so that you really can easily gain more followers. So here are a few pointers about the preparation regarding how to create an attractive Twitch stream:
Name/Username: Maintain a minimal design that is distinct enough to avoid getting confused with other possibilities.
Channel Art: This would be the banner that shows at the beginning of your stream. That should be of exceptional quality and represent your character or business.
Profile Picture: Make absolutely sure it's a high-resolution photo of yourself that accurately reflects who you really are as a broadcaster.
Bio: Keep it short and sweet, yet informative. Tell your viewers what to plan from your Livestream.
Twitch Links: Provide links to other websites where people may learn more about you and watch your live feed.
Twitch also suggests employing the following aspects to make a strong first assumption: Schedule, Videos, Followers/Following Ratio, Links to Social Media Platforms, and Donation Buttons (optional).
How to Set Up a Stream on Twitch – A Simple Guide:
Twitch recommends streaming with Open Broadcast Software (OBS). Alternative programs, including XSplit or Mirrativ, should be used as well. All of these could be obtained for free and streamed on Twitch.
1

The following is the basic OBS configuration: Under Video Source > Scene > Sources > Game Capture, add your game capture sources.

2

Make sure the gameplay capture source shows whatever you want visitors to view. It should seem exactly as it will during live programming. Whether there are any issues at this point, fix them before moving on. Otherwise, Twitch would not recognize your scene.

3

Following that, the audio will be played. For OBS, choose Audio Input Capture Device. Then, double-check that you're using the right audio device. This will also be your default device whether you're using a headset.

4

Choose Video Capture Device first from the drop-down menu after plugging your webcam.

5

Lastly, select OK after giving your stream a name. You're ready to start broadcasting now.
Part 4: Streaming on Twitch Attractively with HitPaw Screen Recorder
In addition to that, we would like to introduce HitPaw Screen Recorder which is an effective tool that helps in recording and live streaming. HitPaw Screen Recorder is a powerful and easy-to-use tool for producing high-quality live streams with texts, graphics, and video/screen recordings. You may broadcast your game, webcam video/images, or computer video/image/text inputs with a range of added components such as text, photo overlays, stickers, customizable strokes, fades and much more using the complete live stream editing tools.
HitPaw Screen Recorder has a plethora of customization options and options which you may use to personalize your streaming video experience. This is the most effective Twitch streaming software on the market. There are also options for changing sound - visual output from a number of sources to make a wonderful all-in-one recording.
The Following is a Step-by-step Guide to Use HitPaw Video Recorder to Go Live:
Step 01 Free download HitPaw Screen Recorder and install it to a PC or Mac computer.
Step 02 From the main menu, pick "Live"-"Live Streaming" first from the drop-down list. For live streaming, gameplay, display, application, camera, photographs, or texts, select the "Add Source" option.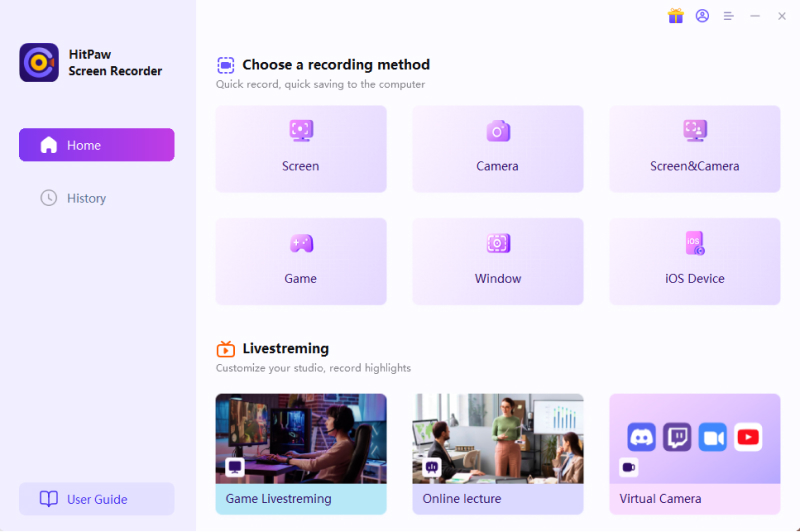 You may select from a wide range of fascinating and beautiful templates. Create your live stream more fascinating by selecting a theme first from the Templates tab on the right of the screen.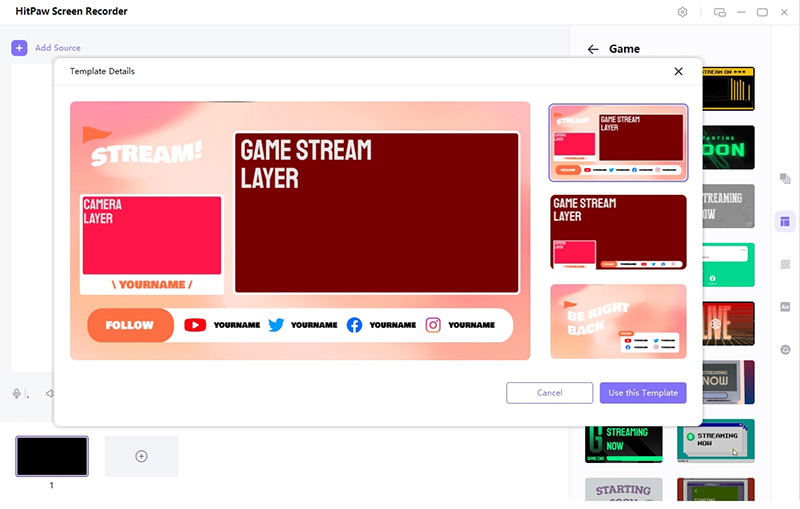 Step 03 Click "HitPaw Virtual Camera" from the camera selection on your streaming live service. Then you may use HitPaw Screen Recorder to begin live streaming. Imagine, for instance, Twitch.
Live Stream on Twitch:
1.

Open OBS Studio or Twitch Studio on your computer.

2.

Select "Video Capture Device" as a source.

3.

From the device list, pick "HitPaw Camera."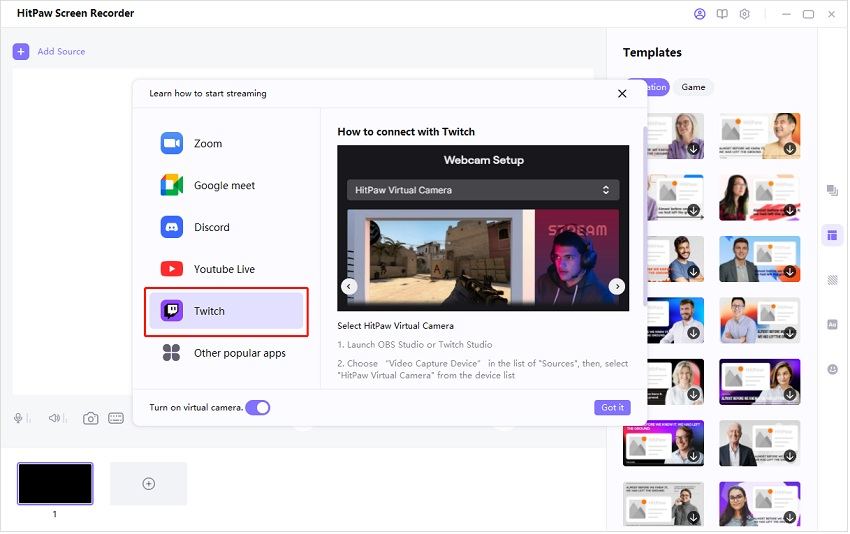 The Bottom Line
To summarize, now that you understand how to broadcast on Twitch, you have all of the answers to the question of how old do you have to be to stream on twitch. Most of the other content not meant for younger audiences will be blocked by age rating regulations for some channels, but not everything. There seem to be no long-term strategies to keep young people away from Twitch. Among the few options is to IP restrict the website using your Broadband Provider.
Aside from that, you don't have very many choices. The majority of teens are clever enough already to watch their chosen streaming service without their parents knowing. And also, most will go to any lengths to do so. We've also shown you how to utilize HitPaw Screen Recorder to capture the full live broadcast with only a few clicks.