The Complete Review of HitPaw Photo Enhancer: Is It the Best?
Touching up pictures and photos may seem quick and straightforward at first but could get technical at times. You may need to enhance images using professional image parameters and professional tools as well. HitPaw is one such application, and we'll show you the main tips on ways you could use it in the following paragraphs:
Summary
Summary
In this article, we will describe what is HitPaw Photo Enhancer, is it free or pay, how to use it, the detailed features of it, why it is better than other tools and more.

1.What is HitPaw Photo Enhancer
HitPaw Photo Enhancer is a pro-grade image editing application for PC users. More than that, it's software that allows you to upscale your pictures and images, making them look better than they once did. Some of the main features within the application include image AI integration, Landscape sharpening, and enhance anime images.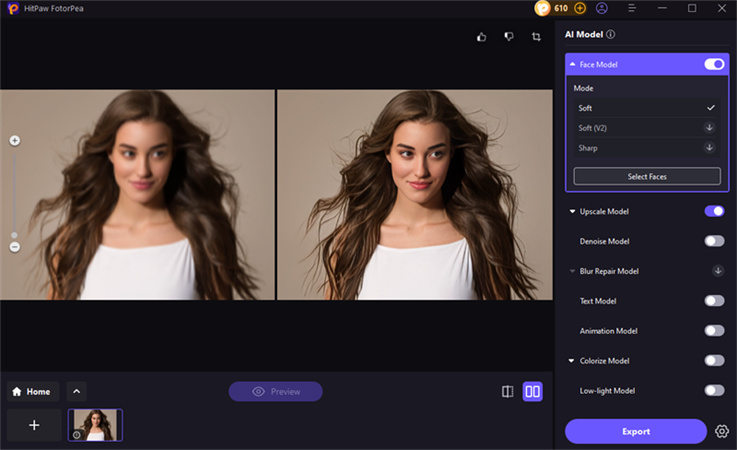 Furthermore, the software enables you to sharpen blurry structures in the picture and upscale the image's resolution for painting. HitPaw Photo Enhancer is available for Windows OS, beginning from Windows 7.
2.Is HitPaw Photo Enhancer Free
No, but Hitpaw provides giveaways. You can subscribe to their site to get giveaway news. On the pricing front, HitPaw has tiered prices, which is on par with other competing applications. The One-Month Plan goes for $8.99 a month, the One-year Plan costs $29.99, and the Lifetime Plan starts at $59.99.
Each price comes with frequent discounts, and HitPaw allows you to cancel your subscription at any time.
3.How to Use HitPaw Photo Enhancer
To learn how to use HitPaw Photo Enhancer, please check the steps below in details:
Visit the official HitPaw Photo Enhancer and click the download link, or you can click the download button below and promptly install afterwards.

Open up the application, and import your picture file. You can use the drag and drop feature on your PC or choose the file directly from the folder.

Select the "Preview" option to begin the processing. It may take a few seconds to complete, so you might want to wait. There is a TTA mode if you need to re-edit the file once again. However, bear in mind that the mode is a bit more technical and would take more processing time as a result.

Once done with the processing, you'd need to select a format and export it. HitPaw Photo Enhancer gives 3 of the most popular format options for your images: WEBP, JPG, and PNG. Would you please select any of them and save the edited image?
However, it is essential to know that you cannot export images on a free trial version of the app. It means that you'd have to purchase the full version using the "Buy Now" button on the main page; also, if you have a longer waiting time when processing, you might want to check your PC hardware and software requirements.
The Special Use of HitPaw Photo Enhancer
HitPaw Photo Enhancer is an image processing app suitable for a general use range. Typically, you'd likely use the software for simple to mild image editing tasks. It can also handle technical and extensive enhancements as well. Below are some unique use cases for HitPaw photo enhancers:
1.Landscape Clear-Up
This is one of the most popular special use for the HitPaw Photo Enhancer. Did you take a landscape shot, and it came out blurry? HitPaw can handle it for you. Thanks to its AI sharpening technology, the app automatically sharpens edges.
2.Animated Image Enlargement
Images sometimes lose quality once you enlarge them. It is a common problem which HitPaw Photo Enhancer can fix. The feature allows you to enlarge a pic a cartoon-like picture without losing sharpness and contrast.
For instance, if you are an animated content creator, you'd need to enlarge some cartoon images for bigger output screens. A loss in quality might affect the rest of the storyboard, but you can use the HitPaw Photo Enhancer to enlarge the image while retaining the original quality.
3.Building Sharpening
This is another nifty special feature that you can use to get the best out of HitPaw Photo Enhancer. The application intelligently identifies buildings and other similar structures in an image file and sharpens them. This allows you to create a perspective effect that is more appealing than manual renditions.
5.What Makes HitPaw Photo Enhancer Better than Other Tools
Drawing parallels between HitPaw and other image processing apps would certainly highlight some differences between them. However, some standout reasons make the application a much better value than other competing titles. Some of them are:
1.The Software is Automatic
While other image processing apps would have you fiddle with ISO settings, EXIF files, and whatnot, HitPaw seamlessly edits your images using AI techniques. It means that you only have to press a button to adjust the details. The method is more convenient and saves you more time.
2.It is Light-Weight
Not everyone would want an image processing package running up to GBs of data. This is especially so if you don't edit images very frequently. HitPaw Photo Enhancer comes in to fill in the gap perfectly. It's lightweight and has just as many features as you'd find on heavier app options.
3.Suitable for Painting
While you have to dive deep into the settings in other image editing apps to adjust painting image resolution, HitPaw does it for you right out the door.
4.Intuitive User Interface
Many people easily get overwhelmed with the overly crowded toolbar on most mainstream image enhancement software. Having to choose from a jumbled mess of tools and options quickly makes for a horrible user experience.
Thankfully, HitPaw has an intuitive user interface and an overall superior user interface. It's got a main drag-and-drop window, with the other TTA mode to the side. You get a clean setup, and nothing would confuse you as you enhance your photos.
How Do Users Say About HitPaw Photo Enhancer
The user from sharewareonsale:

The user from giveawayoftheday:
Conclusion
You may be into amateur or professional image processing and need the right tools for your work. Some of the mainstream options may be too expensive or less intuitive, which is why we recommend HitPaw Photo Enhancer.
The above article is a complete summary of how you can use the HitPaw Photo Enhancer application on your PC for automatic enhancements. Overall, it is an excellent application that offers superb value for your money.