The Complete Guide on How to Turn Live Photo into GIF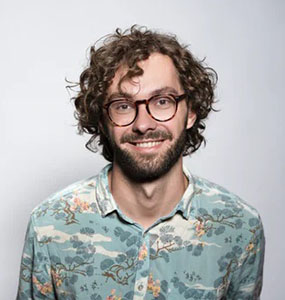 Joshua Hill
iPhone 6 came with the Live Photo feature, which has been retained by successive iPhone versions. Apart from making pictures more lively, you can add more detail to Live Photos than a still photo. One issue many people have with the live image is the sheer amount of size it takes. A way to save space is to convert the Live Photo to GIF format. This post shows how to make a live photo into GIF as fast as possible.
1. What is a Live Photo?
A live photo is like a video picture. It spans 3 seconds. It starts capturing 1.5 seconds before the shutter is up and 1.5 seconds after the shutter is up. This means you will have to be completely still for 3 seconds if you want a still life photo. You can also alter your pose within the 3 seconds of capture.
2. What's the Difference between Live Photo and GIF?
If you see a live photo for the first time, you may mistake it for a gift file. Below are the differences between a live picture and a gif.
A gif is simply a short video in a different format than MP4. Live Photos, on the other hand, are 3 seconds videos that comprise 1.5 secs before pressing the shutter and 1.5 seconds after.
Gif files and live Photos are not saved in the same folder. Gif files, when shared across multiple platforms, remain as gif files. When live photos are shared on some platforms, they display as ordinary images.
Live Photos take up more space and have higher resolutions than GIFs.
3. Can I Convert Live Photos to GIF?
Yes, there are online tools and software that you can use to convert live photos to GIF. Whether you are using an iOS or Android device, live Photos can be converted to GIF with ease and faster.
4. How to Make Live Photo into GIF
a. Use Photos App in iOS Device
iPhone 6S and later iPhone versions can create live photos and convert them to GIFs in few clicks. Below are the steps required to convert live photos to GIF on the Photos App.
Open Photos App on your iPhone and choose Album that contains live photos.

Tap the picture you want to convert to GIF.

Open the Live Photo and swipe up when viewing until you see four options: Bounce, Live, Loop, and Long Exposure.

Choose any of the desired effects, and the photo will be added to a new album tagged Animated Album.
The Live Photo has been successful converted to a GIF here, so you can share the GIF file on whatever platform you choose.
b. Use Third-Party Apps
Since the advent of Live Photos on the iPhone 6S, many software developers have launched apps that can read and convert live photos to GIFs. We consider three 3rd party apps and how to use apps to turn live photos into GIF.
1. Lively
Lively is one of the most popular 3rd party apps used as a live photos converter. It can convert live photos to GIFs, PNG, JPG, and other image formats. It can also convert GIF to live photos. Lively is free to use and has a straightforward user interface. The steps below show how to turn a live photo into a gif through Lively.
Download the Lively app from the App Store. Install Lively, launch, and Grant it permission to access Photos.
Tap the GIF option on the top menu or choose either Frame or Movie.
Tap the Export GIF button to select live photos you want to convert to GIF and begin the process.
Check the Lively website for information on how to make a GIF a live photo.
Note

If you are using the free version of Lively, the GIFs will contain watermarks. You can remove the watermarks by upgrading to a paid Lively account. Alternatively, you can use the HitPaw watermark remover tool on the GIF file.
2. Joyoshare LivePhoto Converter
This is a free 3rd party software that converts iPhone live photo to GIF on Windows and Mac PCs. Use Joyoshare to run batch conversions of live images or one at a time. Joyoshare can also convert live photos into other high-quality image formats, including PNG, JPG, and others.
Visit Joyoshare's official website to download and install the software on your PC. Launch the software.
Use a USB cable to connect your phone. Sync the live photos you want to convert and save them on the desktop folder.
Click Add File on the top menu to put live photos you want to convert on the interface. Add as much as 20 per session.
Use the Edit button to preview live photos and make changes to them. Click Format and select GIF as output format. You can also rename the file and change the resolution as desired.
Click Convert when you are satisfied with the settings. In a short while, you should see your GIFs in the Converted folder of Joyoshare.
3. Use GIPHY
GIPHY is a 3rd party iPhone app that is used to create GIFs from camera photos. It can also convert GIF to live photos. The steps below show how to make a live photo into a GIF with Giffy.
Download GIPHY from App Store. Install and allow permission to access Photos.

Launch the app and click Create by the top right corner (beside the camera icon).

There are two options. You can choose to snap photos instantly and convert them to GIFs or locate your albums to find live photos you want to convert to GIFs. Choose the preferred option.
Use the customization tools to add effects and preferences to your photos. Once you are satisfied with the settings, tap the purple arrow below to upload the GIF. A link for sharing the GIF file will be provided, and you can also save the GIF file in your preferred folder.
5. If You Want to Convert a Video to a GIF? Use HitPaw Toolkit
You may find a part of a video very funny or informative that you would like to send as GIFs during chats. If pictures tell a thousand words, a gif tells a whole much more. Apart from making chats easier, creating gifs help you dig into the creative side of you so you can have some fun creating gifs from videos.
HitPaw Toolkit is one of the best converters to use when converting video to GIF. You can do the conversion with this software in just 3 steps.
Download the software, open it and select Video to GIF option.

Select or drag and drop the video you need to convert.

Choose the portion of the video you want to convert to GIF. This is done by moving the arrowheads to mark the start and the end of the GIF file.

Click Play to preview the GIF. You can also alter parameters like resolution and quality.
Click Next and then select the quality to store the emerging GIF file to your computer.
Conclusion
Converting Apple live Photo to GIF is easy when you use the right tools. There are a handful of live photo to GIF apps you can use, but we have included only a few powerful live photos to GIF converter to our guide.