Davinci Video Editor: Is It Worth Your Try?
The rise in video content produced and posted on websites like YouTube, has led to a lot of competition between the various types of non-linear video editors that are being purchased by consumers; so why should you choose DaVinci Video Editor? You should choose it, not only because of its low-cost, but also because it is easy to use on many traditional workflows that have been known to be visually complicated. DaVinci Video Editor's editing page has fewer options that can be used to quickly add video shots to timelines; there are creative options that video creators and editors can use to easily make outstanding videos.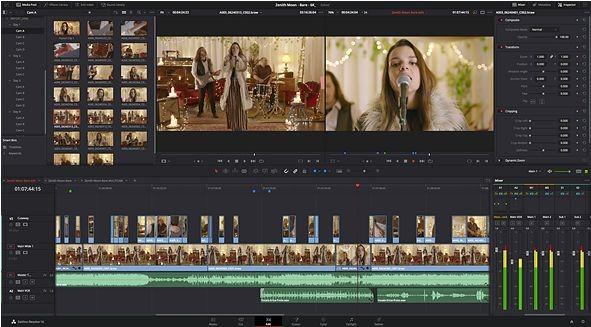 Part 1. What Features DaVinci Resolve Video Editor Has?
The amount of unlimited creative options, toolsets, and flexibility provided by DaVinci Resolve Video Editor, makes it easy for video producers and editors to achieve many goals and collaborate with people who have different creative talents. With just a few clicks, anyone can navigate between audio editing, effects editing, visual editing, and color editing.
Generally, DaVinci Resolve Video Editor has the following features:
It enables colorists, VFX artists, and many editors and designers to work together on similar projects, and at the same time.
It has an advanced color corrector that can be used for color correction, editing, finishing, and delivering.
It can be used for multi-camera television production, and high end finishing in projects because of its compatibility, image quality, and speed.
It possesses an unlimited number of grading tools that can be used by creative colorists to produce commercials, documentaries, feature films, and musical videos.
It is context sensitive: it can detect how you would like to trim content based on the location of your mouse. With this feature, you can save a lot of time.
It has a feature that makes it possible for multiple GPUs to work together, as can be found in the latest Windows, Linux, and new MacPro.
Part 2. Does The DaVinci Resolve Video Editor Work on My Computer?
DaVinci Video Editor can be installed on Windows, Linux, and Mac operating systems. Furthermore, it can work on a desktop workstation, and gaming laptop that is between mid and high level. In order to use DaVinci Video Editor, you will need the following minimum system requirements:
At least 16 GB RAM; preferably, you can use anything higher.
At least, Intel Core i7 processor for the CPU: for Mac OS, you need a minimum of X 10.10.5; for Windows OS, you need a minimum of the 8.1 version; for Linux OS, you need a minimum of CentOS 6.6.
At least, 512 GB memory size for external storage space (SSD).
At least 4 GB as the minimum GPU.
Part 3. How Much Does DaVinci Resolve Video Editor Cost?
DaVinci Resolve Video Editor has a free version and Studio version. The DaVinci Video Editor free version does not cost anything; you can download it without spending a dime. DaVinci Resolve free Video Editor has advanced editing tools that include visual effects, audio post production and color correction features, and motion graphics.
On the other hand, DaVinci Resolve Video Editor Studio version costs $299, and has all the features that are available in the free version; in addition, it has stereoscopic 3D tools, HDR grading, film grain, ResolveFX and FairlightFX plugins, multi-user tools, motion blur effects, mist effects, and DaVinci Neural Engine features. Also, it makes collaboration between multi-users possible, and allows access to free updates for new features of upcoming versions of DaVinci Resolve Video Editor.
Part 4. How to Edit Videos with DaVinci Resolve Video Editor Free?
DaVinci Resolve Video Editor Free version has a full set of tools that both experienced and inexperienced editors can use to create their videos for feature films, documentaries, and movies. Anyone who is interested can get DaVinci Video Editor download from the internet; both the free and studio versions. However, DaVinci Resolve Video Editor free version has a little less features, while the studio version has more features. The following DaVinci Video Editor tutorial has steps that can be used to edit videos:
Step 1: Access the primary or default selection tool by pressing "a". With the election tool, you can remove and rearrange clips, and extend and increase the duration of a clip.

Step 2: Use the white handles at the beginning and end of each clip to create a fade-in or fade-out by dragging them inward.

Step 3: Adjust the volume of an individual audio clip by moving the bar up or down

Step 4: Open the blade tool by pressing "b" on the keyboard, and use it to splice clips up into smaller clips which you can further adjust, delete, or move around individually.
Step 5: Next to the selection tool is the trim tool which you can access by pressing "t". With the trim tool, you can achieve different types of trim edits, depending on where you place your cursor on the media clip. If auto select mode is off, you have to put it on in order to get the full benefits of the trim mode.

Step 6: To perform a roll edit, find the roll edit under trim operations. With the roll edit, you can increase or decrease the length of a clip while increasing or decreasing the length of the adjacent leg.

Step 7: To perform a ripple edit, bring your cursor slightly in from the edge of a clip, and an icon will appear which will allow you to proceed and do a ripple edit. You successfully do a ripple edit whenever you increase or decrease the length of a clip you have selected; all other media clips on the timeline, if they are on active auto select, will move forward or backward with the clip, and whenever you increase the duration of a clip, it will ripple all of the other media in the same direction.

• Step 8: In order to perform a slip edit which is a trim tool, while in trim mode, place the cursor on the thumbnails of the track in the middle area of the clip, and it will slip the placement of the media to a section that is different from the one that was marked in when inserting the clip to the timeline.

Step 9: To perform a slide edit, place the cursor underneath the thumbnails where the title of the media clip is located. A slide edit will allow you to slide the clip's position along the track; if this is done, the position of nearby clips will increase or decrease.

Step 10: In order to place a marker on a clip, you need to select the clip and hit the marker button by selecting "m"; or instead, press "g", or the flag button in order to flag the clip. Next, double-click the marker or flag, and insert the details. Change the color to let you find clips that have been color coded with a specific issue.
Part 5. How Is The DaVinci Video Editor Review from Customers
The ratings for DaVinci Resolve Video Editor free version are very high as indicated through reviews given by users on some websites: DaVinci Free Video Editor has a rating of 4.5 over 5 out of 87 reviews on https://www.g2.com; also, DaVinci Free Video Editor rating of 9.2 over 10 out of 13 reviews on https://reviews.financesonline.com/. On the other hand, DaVinci Free Video Editor has a few negative reviews with low ratings.
It is a very precise and highly usable video editing application.
The workflow on the software can be smoothly integrated, and all aspects of a project can be combined harmoniously.
It gives a user a lot of power and control over color grading.
Every page for editing, fusion, coloring, and other features, works together in a correlated and uniform manner.
It is far much better than Adobe Premiere Pro's color-grading because it has far more tools and settings.
It is hard to learn and use. Beginners will have a hard time using it.
Although it can be installed on Linux OS, it is not fully supported on Linux OS.
The interface of the video application is not customizable.
You need to have a powerful computer in order to run and use the application.
The application has crashed a few times during projects.
The preview and timeline are locked to a certain extent: there is often too much on the screen, and one cannot hide and expand certain things.
Part 6. Another Great Video Editor You May Like – HitPaw Edimakor.
HitPaw Edimakor is an exceptional editing application that can be installed on Windows, and used to create and edit high-quality videos for upload on Facebook, Flickr, YouTube, HD, DVD, and many other platforms.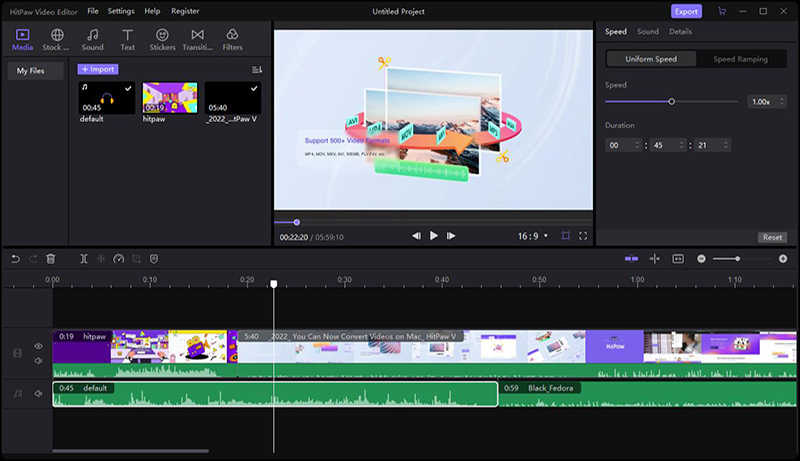 HitPaw Edimakor has the following attractive features:
It has functions and options that are easy to use, and can be quickly understood by beginners and professionals alike.
It can cut the part you do not want in your video, adjust or edit your videos to be more attractive.
Bottom line
With the extensive details provided in this article on DaVinci Video Resolve, we recommend both DaVinci Video Resolve free and studio versions because of their obvious advantages which far outweigh any disadvantages. For your DaVinci Resolve Free Video Editor download, search the internet and you will find many web pages from which you can download DaVinci Video Resolve. If you want to try HitPaw Edimakor, click the Download button below to begin with your work.
People also ask About DaVinci Video Editor
Q1. Is DaVinci Resolve 16 free?
DaVinci Resolve 16 has a free version which is free because it can be downloaded and be installed on PC (Windows, Mac, and Linux) without paying any money. On the other hand, DaVinci Resolve 16 Studio version is not free; users have to pay in order to install the software, but it allows users to make upgrades of future releases without paying any money.
Q2. Does DaVinci Resolve have a watermark?
DaVinci Resolve is one of the applications that do not have a watermark for Linux, Mac, and Windows PC. It is free and will not create a watermark on your video when exporting.
Q3. Is DaVinci Resolve better than Premiere Pro?
In many ways, DaVinci Resolve is better than Premiere Pro; however, both of them have their own pros and cons. These are some main reasons why DaVinci Resolve is better than Premiere Pro:
It is much faster.
It has a lesser tendency to crash.
It is much more stable.
It has much more settings and tools that can be used to set colors.
Q4. Is DaVinci Resolve good for beginners?
DaVinci Resolve is good for beginners because it is easy to use, especially if a user makes a little effort to practice and play around with it until they start mastering how it works. Fortunately, there are many YouTube videos that beginners can watch in order to learn how to use DaVinci Resolve.