VSDC Free Video Editor Review: Its Price, Pros and Cons, Functions.
Before you try VSDC Free Video Editor, you may wonder: what is VSDC Free Video Editor? Is the software free to use? What do people think of it? Don't worry. This post will answer all your questions. We will introduce VSDC Free Video Editor in details and tell you everything about it. Can't wait to see? Move on to the next part.
Summary
Summary
Here, you can know VSDC video editor's features, its pros and cons, user guide.

Part 1. What Is Vsdc Free Video Editor
VSDC Free Video Editor is a video editing software, developed by Flash-Integro, LLC. This is a robust non-linear tool for video editing and it has all the features required to edit videos and audio.
VSDC Free Video Editor allows you edit your videos in any position on the timeline, add as many effects as you want, and it has a video stabilization tool to improve your video quality.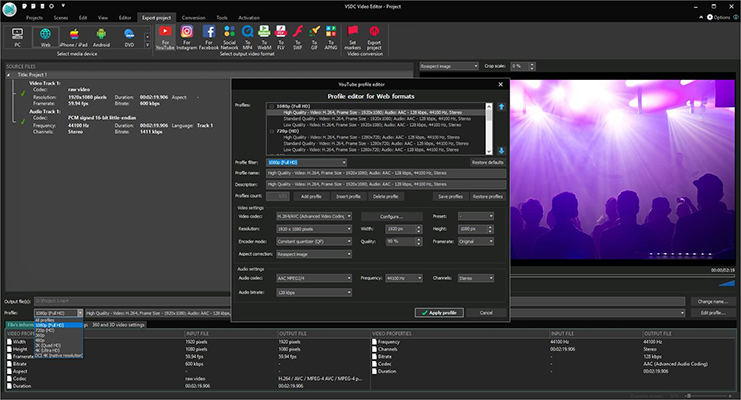 Part 2. Is Vsdc Video Editor Free?
Is VSDC Video Editor free? This is one of the questions that are searched and the most and people care most of. To be honest, VSDC Video Editor is a free software to use, while it also has a pro version that requires to purchase: $19.99 for one year. So, what's the difference between the free and pro version?
Free version of VSDC Video Editor:
You can use all the features for video editing without any problem, such as screen and video capture, audio spectrum, blending modes, exporting features, and more.
You can export your videos in any available format without watermark, which means no export restrictions!
There is no file size limitation when exporting videos.
What makes you buy VSDC video editor pro version:
You can, no doubt, enjoy all the features that the free version offers.
You can also enjoy features like video stabilization tool, audio waveform, masking feature, and so on which free version does not have.
It allows you to export video faster, especially when there is a large file size of video.
Part 3. What Main Features Vsdc Free Video Editor Editing Software Has?
Now let's dive in and learn VSDC FREE Video Editor in details. What are the major features that VSDC Free Video Editor has:
Non-linear Video Editing: VSDC video editor applies non-linear video editing technique, so that you can add and edit any objects anywhere on the timeline, and the parameters, shapes and positions of the objects can be changed over time.
Video capture: VSDC video editor enables you to capture videos from video tuners, IP cameras, webcams, and you can save the captured videos on your computer in any format. That is to say, you can use it not only as a video editing software but also a video capture tool.
Visual and audio effects: all the effects can be categorized into five types: color correct, object transformation, object filters, transition effects, and special fx. It is very convenient for you to find the effects you want according to your goals.
File format support: it supports almost all the video formats, audio formats, and image formats, so you don't have to worry about converting your file into supported format.
Video stabilizing: imagine that your video are recorded by action cameras or drones, your video may look shaking or something. But with VSDC free video editor, all the troubles are gone as it improves with a smoother video quality.
Besides, if you want to know better about VSDC video editor, it will be great to know its cons and pros.
Part 4. Vsdc Free Video Editor Review: Pros and Cons
Here in this section, we will further introduce VSDC Free Video Editor by summarizing its advantages and disadvantages.
It offers various features for video editing, so as to meet various needs for beginners and advanced users.
It is super easy to use, and you can easily find the feature you would like to apply from the user interfaces.
Non-linear editing form provides users with more flexibilities and surprises.
Video stabilization tool helps you improve your awful video shaking issues.
It is free to use, and you can enjoy almost all the basic features when editing videos.
It has detailed user guide for people who are not familiar with the software.
It takes some time to get familiar with the software before you can smoothly use it to finish your work.
It has some limitations for free version, such as hardware acceleration and video stabilization tool.
Adding transitions for the videos is time-consuming.
Some audio effects are not available, compared with other video editing software.
The software is heavyweight and it may slow down your computer when running the software.
It is only available on Windows.
Part 5. How to Use Vsdc Video Editor for Beginners
Although VSDC provides user manual to use VSDC video editor, you can also check this guide to know how to use it in details:
Step 1: Download VSDC free video editor in your computer. Since VSDC Free Video Editor editing software is for Windows, you can download and install it in your Windows computer and laptop.

Step 2: Launch the software, and you can choose to start a new project. There are several project types:Blank project, create slideshow, import content, video capture and screen capture. Then enter a name for your project, and preset configurations for it.

Step 3: Import your media files. You can click Projects explorer to add your files.

Step 4: Drag and drop the video and audio files to the timeline at the bottom pane, and you can start editing.

Step 5: Edit your videos and audio files.You can right click the layers in the timeline to edit it, or click the Edit tab and Editor tab from the menu bar to edit.

Step 6: Click Export project to export and save your work. You are allowed to export to YouTube, Facebook, Twitter, Instagram, Vimeo, etc.
Part 6. Best Vsdc Video Editor Alternative-HitPaw Edimakor
VSDC Free Video Editor is fantastic as it fully meets needs from beginner and advanced users, but it is a little bit hard for people to use for the first time. Therefore, we will introduce alternative tool for VSDC video editor: HitPaw Edimakor.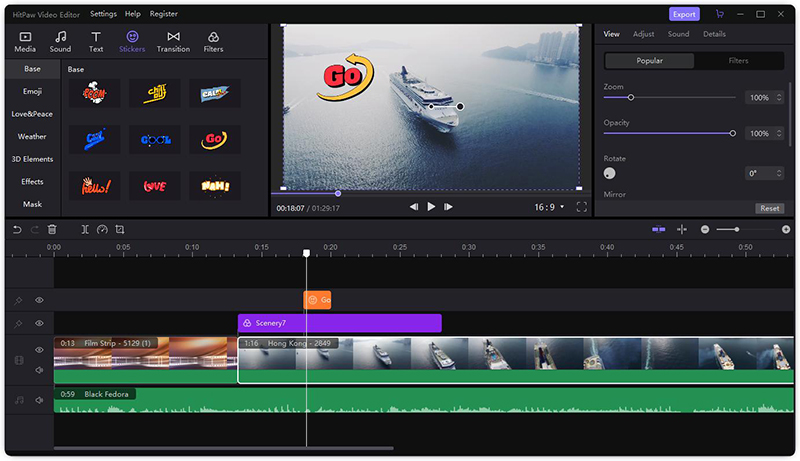 HitPaw Edimakor is a video editing software for everyone. Under this case, any tech newbies can use the software even if he/she doesn't know about video editing.
Why you should choose HitPaw Edimakor:
It has all the basic features for video editing.
It has intuitive user interface so you can easily understand these features and quickly find what you want.
It has reasonable price for enjoying the full functions.
Conclusion:
So there you go. This post answers several questions like what is VSDC free video editor is? How much does it cost? What are the main features of VSDC video editor and how to use it? In the end, we also recommend an excellent alternative tool for VSDC video editor: HitPaw Edimakor. Hope all the information helps.
FAQS on Vsdc Free Video Editor
Is vsdc free video editor safe?
Yes! Definitely! VSDC is safe to use as it doesn't contain any ads in the program, and it doesn't include any extra software when downloading and installing the program.
Does VSDC have a watermark?
No. Basically the pro version of the software doesn't have a watermark in your videos. Besides, VSDC doesn't leave watermark on the videos you make even if you are using a free version.
How much does VSDC cost?
VSDC offers a free trial that costs zero. Meanwhile, it also offers a pro version, and you can get it with $19.99, which is valid for one year.