Lightworks Video Editor Review: Pros and Cons
Normally before deciding to purchase anything we look for expert's opinions and customer reviews related to that product. In the same way, before buying a video editor we must see how professionals evaluate it. Therefore, we have gathered some useful insights on Lightworks Video Editor to help the people in making an informed buying decision which they will not end up regretting later in life.
Summary
Summary
Here, you can know Lightworks video editor's features, its pros and cons.

Part 1. What is Lightworks video editor?
Lightworks is one of the most popular and widely used video editing solutions by experts related to the movie industry and social media. The software is extremely helpful in shooting 4K film projects, in fact, some of Hollywood's finest movies have been created by using it such as Wolf of Wall Street. Lightworks enables the user to edit their footage easily by using a drag and drop option available in the software, enhance the picture quality with the help of color grading and blending and create a smooth transition with the help of keyframing as they add effects in their clips. Apart from these beneficial tools, Lightworks works really well with third-party apps like BlackMagic Fusion and Boris to take advantage of other visual effects and filters. These features have tremendously increased Lightworks Video Editor Downloads among the users and helped them in creating something magical and beautiful.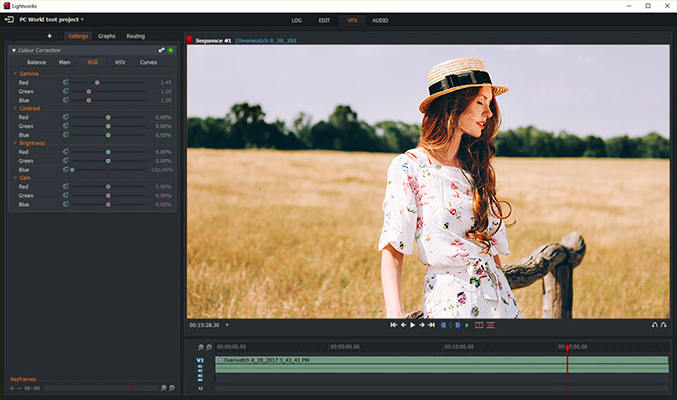 Part 2. What I like for Lightworks Video Editors (Pros)
Since there has been much hype about the video editor Lightworks because of its application in the movie and television industry, a grand number of people must be wondering what makes it so popular and different from the others. So, here I am to tell you some of my favorite tools and features of this software.
Easy-to-Use: one of the best parts about Lightworks Video Editor is its simple layout. The company brings out a new version every year but they always focus on keeping things easy and understandable.
Free trial version without the watermark: when we compare Lightworks free video editor with other editors like Adobe premiere, we notice that this software has so much to offer even in its trial version. For example, one week's trial version of Adobe Premiere Pro creates a watermark on the edited footage. On the other hand, Lightworks Video Editor free version has no watermark.
Perfect for Beginners: the plus point of this software is that beginners and newbies can easily learn and evaluate the software without having to spend a single dime. People with little or no editing experience will find it extremely useful. It only takes about 5-10 minutes to understand where all the features are and what do they do.
Royalty-free Audio and Video: it contains a huge variety of audio and video files to make the footage classy and powerful, and this collection is royalty-free as well.
A large number of effects and tools for Pro users: though the free version of Lightworks offers a good range of filters and templates, but as soon as you enter into the world of pro, the number of tools will definitely overwhelm you.
Export edited footage directly to YouTube: the right-click menu on the software has made exporting videos on YouTube super easy.
High customer reviews: the software has made its mark in the world of video editing. The users of Lightworks are falling in love with this software, you can even read the reviews online to know what people think about this amazing editor.
Part 3. What I don't like for Lightworks Video Editor (Cons)
Despite its popularity and fame, there are few drawbacks which can sometimes cause trouble for its user. Some of them are:
Unattractive user Interface: the UI of Lightworks is quite obsolete with a bright color scheme and iconography which often seems to distract the user, especially the seasoned ones.
Limited features in the free version: if you are a professional video editor then you may need to upgrade the software due to a restricted number of features in the free version, for example with the free option you can export only 720P videos on YouTube.
Random crashing: if you perform too many processes altogether you may face some random crashes. But the good part is the autosaves, so you don't have to worry about losing your work.
Issues with Audio Syncing: due to random glitches the system sometimes fails to adjust the video clips in sync with the audio. Under such circumstances, you will need to start your work all over again.
Slow Video Analysing: while importing the video clips, the system takes more than average time in organizing and uploading your work due to which you may end up losing some of your important time.
Part 4. How to use Lightworks Video Editor?
This Lightworks Video Editor tutorial is for those users who find difficulty in navigating through this software because of its non-traditional and archaic interface. Just download Lightworks video editor and follow these steps to enhance your footage.
1. Creating a New Project: click on the "create a new project" tab. A dialogue box will open, write the name of the project, and then select the desired frame rate.

2. Import Source Material: click on the local files option and then select the method to import files from the drop-down menu. Now click on the video you're going to use, or press Ctrl/shift to select multiple files. Use the drag and drop tool to move files to the timeline.

Play and Manage media: double click the file to open it in source viewer. Now with the help of a red frame marker, you can move through the selected media clips.

Edit Video clip: to trim any part hover the mouse around the cut. Soon you will notice white brackets, make sure to click the left button of the mouse over there. The yellow marked area will appear which will indicate the separated part. After that, the mode will change to trimview where you will see the clip frames that are on both sides of the cut. Now click on the preview button to play the videos in the desired sequence. Now add the filter and effects via drag and drop option

Export the Edited File: once you have completed the editing, right-click on the video and select the export option from the drop-down menu. Select the export format

And it will open up a dialogue box with the export option, choose the desired one, and once you have completed the settings just hit the start button to roll it out.
Part 5. What is the Best Alternative for Lightworks?
There are chances that you may find this editor hard to operate because of its unique interface. Hence, you can try HitPaw Edimakor which is much simpler and packed with some fantastic features that are powerful enough to meet all your editing requirements. Some of the features are: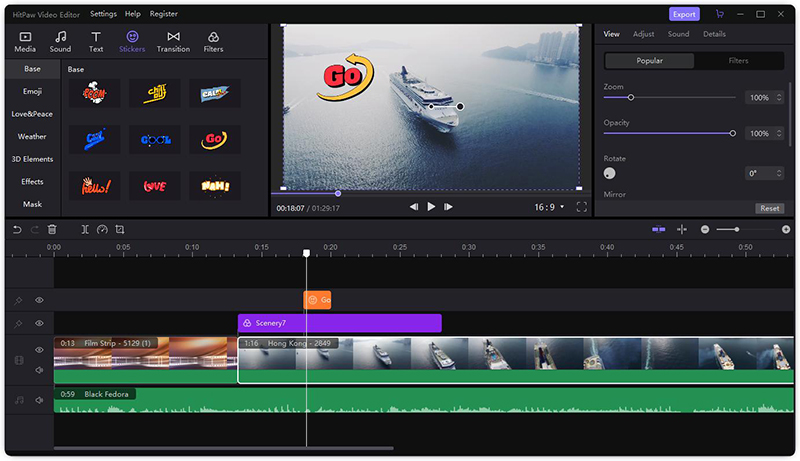 This software features not only a super easy-to-operate interface, but also a full range of editing features, perfect for both beginners and professionals.
It is really cheap to get its premiere version. Only $29.95/Month.
It has lot of features such cut, split, crop and rotate videos, change speed, add background music and text, and add filers, transitions and stickers etc.
Part 6. Conclusion
Lightworks has been serving professionals since the last 25 years and the examples of its wonders can be seen in many successful Hollywood movies. The best part about this software is that people can try it out first before buying it. Hence, we suggest beginners spend some time on its free version first then pay $24.99 per month to avail the advanced features of Lightworks. If you are not satisfied, you can also use its best alternative HitPaw Edimakor which provides all video editing functions to edit videos with simple clicks.
Part 7. FAQs
Does Lightworks free has a watermark?
No, the trial version of Lightworks does not include any watermark. You can edit your share your masterpiece without any ink on it.
Is Lightworks Video Editor free?
Lightworks offers Free and Paid versions both and both the versions offer almost the same kind of features. The other difference among these 2 is that the free version limits the output format.
Is Lightworks safe?
Yes, you can completely rely on this software for all your editing work. It allows easy copying between projects, organizes your work, and comes with a variety of effects, text, and other smart tools all under its free version.
How much does Lightworks cost?
It offers a free trial version but if you want to unlock more advanced features like exporting 4K files than you pay 24.99/month or 174.99/year.