Bandicut Review: Does It Worth a Try?
Should I use Bandicut as my primary video cutter? Perhaps you're trying to find the perfect video cutter for your video editing purposes? If so, then you'll be glad to know that we've got just what you need!
When analyzing an editing tool such as Bandicut, there are various factors that you must bring into consideration in order to reach a valid conclusion. For your convenience, we've compiled all the essential factors that'll help you understand the importance of Bandicut as a video cutter. So without further ado, let's get straight into the article.
Part 1. What is Bandicut Video Cutter?
If you're not familiar with the Bandicam video cutter, just keep reading. It basically is an easy-to-use video cutter for Windows users. Bandicut cuts or trims videos with ease by simply adjusting the start point and end point for the video with the help of simple sliders. Bandicut is a popular option for individuals looking to perform basic video editing tasks including video cutting efficiently. Thanks to its user-friendly interface, it proves to be an ideal video cutter for professional and beginner video editors.
However, it is also essential to understand the Bandicut isn't just a video cutter. The tool entertains users with a variety of different features, all of which we will be going through in this article. Bandicut video cutter provides features that are easy to understand and take little time and effort. With that said, let's take a look at some of the most popular features that Bandicut has to offer.
Bandicut allows you to cut and trim videos in just a few simple steps.
It allows users to extract the audio from a video file and convert it into an MP3 file.
Users can combine multiple video files in any order.
Bandicut helps you split a video into multiple equal video files.
You can convert videos from other formats to MP4.

Users can also use Bandicut to remove an unwanted part from the video.
Part 2. Is Bandicam Free?
Is Bandicam Bandicut free to use? No, Bandicut is not a free software and users looking to regularly use the tool require a Bandicut license. Bandicam Video Cutter pricing begins at $29.95 as a one-time payment per user. The license doesn't get revoked or expired and provides unlimited access to the user. Bandicut does not provide a free version; however, it does offer a free trial for users to check out the software before buying. Bandicut also provides various discounts on bundle offers to customers.
1-PC License: $29.95 – Permits unlimited access to Bandicut on a single PC.
2-PC License: $44.96 – Permits unlimited access to Bandicut on two separate PCs.
5-PC License: $102.95 – Permits unlimited access to Bandicut on five separate PCs.
10-PC License: $195.00 – Permits unlimited access to Bandicut on ten separate PCs.
20-PC License: $380.00 – Permits unlimited access to Bandicut on twenty separate PCs.
Bandicam + Bandicut: $60.95 – Provides full access to both Bandicam and Bandicut on one PC.
License Upgrade: $20.59 – Allows you to upgrade your current license to get access to Bandicut on additional PCs.
If you're looking for the ideal video cutter for your company, then you should definitely consider getting a Bandicut bundle package.
Part 3. Bandicut Video Cutter Review: Pros and Cons
If you're still unsure about whether or not Bandicam Video Cutter is the right tool for you, here are some of the major pros and cons related to the software. This will help you get a deeper understanding of the usage of the software and how it can benefit you.
Pros:
The software is incredibly fast and can help you cut, split, trim, and join videos instantly!
Its user-friendly interface makes the tool easy to use and can be a convenient way out for your video cutting requirements.
Most other video cutters and editors are known to re-render and re-encode videos during editing which may lead to a loss in quality. Bandicut allows users to cut videos without having to compromise the video quality.
Cons:
Most of the features offered by Bandicut are considered basic with nothing extra to entertain users.
If you're using the free or trial version of the tool, then you are likely to encounter a watermark after you export the video.
Bandicut is currently only available for Windows users.
If these cons bother you, then you should look for an alternate tool that you can use for this purpose. In those regard, the HitPaw Edimakor proves to be the ideal replacement for Bandicam Video Cutter.
Part 4. Bandicut Alternative : HitPaw Edimakor
HitPaw Edimakor is an all-in-one video tools software that qualifies to be one of the best video editing tools out there. HitPaw Edimakor gives you different ways and tools to make your videos stunning with little effort. With HitPaw Edimakor, you can cut, crop, rotate, split, join, speed videos, add music to videos, and much more! HitPaw Edimakor's highly intuitive user-interface makes it stand out from other video editors with similar purposes and features. You will never get bored while using the tool thanks to the various interesting features and styles offered.
When it comes to comparing Bandicut with HitPaw Edimakor, the latter exceeds in respect to user-friendliness, high-quality features, user satisfaction, customer support, and more! Here is some of the major benefits that HitPaw Edimakor has over Bandicut.
HitPaw Edimakor can purchase for $29.95 for 1 month, $39.95 for 1 quarter, or $59.95 for 1 year.
The HitPaw Free Online Video Editor allows you to try out most features of the HitPaw Edimakor for absolutely free.
Provides high-quality customer service for payment, software or other related issues.
The software is free of ads and viruses that might bother users.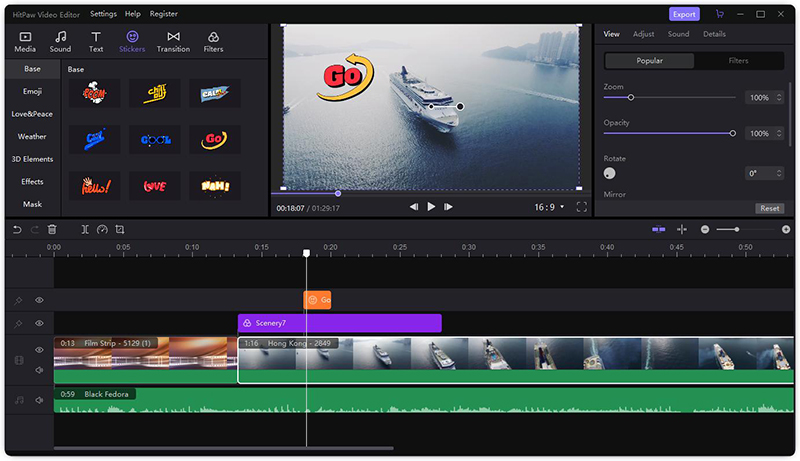 Final Thought
Bandicut is a great and ideal tool for video cutting; however, if you're looking for a more advanced tool with modern features, then HitPaw Edimakor is your software to choose. HitPaw Edimakor offers all the features that you would expect from a professional video editor.