Reviews on Apowersoft Watermark Remover for Desktop & Online 2021: All You Should Know
The watermark functions as a double-edged sword and serves to preserve photo or video owner's copyright, whereas, from the other side, making photos or videos less pleasing to the eye. In order to help users erase watermarks from images and videos, Apowersoft launched its brand new product, Apowersoft Watermark Remover, on January 29, 2019. The entire process was easy with this laptop app. Besides, there is an Apowersoft Online Watermark Remover. You can make a picture or video without watermarks with just a few taps. And an alternative way is also available. So, with this 3 products, there is no doubt that you can solve you issues easily and fast.
Review on Apowersoft Desktop Watermark Remover
Apowersoft Watermark Remover is a basic but skilled method. Really, aside from watermarks, it is possible to edit labels, messages, time stamps, and other undesired artifacts from the file. People without any programming experience are still able to get control of it very easily. By using the watermark remover, we can remove every kind of watermark for the image and video.
Highlighted Features of the Apowersoft Watermark Remover
You can find the application super simple to use that if you're not computer-savvy. With its welcoming interface - connect files, pick unused pieces and press the "Convert" button. Soon a photo or video will emerge out of the original file with no change in content.
You can add as many photographs as you like through Apowersoft Watermark Remover, that is to say, you can batch watermarks or items unwanted from various images. The final pictures often preserve the original file format and consistency. It supports various formats of film, including MP4, WMV, MOV, AVI, etc.
Pricing
Apowersoft offers three types of plan:
Monthly:   $19
Yearly:  $29
Lifetime:  $39
How to Remove Logo from Video and Photo with Apowersoft Watermark Remover ?
Step 1:Download and install the software from your browser.
Step 2: Open the software, click the "Remove watermark from image" or "Remove watermark from video" to import your file.
Step 3: Once imported, click the "Selection Tool" button and place the red box from the watermark areas you need to remove.
Step 4: After that, click the "Convert" button to process the file. Soon the files will be saved to your local disk after conversion.
Pros:
Available for multiple video file formats, such as mp4, flv, mov, wmc, and more.
It has a simple working interface.
It lets you process videos in a batch simultaneously.
Cons:
It has limited editing features.
It lets you process videos and images in batch simultaneously.
Review on Apowersoft Online Watermark Remover
Apowersoft Online Watermark Remover is free and secures service to erase any watermarks added to your video and photograph. Apowersoft online watermark remover also helps you, with the original consistency, to access your files in batch. You also have various formats of pictures such as JPG, JPEG, BMP, PNG, TIF, TIFF, etc. You can upload MP4, MKV, WMV, WebM, AVI, etc. for file formats. This method is free to use on the final video without any registration.
How to Remove Logo from Video and Photo with Apowersoft Online Watermark Remover ?
Open the browser's official website.
Click either 'Delete Image Watermark' or 'Delete Video Watermark' for your form.
Next, upload the file you would like to modify to pick the watermark zones you want to delete by clicking the 'Add box(s)' button.
Tap the "Erase" button when you have finished processing your image.
Then wait until you process the file and save it to your computer.
Pros:
Free to remove watermark online
Batch file processing
Versatile watermark selection
Cons:
Only supports the video is smaller than 50 MB.
Its bulk process to remove watermark from video online only works for 2 videos.
It takes a little bit long time to upload the videos.
Review on HitPaw Watermark Remover : A Better and Easiest Tool To Remove Watermarks
HitPaw Watermark Remover oversees other related apps in terms of easiness and efficient performance. It is highly preferred for being an intuitive user interface, making it an excellent watermark remover for you. Thanks a million to the remarkable features that HitPaw proposes, making your time enjoyable.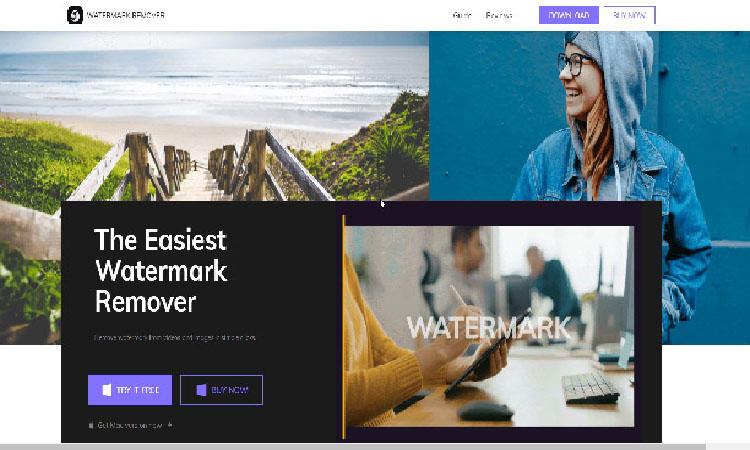 Highlighted Features of HitPaw Watermark Remover
HitPaw Watermark Remover is an application to remove unwanted elements from photos and videos. The watermarks can be logos, text, and photo stamps and so on. It drastically changes the images, making them perfect and appealing to eyes as if these elements were never part of it.
It is not only easy to use but also very accurate and only deletes the watermarks while keeping the entire image intact. That is how it helps ensure a very high-quality image output without pixel damage. You can download the HitPaw Watermark Remover and install it on your computers to remove the watermark.
Is HitPaw Watermark Remover Free?
The answer is no but it is cheaper than Apowersoft app. Following are the prices:
Monthly: $4.99
Quarter:$6.99
Yearly: $9.99
How Does It Work?
Download and install HitPaw Watermark Remover on your PC.
Launch it and click 'Remove Image Watermark' or 'Remove Video Watermark' button. And then click 'Choose File' to import your file.
For images, select the watermarked area and click on 'Remove Now'.
For videos, select the watermarked area and click 'Remove & Export'.
You may want to know more about the 3 remove modes for images :
Smooth Filling:
Edge pixels can be used to erase watermarks for quick and smooth changes in either version. It is suitable for single-colored images.
Edge Filling:
Use the range edge pixels for filling the watermark inside out. It's working quite quickly. It is ideal for single colored images.
Texture Repair:
You should pick a small section for repair in a certain range for photographs of mixed colors and free the watermark. It is relatively sluggish, so it takes longer to increase the results.
Pros of HitPaw Watermark Remover:
Unbelievable user-friendly interface and ease of use.
The software supports various file formats.
It allows the best quality image saving after watermarks are removed.
No limitation for the video length.
It's cheaper than Apowersoft.
Cons of HitPaw Watermark Remover:
Registration is required to export videos or photos.
Conclusion
All in all, there are advantages and disadvantages, either Apowersoft watermark remover or HitPaw watermark remover. So you may choose the best one as per your needs. But the most preferred and common watermark remover app is HitPaw Watermark Remover. HitPaw watermark remover maybe the right way for you to find a new, convenient, user-friendly and simple to use at any time you need to get the watermark out of your photos and videos.