(100 Working!) How to Easily Restore Faces Stable Diffusion
No one would have predicted some time ago that artificial intelligence would come this far. Artificial intelligence has made progress in almost every field, but generating unbelievable AI images is one of the most fascinating things to happen until now.
The use of AI-generated images has been increasing, and you can find them used in video games, movies, and advertising. However, AI-generated images sometimes come up with undesirable and unexpected results.
For instance, when you use the stable diffusion model to generate the AI images, the faces of the images might get messed up or distorted.
The good thing is that you can restore faces stable diffusion, and we'll list the appropriate ways to serve your purpose.
Why Stable Diffusion Can't Generate Faces Well
Those struggling with producing stable faces via diffusion have been asking for the reason behind this chaos.
Stable diffusion is nothing but a model to produce high-quality images via neural network training on images large datasets.
However, the process carries a big disadvantage, and the negative aspect of this technique is producing distorted or messed up faces.
Since the neural network finds it pretty difficult to capture the variations in human faces and subtle details, it could lead to distorted or unnatural results.
How to Restore Faces Stable Diffusion
Fortunately, you can restore faces stable diffusion courtesy of brilliant ways. Follow the guide below to opt for the stable diffusion restore faces.
1. Restore Faces with AUTOMATIC1111 stable-diffusion-WebUI
AUTOMATIC1111 stable-diffusion webui might help you to restore faces stable diffusion.
It is a brilliant AI face restoration tool designed to generate images via stable diffusion. AUTOMATIC1111 stable diffusion webui offers immaculate features, and a few of the main ones are listed below.
1.Inpainting

It lets you fill in distorted or missing images, including mouth or eyes.

2.Color correction

This feature helps you to get a more natural look by adjusting the color of your image.

3.Image enhancement

You can sharpen the image by using this feature, along with improving the overall quality of your photo.

4. Face Restoration

It allows you to improve your face in the picture via Code Former or GFPGAN. Here's the step-by-step guide to restore face via AUTOMATIC1111 stable diffusion webui.
Upon generating the new images, you must navigate the tool's menu and choose the '' Restore Faces'' icon.

                      

If you intend to fix an image's eyes, navigate to the ''Extras tab'' and just upload the photo there.

                      
You must not forget to set the impact ( from 0 to 1) of Code Former or GFPGAN. You may require different configurations depending on the image you've generated.
2. Inpainting with AUTOMATIC1111 stable-diffusion-webui
AUTOMATIC1111 stable diffusion webui has another brilliant feature, Inpainting, that allows you to appropriately fill the image's distorted or missing parts. This feature mainly existed to restore face messed up or distorted by stable diffusion.
The functioning of this tool is easier than you think, as you need to select the image area you'd like to fill, and then this tool will automatically fill in the missing parts.
Here's how to restore faces stable diffusion.
Select the "inpaint" icon after navigating to the ''img2img''.

                     

Upon selecting the eyes, Stable diffusion will only waste time before filling the missing piece.

                      

You can watch out for the immaculate configuration in the screenshot that did work for us.

                      
How to Restore Faces Stable Diffusion Generated Easily Win/Mac/Online
Apart from using the AUTOMATIC1111 stable diffusion webui, you can look at the following ways to restore faces stable diffusion.
1. Desktop Solution
HitPaw Photo Enhancer emerges as the best photo-enhancing tool for Mac and Windows that can restore faces stable diffusion.
Thus, if you're struggling with the distorted face in the image, the face model of HitPaw Photo Enhancer is there to fix your issue in one click. Despite offering a simple user interface, this outstanding AI face restoration tool doesn't tinker with the quality of photos coming up with highly professional.
Apart from fixing the faces on images, HitPaw Photo Enhancer empowers you to unblur photos, remove the noise from photos, and colorize the black and white photos.
Since HitPaw Photo Enhancer is an AI photo enhancement, there is no need to acquire prior knowledge of the software.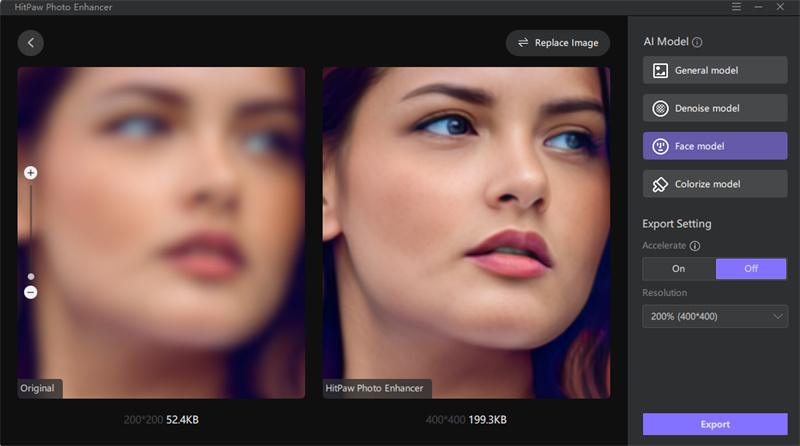 Allows you to restore faces stable diffusion in one click
Enhance the quality of multiple images simultaneously.
Compatible with Mac and Windows
Offers the four mind-blowing AI models
Upscale photo quality to HD
2. Online Solution
If you don't have enough storage for software and probably would love to opt for an online face restoration AI tool, HitPaw Online Photo Enhancer wants to know your location. Despite being an online tool, HitPaw Online Photo Enhancer hasn't been short of brilliant and reliable.
With an intuitive user interface, this brilliant online tool aims to fix the mess created on the faces of your AI image.
Since HitPaw Online Photo Enhancer supports the multiple-image format, you can import any photo and upscale it in one click.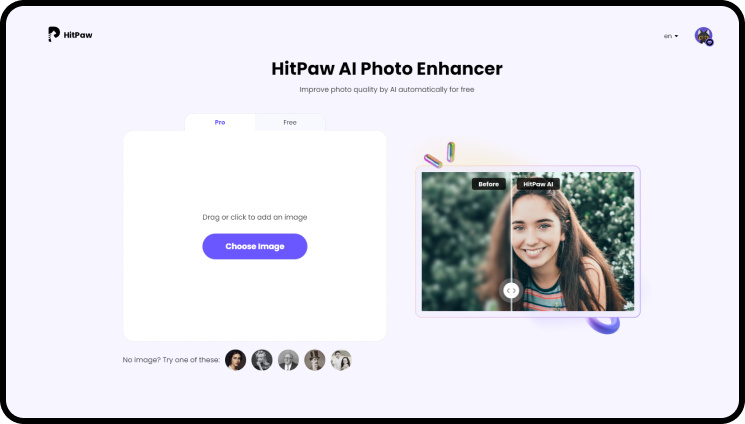 The best free photo enhancer to increase image resolution up to 8X losslessly
Transform the low-quality and blurry photos into clear images
Offers the intuitive user interface
Allows you to upscale photos in lossless quality
100% safe
Restore and bring images back to life instantly
Colorize black and white images online naturally
Conclusion
Despite putting in much effort, getting distorted and messed up AI images isn't a good feeling. You can opt for the AUTOMATIC1111 stable diffusion webui to restore faces stable diffusion.
However, if this method doesn't work, you can look at the HitPaw Photo Enhancer, which has the reputation of fixing any issue with your photos. It comes up with AI technology and will repair the face quickly.