[Updated] 8 Best Picture Enhancers You Can Trust in 2023
Are your photos lacking that extra oomph? Do you want to transform ordinary snapshots into breathtaking masterpieces? Well, we're about to reveal the ultimate secret to elevating your pictures to new heights. Read on to find out more about picture enhancer tools.
Top 7 Highly-rated Picture Enhancers on 2023
These powerful tools are poised to unleash your inner artist, transforming your ordinary photos into extraordinary works of art. You can use these to enhance the picture quality of your work and make it stand out from the crowd.
1. HitPaw Online Photo Enhancer
This intelligent tool employs cutting-edge algorithms and state-of-the-art AI technology to enhance every detail, color, and texture in your pictures, bringing them to life like never before.
With the HitPaw Photo Enhancer Online, you can instantly elevate your photos with a range of remarkable enhancements. Improve clarity and sharpness to make your subjects stand out with striking precision. Remove noise and artifacts to achieve a clean and professional look. Adjust brightness, contrast, and saturation to achieve the perfect balance of light and shadow. The possibilities are endless!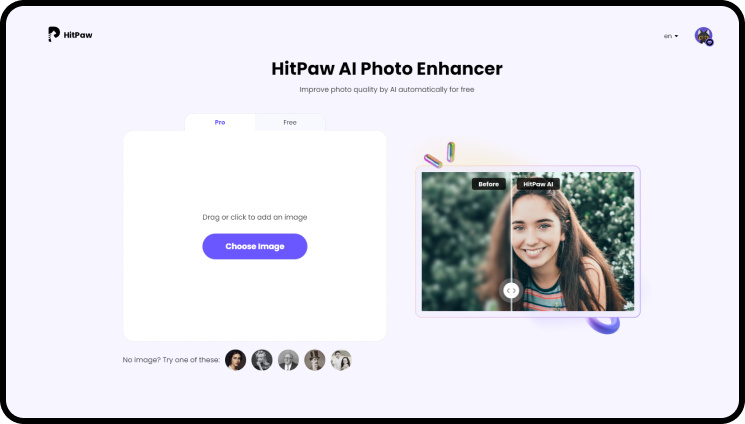 One of the standout features of HitPaw Photo Enhancer is its simplicity and ease of use. The intuitive interface allows users of all levels of expertise to effortlessly navigate through the software and apply enhancements with just a few clicks.
picture enhancer hitpaw online
2. Cutout Pro
Cutout Pro's primary focus is enhancing image resolution and sharpness. It works by employing advanced algorithms and cutting-edge technology, it enhances the details and clarity of your images, breathing new life into them. While it doesn't directly enhance color, light, contrast, or saturation, its main objective is to deliver impressive results by increasing image sharpness.
Preserving cherished memories becomes effortless with Cutout Pro's image quality enhancer. If you stumble upon old, blurry family photos, this tool allows you to enhance them, keeping the best memories alive. Additionally, it can transform poor-quality photos into high-resolution print-ready content or captivating social media designs.
3. Picwish
With Picwish, enhancing your photos becomes a breeze. This intuitive software utilizes cutting-edge technology and advanced algorithms to elevate your images to new heights. Enhance colors, improve clarity, adjust brightness and contrast, and bring your images to life with just a few clicks. Picwish offers a wide range of enhancement options, allowing you to customize and perfect your images to match your artistic vision.
Not only does Picwish excel at enhancing individual photos, but it also offers batch-processing capabilities. Save time and effort by applying enhancements to multiple images simultaneously. Ideal for photographers, designers, or social media enthusiasts who need to enhance and polish large collections of photos efficiently.
Picwish's user-friendly interface ensures that anyone, regardless of their level of expertise, can easily navigate and utilize the tool's features to enhance pictures.
4. Fotor
With just one click, you can effortlessly convert low-resolution images into high-resolution gems. Fotor's AI technology works behind the scenes, automatically detecting and correcting lighting and color issues, sharpening images, upscaling resolution, and repairing blurred photos. The result? Crisp, vibrant, and detailed images that showcase your photography in the best light possible.
Fotor's AI image enhancer works swiftly, improving image quality in no time. Whether you're restoring old photographs or enhancing recently captured images, Fotor's powerful AI algorithms ensure remarkable results with every click.
No matter where you are, Fotor is always at your fingertips. Whether you prefer to enhance your photos on your desktop, tablet, or mobile phone, Fotor offers a seamless experience across various platforms.
5. Let's Enhance
With a single click, you can enlarge your pictures without sacrificing quality, enhancing them up to 16 times their original size. Let's Enhancer.io's powerful algorithms ensure that every detail is preserved, providing stunning results that maintain the integrity of your images.
Make your images truly high resolution with Let's Enhancer.io. Whether you're aiming for HD, 4K, or even beyond, Let's Enhancer.io enables you to achieve the level of detail and clarity required for professional printing and web use. Let's Enhancer.io's advanced technology ensures that your photos look their best, whether displayed on a large format print or showcased on a high-resolution digital platform.
Let's Enhancer.io simplifies the process of picture enhancement. With a single click, you can optimize your images for printing or web display, ensuring that every pixel retains its sharpness and definition.
6. IMG Larger
IMJ Larger offers a range of powerful AI-driven tools designed to enhance and upscale your photos, allowing you to achieve better-quality results. Explore the array of AI tools available and discover a world of possibilities to enhance your images. From improving clarity and sharpness to increasing image resolution, IMJ Larger's smart enhancement technology ensures remarkable transformations with just a few clicks.
Experience the convenience of IMJ Larger's all-in-one AI toolkit. With its comprehensive set of features, you can address multiple aspects of your images in a single platform. Whether you need to enhance color and lighting, remove noise, or upscale image resolution, IMJ Larger has you covered.
7. Befunky
BeFunky provides a comprehensive toolkit to cater to all your creative needs. Enhance color, lighting, and contrast, apply artistic filters, and experiment with various styles to achieve your desired look.
BeFunky's user-friendly interface ensures a seamless experience for users of all levels of expertise. Whether you're a professional photographer or a casual user, easily navigate through the platform's features, apply enhancements, and bring your creative vision to life.
With BeFunky ai picture enhancer, you have the flexibility to enhance your photos for any purpose. Whether you're creating content for social media, designing marketing materials, or printing high-quality images, BeFunky provides the tools you need.
Best AI Picture Enhancer - Enhance Your Picture Without Any Quality Loss
Looking for the best AI picture enhancer to take your photos to the next level? Look no further than HitPaw Photo Enhancer. With its advanced AI algorithms, this tool allows you to enhance your pictures without any quality loss.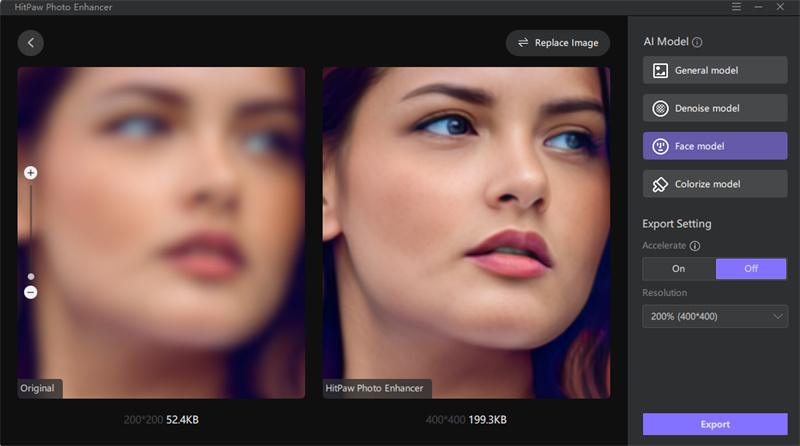 Whether you want to improve sharpness, resolution, or overall image quality, HitPaw Photo Enhancer delivers remarkable results with just a few clicks.
Instantly improve the quality of your photos with a single click using HitPaw Photo Enhancer's advanced AI algorithms.
Enhance multiple photos at once, saving time and boosting productivity.
Easily resize your images to fit specific requirements for social media, printing, or web design.
Enjoy the convenience of using HitPaw Photo Enhancer on both Windows and Mac operating systems.
Conclusion
When it comes to finding reliable and effective enhance picture, you can trust the top contenders listed in this guide.
These advanced tools are equipped with cutting-edge AI technology, offering incredible features to enhance your photos with ease. However, the HitPaw Photo Enhancer stands out as one of the best picture quality enhancer tools out there because of how easy it is to use this tool and create stunning images.