[Photoshop Tutorial] How to Cartoonize a Photo in Photoshop in 2023
Cartoonizing a photo in Photoshop involves using various filters and effects to give the image a cartoon-like appearance. The process typically includes adjusting the brightness, saturation, and other settings to make the image appear more stylized and simplified.
The filter menu in Photoshop contains all the tools to help you how to cartoonize a photo in Photoshop such as "Artistic" and "Paint Daubs". In this article, we will discuss 2 methods to effectively convert your photo to cartoon Photoshop and also how to beautify your photos.
1.

How to Turn Photo into Cartoon Photoshop with 2 Different Solutions

In this section, we will discuss 2 different solutions on how to cartoonize a photo in Photoshop in detail. Read on to find more how to make a photo cartoon in Photoshop.
Poster Edges effect
The Poster Edges effect in Photoshop is a filter that creates a stylized, illustrated border around the edges of an image. The effect is meant to give the image the appearance of a poster or an illustrated print. The effect is also known as "Graphic Pen" effect in some versions of Photoshop.
Here are the steps of how to cartoon a photo in Photoshop.
Open the photo you want to apply the effect to in Photoshop.
In the "Filter" menu, select "Artistic" and then "Poster Edges." (or "Graphic Pen" if your version uses that name).
In the Poster Edges dialog box, you'll have several options to adjust the look of the effect, such as Edge Thickness, Posterization, and some color options.
Once you're happy with the settings, click OK to apply the effect to the image.
You can further adjust the image by playing with the brightness, saturation, and color balance, or use other layer effects to enhance the image.
Finally, save the image to preserve your changes.
It is also possible to make variations and adjustments to the effect by using blending modes and layer masks.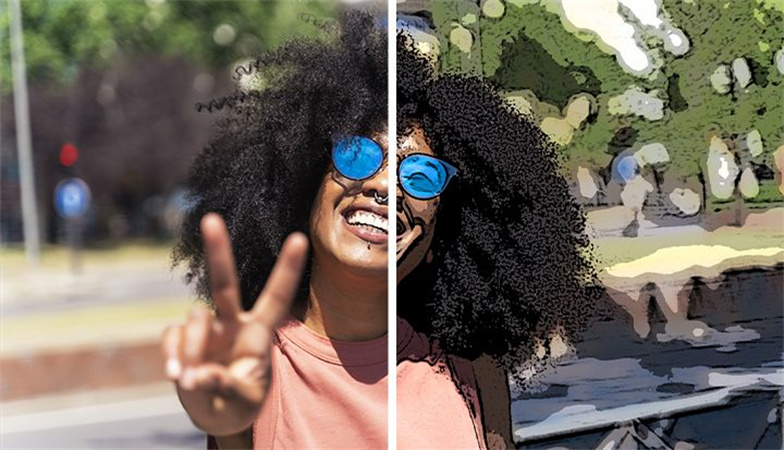 Smart Filters
Smart Filter is a feature that allows you to apply a filter effect to an image in a non-destructive way and helps you convert Photoshop photo to cartoon. This means that the original image remains unchanged, and the filter effect is applied as a separate layer that can be edited, adjusted, or removed at any time.
Smart Filters can be applied to any image, including bitmap and vector layers, and also work with adjustments, layer styles and masks.
Here are the general steps to convert photo to cartoon Photoshop by applying a Smart Filter to an image in Photoshop:
Open the image you want to edit in Photoshop.

Convert the image layer to a Smart Object layer by right-clicking on the layer in the Layers panel and selecting "Convert to Smart Object."

With the Smart Object layer selected, go to the Filter menu and apply the following settings.

Then go to the Filter > Stylize > Oil Paint and use the following settings.

Then go to Filter > Blur > Smart Blur and apply the following settings.

Click Filter > Filter Gallery and use the "Cutout" effect under the Artistic tab, apply the following settings.

Once you're happy with the results, save the image to preserve your changes.
2.

A Better App to Photo to Cartoon/Colorize/Beautify and Sharpen Your Photos

There are many photo editing apps available that allow you to enhance and edit your photos with various tools, filters and effects. But we have got the best tool "HitPaw Photo AI".

HitPaw Photo AI mobile app is an app that utilizes artificial intelligence technology to enhance and edit photos in various ways. It Fixes blurry photos by optimizing image texture details and increasing resolution and performs Portrait restoration that intelligently recognizes blurred faces and supplements details of facial features, wrinkles, beard, skin texture, etc.

One of its features is Colorizing black and white photos by converting them to color with AI technology and Cartoonizing photos with a variety of styles, including Japanese anime, 3D, hand-paint, pencil drawing, artistic special effects, sketch and others.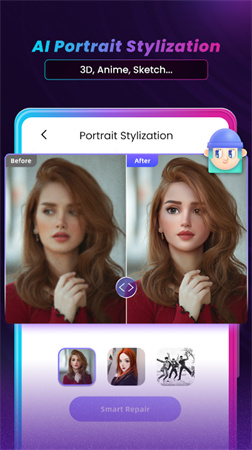 Other than that, it has one-tap beautifying feature that can optimize and fine-tune any selfie. It is a powerful photo editing tool that can help user to enhance and restore the quality of their photos, and it is ad-free which could be a great advantage.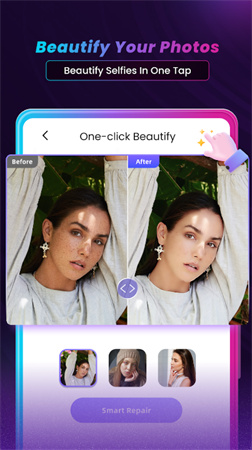 Face repair to one-click beautify your portrait
Colorize your black & white photos
Animate your photo to 3d style
Japanese anime style
3.

[Bonus Tips] Faster & Stable Software to AI Enhance Your Pictures

There are a number of software available on the internet that offer photo enhancing and editing services, however, there is always the best one of all. We have done the work to find out that one and it is HitPaw Photo AI software.

HitPaw Photo AI is a software that provides a comprehensive set of tools to enhance, retouch, and improve digital photos in an easy-to-use and affordable way. This software has an intuitive interface, and advanced features that can help users transform their photos with just a few clicks.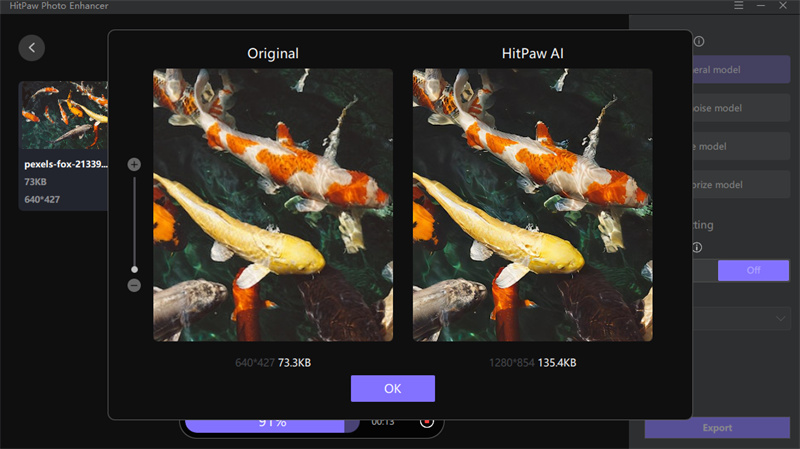 HitPaw Photo AI also has a feature of batch processing, allowing users to edit multiple photos at once which could be very useful in certain scenarios. The app supports a wide range of image formats, including JPG, PNG, and is compatible with Windows and macOS.
AI One-Click Enhance
Support Batch Sharpening
Customize Your Photo Size
Available For Windows and Mac
Here are the simple steps to use HitPaw Photo AI to beautify your images:
Step 1.First download this tool and install the software by clicking the button below.

Step 2.Next, open the software, and you will be prompted to load an image from your computer. Select the image you want to edit and open it by clicking the "Choose images" option from the main interface.

Step 3.Choose the most suitable AI model from the available options.

Step 4.Next process the image, and preview the effect in real time. Once you are happy with the results, you can save the edited image to your computer in multiple formats using the "Export" option.
Conclusion
We can conclude, there are numerous tools available how to cartoonize a photo in Photoshop. You might have got a good analysis but we highly recommend choosing HitPaw Photo AI mobile app, as it utilizes AI technology which can quickly beautify your photos and it is also more stable. You don't have a lot on the list to do since it's a one-click Photo Enhancer tool.