[Check Here] Best 6 Ways to Make Image Higher Resolution in 2023
Do you want to enhance your pictures and make high resolution images? Do not worry, you are at the correct place. In this article you will get to know how to make a high resolution image and make your old low resolution pictures look more professional, appealing and attractive.
1.

How to Make An Image Higher Resolution Efficiently with HitPaw

How to make images higher resolution is very easy by using the AI-powered HitPaw Photo AI, with its cutting-edgetechnology to automatically improve your photographs and make image higher resolution, is one of the best methods to create high-resolution images today.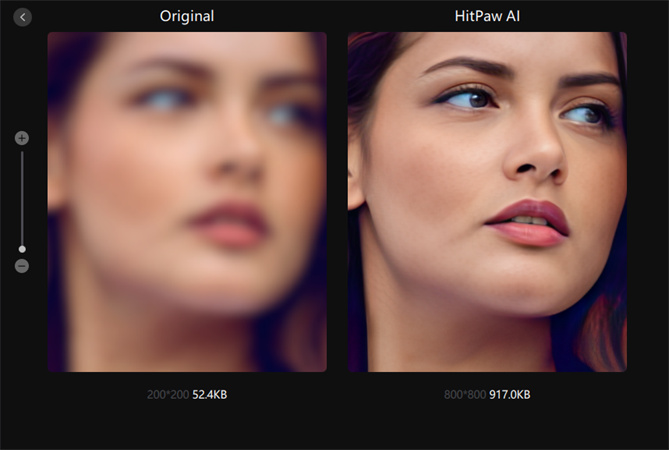 You may quickly and effortlessly increase the resolution of a photograph using the HitPaw Photo AI.
The user interface of HitPaw Photo AI is simple to use.
Its most notable feature is that you can modify the pip position and size
Step 1.Download The HitPaw Photo AI and install it on your Windows or Mac computer.

Step 2.Upload the image you wish to edit into the Photo Enhancing window. (You may use numerous photos at once.)

Step 3.Pick one of the four AI models that are offered to improve your image.

Step 4.To complete the procedure, click export at the end and simply save your picture to your device.
2.

5 Other Popular Online Tools to Make Images Higher Resolution Instantly
Fotor
With Fotor's AI photo enhancer, you can automatically improve image quality for free by enlarging photographs, colourizing them, sharpening details in blurry photos, increasing resolution of your images, and much more.
It is a user-friendly web application that enables you to quickly improve your photographs in a few easy steps.

Let's enhance
Let's Enhance is an automated AI enhancer that enables you to improve the resolution of your images without compromising their quality.
You may instantly improve the appearance of your images with this online tool    In a flash, it eliminates pixelation and blur, adjusts colour and contrast, and improves your image for printing and the web.
Posterburner
The free PosterBurner Super-Resolution service enlarges your image while enhancing its quality. As the image size grows, it makes use of artificial intelligence to intelligently paint pixels.
The size of your image and the number of requests that are waiting in line ahead of you both affect how long it takes to edit your image in PosterBurner. Enhancing and raising the resolution of your photographs often takes two to three minutes.
Zyro
Zyro is an online application for enlarging photos that is incredibly effective for users. With the help of its intelligent upscaler, enhancing image resolution without sacrificing quality is simpler than ever.
Select the photos you believe require sharpening, then upload them to Zyro's upscaling feature. After that, let technology do its job.
Before you know it, the uploaded pictures will appear to be of excellent resolution.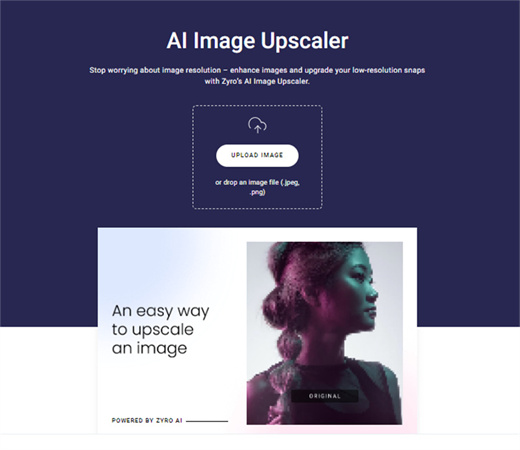 VanceAI
A one-click AI solution to enhance image quality is provided by VanceAI Image Enhancer.
This  AI image enhancer helps automatically improves photo resolution, sharpens detail, and alters colour in only a few seconds.  You can try it online . Or, download the free VanceAI PC to create HD desktop photos.
It raises the resolution of the images by using a 100% automated AI photo enhancer to make the picture look its best in less than 5 seconds.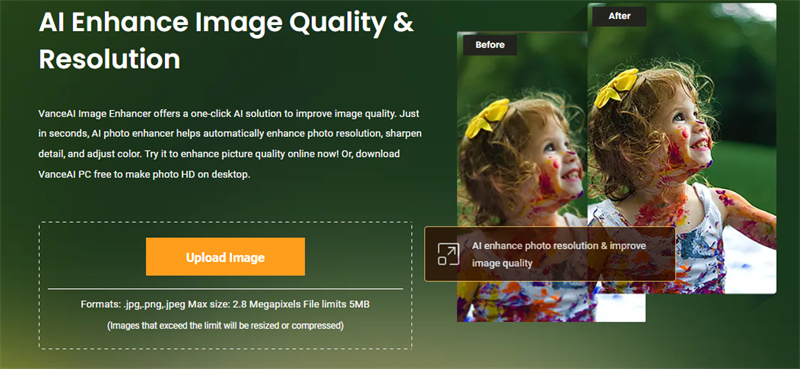 Although online Photo Enhancing tools may appear to be simple and easy to use and they can help you how to make high resolution images. but little do you know, they come with numerous disadvantages and problems for the daily user:
Most of the online tools, do not offer instant results and make you wait for long periods of time, eventually bringing hurdles to your workflow.
The free online tools have a lot of misleading and irrelevant ad on their websites, making them feel irritating and hard to use.
While Uploading and downloading your images on an online software, their is always the risk of losing your data or getting your computer infested with virus. Thus, the online software can be really dangerous for your personal data and information.
Conclusion
There are several ways to make image high resolution, and while utilising internet tools is simple, it also has many drawbacks. Using the HitPaw Photo AI is one of the greatest ways to improve your photos and boost their resolution to ensure that your job is really easy and straightforward.