Top 10 AI Photo Restoration Tools Worth Trying for PC/Mobile
In this modern age, where everything is just a click away, preserving our precious memories has become a breeze. And the best part? You don't need to be a Photoshop wizard to do it! Thanks to the wonders of artificial intelligence, reviving old photos and enhancing recent ones has never been easier or more accessible.
Whether you've got a stash of vintage family pictures or just want to spruce up your latest selfies, we've got you covered. Read on to find out more about ai photo restoration.
5 Stable & Fast AI Photo Restoration Tools for PC
Are you tired of sifting through endless options and dealing with sluggish software while trying to restore your cherished photos? Look no further, we've got you covered with a handpicked selection of five stable and lightning-fast AI photo restoration tools for PC that will make the process a breeze for ai photo restoration free.
1. HitPaw Photo Enhancer
HitPaw Photo Enhancer is a powerful and user-friendly software designed to enhance the quality of your photos effortlessly. Whether you're a professional photographer, an aspiring artist, or just someone who enjoys capturing memories through pictures, this tool can transform your images into high-quality masterpieces with just a few clicks.
Pros of HitPaw Photo Enhancer:
Intuitive Interface
Advanced AI Technology
Multiple Enhancement Options
This is how to use HitPaw Photo Enhancer:
Step 1. Download and Install
Visit HitPaw Photo Enhancer and download the HitPaw Photo Enhancer software. Follow the installation instructions to set up the program on your computer.

Step 2. Upload the Original Photo
Launch the software and import the photo you want to enhance. You can either click the "Choose File" button to select the image from your computer or drag and drop it directly into the software's interface. HitPaw Photo Enhancer supports various common image formats like PNG, JPEG, JPG, WEBP, and TIFF.

Step 3. Select an AI Model
After uploading the photo, you'll have the option to choose from different AI models, each specialized for specific enhancement purposes. Whether it's denoising, colorization, or facial enhancement, select the AI model that best suits your photo.

Step 4. Preview the Effect and Save
Click the "Preview" button to process the photo with the selected AI model. After a few seconds, the enhanced result will be displayed. If you're satisfied with the effect, click the "Export" button to save the enhanced photo to your computer.
2. Hotpot.AI
Hotpot.AI is a versatile AI tool that excels in restoring, colorizing, and enhancing old photographs. Its robust features and user-friendly interface make it suitable for users of all skill levels.
With Hotpot.AI, you can effortlessly bring your cherished memories back to life in their original quality, thanks to its wide range of supported image formats. Beyond restoration, the tool offers a plethora of design and editing features, making it an invaluable asset for graphic designers and photographers alike. Its quick processing times and efficient algorithms ensure that your old photos are beautifully restored in no time.
Key Features of Hotpot.AI:
User-friendly interface for easy navigation
Swift restoration process
Support for a wide range of image formats
3. ImageColorizer
ImageColorizer is an AI-based photo restoration tool specialized in skillfully colorizing black and white images. The software utilizes advanced algorithms to analyze grayscale data and apply realistic colors intelligently, breathing new life into old memories.
In addition to colorization, ImageColorizer offers features for repairing and enhancing your photos, including scratch removal and adjustments to brightness and contrast levels.
Key Features of ImageColorizer:
Automatic colorization for hassle-free results
Intuitive interface for easy use
Batch processing support for efficiency
4. MyHeritage
MyHeritage is an all-in-one family history platform that offers a powerful AI photo restoration tool, Deep Nostalgia. This advanced technology can repair, enhance, and even animate old photographs.
The integration with MyHeritage's family tree platform allows you to seamlessly work with historical images while building your family history. This combination of features makes MyHeritage an invaluable resource for genealogy enthusiasts and photo restoration.
Key Features of MyHeritage for photo restoration ai.
Deep learning algorithms for accurate restoration
Integration with MyHeritage's family tree platform
Colorize and enhance features for superior results
5.Img Kits
Img Kits is an ai photo restore tool designed to repair damaged and old photos. Advanced algorithms help detect and remove scratches, blemishes, and other imperfections, resulting in a clean and clear image.
Img Kits also includes automatic color correction features to ensure your restored photos have vibrant and accurate colors. Its user-friendly interface and powerful capabilities make it a top choice for both amateur and professional photo restoration projects.
Key Features of Img Kits:
Advanced scratch and blemish removal
Automatic color correction for vivid results
High-quality output with minimal artifacts
5 Best & Convenient for AI Photo Restoration Tools for Mobile
Here are the best And conveinet AI restoration tools for mobile.
1. HitPaw Photo Enhancer App: Best Enhancer App Available on Phone
The HitPaw Photo Enhancer app is a comprehensive photo editing tool designed to enhance your images with ease and efficiency. With its intuitive interface, you can quickly navigate through a variety of enhancement options, making it suitable for users of all skill levels.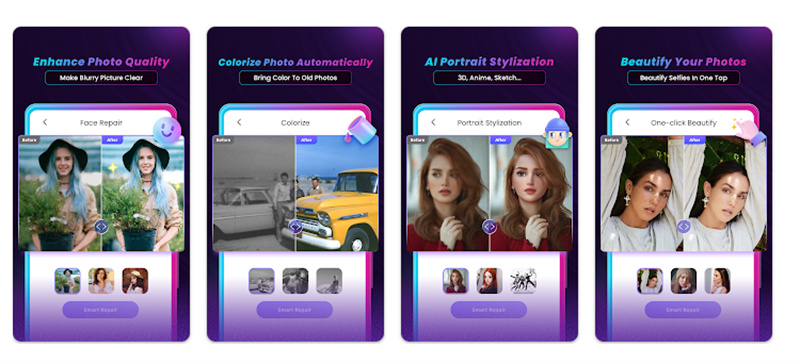 Whether you're a photography enthusiast or just someone who loves capturing memories through pictures, this app will revolutionize the way you edit and enhance your photos.
Pros
Face Repair and One-Click Beautify
Colorize Black & White Photos
Animation into 3D and Japanese Anime Styles
2. Remini: Ideal AI Photo Restoration App for Beginners
Rated as the Best Photo Restoration App of 2023, Remini is a must-have for both iOS and Android users. This powerful app harnesses the power of artificial intelligence to restore your photos seamlessly. Whether you need to fix damaged images or enhance color saturation, Remini can handle it all with ease. Moreover, the app offers a convenient "before and after" feature, allowing you to compare your original photos with their beautifully restored versions.
3. Photomyne: Excellent Photo Scanner App for Restoring Old Photos
Photomyne secures its spot as the Best Photo Restoration App of 2023 for iOS and Android users. If you're eager to revive faded old photos, this app is a game-changer. Equipped with specialized features for photo restoration and scanning, Photomyne makes the process a breeze.
Its automated photo scanning and stitching capabilities enable you to swiftly scan entire photo albums in one simple step. Additionally, the app's auto-enhance feature transforms blurry images into crystal-clear masterpieces.
4. Adobe Photoshop Express: Powerful App for High-Quality Old Photo Restoration
Named as the Best Photo Restoration App of 2023, Adobe Photoshop Express is a go-to choice for iOS and Android users seeking professional-level photo restoration. This app offers an array of user-friendly tools, empowering you to fix exposure, sharpen images, and effortlessly remove blemishes and imperfections from old photos.
The best part? You can enjoy all these powerful features without the need for the full Photoshop software on your device—all at no cost!
5. PicsArt Photo Editor: Top Photo Filter App for Restoring Old Photos
Finishing off our list is PicsArt Photo Editor, a top-notch image editing suite available for both iOS and Android users. Not only does it come packed with basic editing tools like cropping and resizing, but it also offers advanced AI algorithms tailored for restoring old photographs.
With just a few taps on your screen, you can effortlessly bring your cherished memories back to life. Additionally, the app provides an array of fun stickers and frames to add an extra touch of creativity before sharing your creations online or printing them out.
Conclusion
In today's digital age, ai restore old photos tools have made preserving and enhancing memories more accessible than ever. Whether on PC or mobile, options like HitPaw Photo Enhancer , Hotpot.AI, Remini, Photomyne, Adobe Photoshop Express, and PicsArt Photo Editor offer powerful features for repairing, colorizing, and animating old photos with ease.