[Complete Guide] How to Use Rap Generator to Create a Song
With its ability to generate rhymes, suggest catchy hooks, and provide a wealth of creative inspiration, a rap generator empowers both seasoned rappers and beginners alike to create compelling rap songs instantly.
In this article, we will delve into the world of rap generators, exploring how they work and discussing the steps you can take to create a rap song using this remarkable tool. Read on to know more about how to use a rap generator.
What is a freestyle rap lyrics generator?
A freestyle rap lyrics generator or rap generator serves as a computer program designed to assist individuals in crafting their own songs. By harnessing the power of AI technology, it generates distinctive lines of rap lyrics.
This innovative system takes into account user-provided parameters, such as preferred beat type and other influential factors, to generate content that aligns with the user's preferences. While many generators are available for free, certain advanced features may necessitate a subscription.
Although the generated lyrics may not match the caliber of experienced rappers, they can offer compelling ideas to kickstart your creativity. It's important to approach the output with a light-hearted mindset, utilizing it as a source of inspiration rather than taking it too seriously.
To maximize the potential of a freestyle rap lyrics generator, it is beneficial to possess fundamental knowledge regarding the essential elements of crafting a captivating rap, as mentioned previously. Additionally, delving into the works and styles of your favorite rappers can serve as a wellspring of inspiration.
Before You Start - Understand the Basics of Rap
To become a proficient rapper, it's crucial to engage with hip-hop culture and music fully. Hip-hop is deeply intertwined with urban life and culture. Research artists you admire and explore their influences to gain a better understanding of hip-hop's foundations and elements.
Moreover, effective rapping goes beyond simply rhyming words; it involves a deep connection with the rhythm. If you're not attuned to the beat, your performance may feel awkward and forced. Focus on developing a keen sense of rhythm to enhance your rap skills.
Similarly, challenge yourself by memorizing the lyrics of your favorite rap songs and vocalizing them aloud. Practice until you can recall every word and hit each beat accurately. Then, seek out the instrumental version of the rap song you learned or find a similar one if unavailable.
Once you feel confident in rapping over various beats, explore creating your own rhymes. Don't stress too much about the subject matter; instead, observe your surroundings and draw inspiration from the elements around you.
Now, once you grasp the significance of beats and rhythm, focus on developing compelling narratives that captivate your audience. Genuine experiences hold significant weight in rap, so strive to infuse your lyrics with honesty and personal perspectives.
In your creation process, AI voice generation and text-to-speech tools play a pivotal role when utilizing a freestyle ai rap generator. AI voice generation enables the swift conversion of text into speech, facilitating creation.
How to Use a Rap Generator to Create Your Own Song
Here is how you can use rap generators to create your own songs.
1. Uberduck
Uberduck AI is an innovative text-to-speech freestyle rap generator that grants users the ability to experience computer-generated rap lyrics voiced by some of the most influential figures in the rap game.
Using Uberduck is a breeze, and here's how it works:
Select your preferred voice from an array of options to personalize your rap.
Enter the lyrics you wish to transform using the Uberduck app.
Listen to the remarkable AI-generated rap, brought to life by your chosen voice.
Enhance your creation by adding a royalty-free track or beat in an audio mixer.
Share your final masterpiece with the world on your YouTube channel or private website.
2. Boomy
Boomy empowers creators to craft, personalize, and release their own rap music, while also offering opportunities for revenue generation. Additionally, through Boomy's collaboration with Dolby, creators can utilize cutting-edge technology to remaster their tracks.
To create a song using Boomy, follow these simple steps:
Tap on the Create button and select the Song option from the menu.
Choose a Style that resonates with your vision and apply any desired custom settings. Boomy employs AI-powered algorithms to faithfully emulate various musical styles.
Select Rap Beats and tap on Create Song. With Boomy, you have the freedom to reject any generated iterations that don't meet your preferences until you discover the ones you truly enjoy.
Incorporate vocals into your composition by either adding them from a saved file, including custom vocals and freestyle elements, or employing Boomy's beta Auto-Vocal feature. The Auto-Vocal functionality transforms short audio phrases into algorithmically generated vocal lines.
If desired, take advantage of the mastering stage. Boomy users can leverage Dolby technologies to achieve industry-leading mastering that enhances the overall sound quality of their tracks.
Things You Can Follow When Using a Rap Generator
Once you have determined the genre of rap you wish to create and discovered a suitable instrumental beat, it is time to employ the free rap lyrics generator to craft lyrics for your song.
Follow these steps while utilizing a freestyle rap generator:
Select relevant keywords connected to your desired topic that will aid in generating appropriate lyrics.
Input these keywords into the online rap generator.
Preview the generated lyrics.
Edit them as needed.
Practice delivering the lyrics to refine your flow.
Record your final version.
While the process is straightforward, your music has the potential to transcend simplicity. For that, you will have to use your brain. Tools like lyric generator rap can help you with the process - but they cannot replace your creative abilities.
Use a Voice Changer to Work to Make Your Rap Song Impressive
Here we got the best solution of voice changers, which easily changes the voice to another funny sound. You are able to create an impressive song for your listeners. With the arrival of HitPaw Voice Changer, applying voice filters to the audio has become simple. Luckily, HitPaw Voice Changer doesn't distort sound quality, offering a high-quality changed voice for your speech, chat or streaming.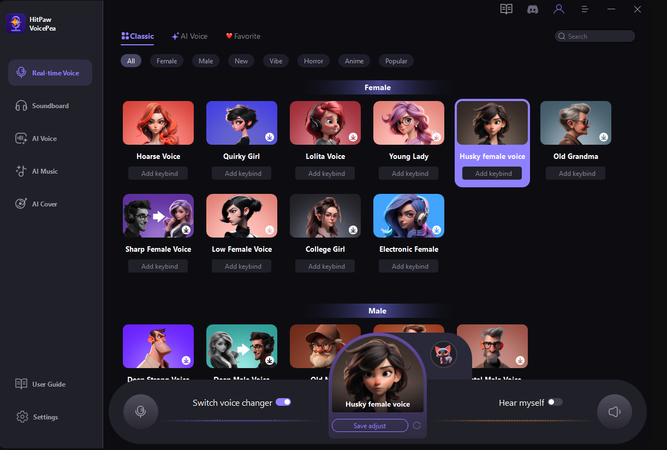 Helps you to produce the most realistic human voices
Offers the intuitive user interface
Integrated with the multiple online streaming platforms
Make your voice sound like the celebrities
Here're easy steps that how you can use HitPaw Voice Changer.
1.Go to "Settings", and click the drop-down button to select the input and output you are using. Then adjust to the volume you prefer.

2.Choose the effects you prefer and try speak into the microphone to listen to the transformed sound of your voice.

3.Adjust the sound effect in the sound settings,you can adjust volume, pitch, timbre of the sound. Then Turn on the "Voice Changer", "Hear myself" and "Noise Reduction" on the buttom.

4.After choosing the effect, simply click the "connect" to changer your voice on other platforms like Twitch, Discord, Steam, etc.
Conclusion
A rap generator is an amazing tool that can help streamline you me creative process.
You can follow the outlined steps, which include selecting parameters, generating lyrics, and refining your performance, to tap into the creative potential of AI technology to craft compelling rap compositions. And of course, you can use HitPaw Voice Changer for a try.