How is WinX DVD Ripper? How to Use it?
This guide covers everything about WinX DVD Ripper free. Along with WinX DVD Ripper Platinum, you will learn about the process of using it. Let's start!
Part 1:

What is WinX DVD Ripper?

WinX DVD Ripper is a free, portable, and efficient ripping software to convert DVDs to digital format so you can edit, archive, share and create a backup. And after ripping, the data can be used on multiple famous devices. The software is used by millions and can assist you in disabling digital rights management (DRM) protection.

If you have already read WinX DVD Ripper Platinum reviews, you must know that it also supports ripping old discs, damaged, commercial, ISO, etc. Here is a list of the top features of WinX DVD Ripper:
Offer an intuitive and user-friendly interface
Perform better to provide a good output image quality
Rip a DVD to ISO and MPEG2 in only 5 minutes over GPU
Convert DVDs to almost 350+ profiles, i.e., Sony, Samsung, etc.
Support 210+ audio/video codecs like MP4, FLV, and more
Let you select, disable, or add subtitles before ripping
Help you adjust aspect ratio, frame rate, bitrate, etc.
Trim, crop, and expand the ripped files
Give you complete security and customer support
Part 2:

How to Use WinX DVD Ripper?

Now that you got to know about WinX DVD Ripper reviews, it's time to jump into the step-by-step tutorial for how to use WinX DVD Ripper:
Step 1. The first step is to download, install, and open this program. Now, you can import a DVD by clicking the "Disc" tab from the main menu. You can choose the required DVD from the drop-down menu if there is more than one. The program will choose the right title automatically.

Step 2. Once you press "OK" after disc selection, the "Output Profile Window" appears automatically from where you need to select the right format, under PC, Mac, or other sections. Click "OK" and press the "Browse" button to choose the destination folder where you need to save it.

Step 3. You can rename files or titles from the "Set Tag" option in the area under the top menu. Also, it is possible to adjust video aspects like frame rate, encoder, quality, etc., by pressing the "Settings" icon here.

Step 4. Finally, hit the "Run" tab from the bottom right corner to start ripping the DVD. It will start loading, and you will get the converted file in the least time due to hardware acceleration technology. That's all!
Part 3:

FAQs about WinX DVD Ripper

Q1. How long does it take to rip a DVD with WinX?

A1. Since WinX DVD Ripper Platinum is working over Level-3 hardware acceleration, you can back up old, damaged, new, and Japanese DVDs in a short time. Compared to other fast-ripping platforms, it is possible to rip a DVD in as fast as 5 to 10 minutes with WinX DVD Ripper free version.

Q2. What is the best quality DVD rip format?

A2. If you want to get the highest quality DVD, always stay away from video transcoding. While ripping DVDs, you must not change its file aspects, i.e., the encoder. The main content of the DVD gets stored in MPEG2 VOB file format. So MPEG2 MPG is a high-quality format to rip DVDs. However, MP4 H264 is a high-quality format for video playback.

Q3. Can you rip Blu-rays with WinX DVD Ripper?

A3. WinX DVD Ripper assists you in ripping a DVD to a device-compatible format like Android, Apple, Microsoft, and others. Even you can perform this function on Windows and Mac devices; however, you can't rip Blu-rays with any basic or platinum version of this ripping software.

Q4. How do I rip a DVD without losing quality?

A4. The correct procedure to rip DVDs while retaining their original quality involves launching the interface. Now, press "DVD Backup" and choose the "Clone DVD to ISO image or video _ TS Folder" option. So you will be able to get the lossless DVD ripping to offer exact data of the source file.

Q5. What is the best way to convert DVD to digital?

A5. If you are looking for the best DVD-to-digital converter that offers to rip without any quality loss, WinX DVD Ripper Platinum proves to be the ultimate choice. It converts the DVD data to a digital copy with advanced DVD decrypting ability. So you can enjoy the fastest ripping/conversion speed and the most efficient output quality. All done!
WinX Stops Early?

Try the Best DVD Ripper of the Year

Have you come across the problem that WinX stops early and your file failed to process? Yes, though WinX is a great DVD ripper, but it still has problems ocassionally. If you're looking for a more stable and reliable DVD ripper, HitPaw Video Converter is one of the renowned and comprehensive converters worldwide. It rips you convert DVD videos to over a thousand file formats, including FLV, 3GP, MKV, WMV, MP4, and more. The best part is that you can pick any desired social video and device based presets.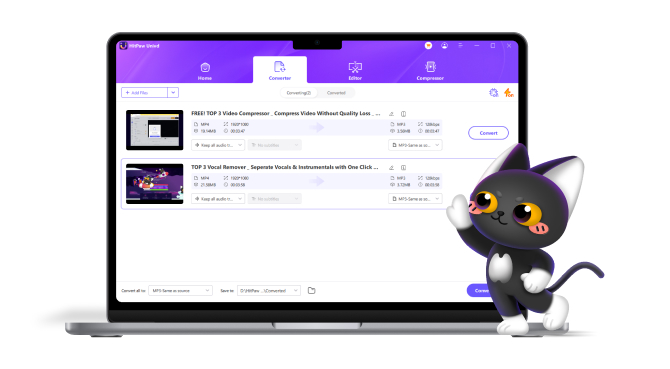 Features
Offer smooth DVD ripping process with GPU acceleration technology
Work at 90X speed with the lossless DVD conversion feature
Convert DVD files of any format like MPEG2 to MP4
Keep the quality intact or help you change as desired
Cut, merge, crop, and rotate with its advanced editing tools
Allow you to adjust the video playback speed if required
How to Rip DVD Files to MP4 with HitPaw
Step 1. Once you have launched HitPaw Video Converter on your system, see the menu to choose "Add files" > "Add DVD" section.

Step 2. Now, add your DVD file and wait for the analysis.

Step 3. The final step involves choosing the target format you want, and click "Convert". All done!
Conclusion
Though people enjoy shows and movies on Netflix, Amazon, and other streaming devices, some have stored data in DVDs. So it's crucial to rip data for personal or sharing purposes; however, a valid DVD ripper is required, like WinX DVD Ripper. Therefore, you can try it once after considering the WinX DVD Ripper review.
But what if you come across some issues of WinX DVD Ripper, such as WinX DVD Ripper stops early or black screen, you will require software like HitPaw Video Converter, which offers fast and lossless audio/video conversion with editing features.