How to Enhance YouTube Video to 4K with 2 Minutes in 2023
Besides Google, YouTube is the second most popular search engine in the World. Its use case and viewership grow outstandingly day by day. 
However, you might wonder how to improve YouTube video quality. Well, an enhancer for YouTube does this for you. Along with improving YouTube video resolution, a YouTube enhancer also provides additional features to customize the video.
Continue reading to learn which features YouTube video enhancers offer and how you can avail of them.
Part 1. What is and Why Do you Need Enhancer for YouTube?
Before we delve into the discussion of how to use the YouTube video quality enhancer, you should know what it does. An enhancer for YouTube is a popular chrome extension that people use to block repetitive ads when watching videos.
Although the main task of a YouTube enhancer chrome extension is to block intrusive ads, it also provides extra features to enhance the video resolution. Thus, a YouTube enhancer is the only best option if you want to adjust the playback speed, enlarge the video display, or increase the audio.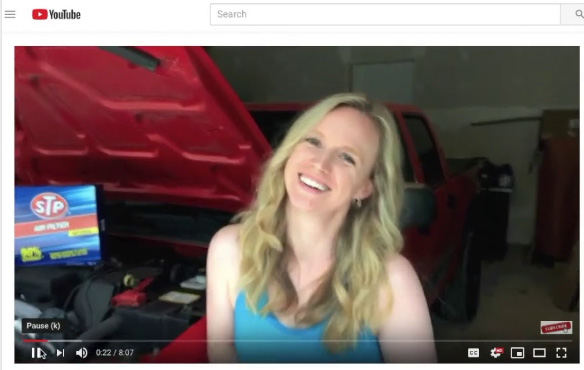 Part 2. Best Way to Improve YouTube Video Quality to 4K with AI Video Enhancer
Although YouTube provides multiple video customization options, including increasing playback speed, it fails to enhance the video resolution. For this, you have to take help from an amazing AI video enhancer. HitPaw Video Enhancer is the perfect YouTube AI video upscaler for increasing video quality. The plus point is that it uses AI technology and has a user-friendly interface. 
As an AI video quality improver, compared to other popular YouTube video quality enhancers, HitPaw Video Enhancer is the only one that converts your low-resolution video into HD, even in UHD. Not only this, but it also converts your video quality to a maximum of 8k resolution so you can enjoy your videos to the fullest. Besides AI enhancement, let's have a look at its unique features below.
Features of HitPaw Video Enhancer
Provides best noise reduction effects
Comes with exclusively designed AI technology
Upscales the video with just one click
Supports 30+ import formats
Includes batch processing for bulk video work
The best AI video enhancement software that 100% automatic and safe to use
Learn how to enhance YouTube video to 4K with HitPaw AI Video Enhancer from this video:
Steps to Use HitPaw Video Enhancer
Step 1.Go to the official HitPaw site and download the HitPaw Video Enhancer. Then, choose a video you want to enhance and upload it on the timeline.

Step 2.Now, you can choose from any of the three AI enhancement models available on HitPaw Video Enhancer. These will automatically enhance your video quality.

Step 3.You've successfully enhanced your video resolution. After giving it a final look, preview the enhanced video and export it to your local files.

Below is a before and after comparison of video quality enhancement.
Part 3. Online Way to Help you Upscale YouTube Video Quality from SD to HD
Upgrading YouTube video quality is a great way to increase your viewership and channel growth, especially if you are a professional YouTuber. Most people use Flexclip as an online tool to enhance video quality. Flexclip shows you how to improve video quality on the YouTube upload section.
Flexclip A reliable YouTube enhancer with stunning effects and it offers multiple templates with easy colour grading. It is free to use and contain no watermark. Flexclip allows the video to upload to YouTube directly
Steps of How to Enhance YouTube Video with Flexclip
Step 1.Visit the Flexclip online site and upload the video you want to enhance. Then, place it on the timeline and apply filters or effects per your choice.

Step 2.To enhance quality, you can select video saturation, colour grading, exposure, contrast, and other video highlights.

Step 3.Once you're done with the video preferences, preview the final changes, save the video, or directly upload it on YouTube. 
Part 4. Enhance YouTube video quality with Firefox Add-Ons
You might have tried different video enhancers for YouTube, but they don't tell you how to make better-quality YouTube videos. Firefox add-ons are the ones that have the power to enhance your video quality to a greater extent. YouTube High Definition is the perfect Firefox Add-on for this purpose.
YouTube High Definition plays your videos to the highest-resolution possible. You can choose a customized resolution setting. It comes with a mini-player or theatre mode. On top of all, YouTube High Definition contains auto volume muting and video stopping features.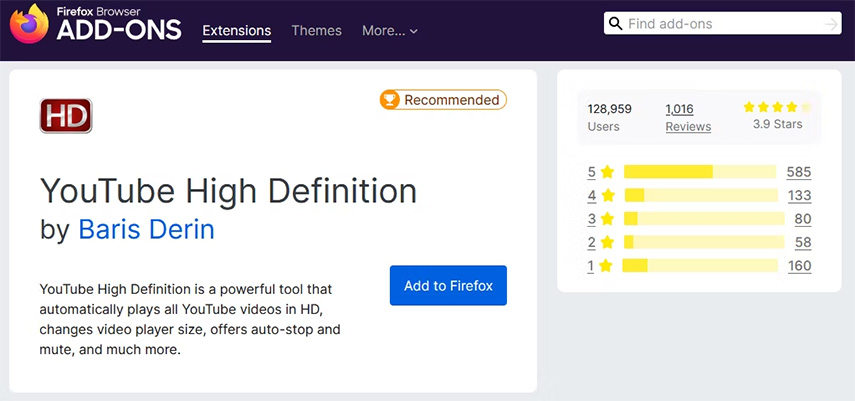 Steps of How to Enhance YouTube Video with YouTube High Definition 
Step 1.Open the YouTube High-Definition Firefox add-on on your computer and select the video you want to enhance.

Step 2.The best thing is you can choose any video resolution by clicking on the preferred resolution option. Then, apply the resolution you want to your original video.

Step 3.Finally, you can preview the video and make final changes if required. Then, save and export the video file.
Part 5. Other Ways You Can Choose to Enhance YouTube Video
If you are interested in giving your YouTube videos a classy look, you should try third-party YouTube enhancers for great results. Here are five stellar ways that you can choose to enhance your YouTube videos. 
#1. Trim YouTube Video in Clips
Trimming video clips and concise videos can help improve their overall quality. It will adjust your video and improve its resolution settings as well. You can also merge or organize your videos in a good format through trimming. 
The best thing about trimming a video is it makes the video easy to edit and merge. In addition, you can organize the smaller video clips, which will also enhance their quality up to 4k.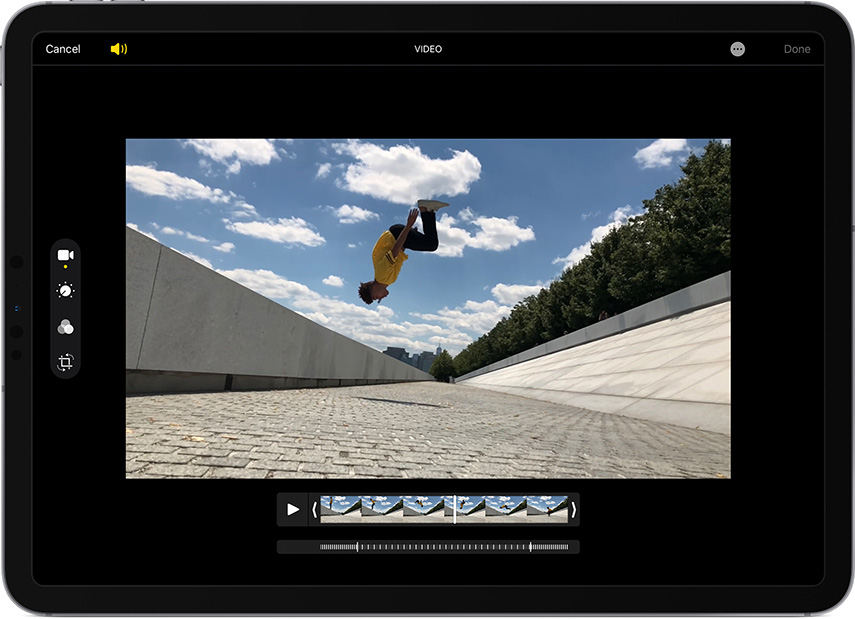 #2. Export To YouTube
YouTube has its own impeccable video editing features that impress the viewers. You can simply export the video to YouTube Creator Studio and apply effects, transitions, or other overlays as needed. It will significantly improve the video quality as you upload it.
As a professional YouTube creator, you would love this method of enhancing videos by exporting them to the creator studio. It may take some time, but it is worth the time and effort. Thus, you will see a tremendous increase in the resolution of your video when exported to YouTube. 
#3. Vary Your Shots
Variations and shooting at different angles can highly affect your video quality. However, it is pretty tricky but can bring positive results in terms of video resolution. Most importantly, it works on such videos that are 10 minutes long and are mostly related to podcast videos. Moreover, these variations are also essential to make the footage more engaging and can improve their quality as well. 
Part 6. FAQs of Enhancer for YouTube
Q1. Is Enhancer for YouTube Safe? 
A1. Unlike other YouTube enhancing elements, a YouTube enhancer is safe and easy to use. It does not contain any harmful content that can disrupt your privacy. Moreover, it can bring positive reviews with satisfactory results for your videos. Hence, you should trust YouTube Enhancer regarding video enhancement and safety. 
Q2. Can I Enhance Video Quality on YouTube? 
A2. As mentioned earlier, you can try different ways to enhance the video quality, including adding transitions, trimming videos, or adding variations. However, using online ways such as Flexclip and HitPaw Video Enhancer is the best way to do so. These YouTube video enhancer tools will help increase video quality and other features.
Part 7. Conclusion
Enhancing the quality of a video is undoubtedly a difficult and time-taking task to do. But with HitPaw Video Enhancer, you can now convert your low-resolution videos to 4k with ease. HitPaw is highly recommended as it supports 30+ video conversion formats and has an AI-powered interface.