8 Best Free Video Editing Apps for iPhone You Must Have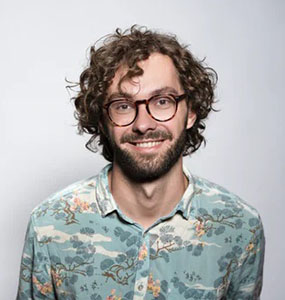 As iPhone camera lenses have improved over the years, more and more people are using their phones to film videos. Many iPhone filmmakers would like the option to modify their videos on the go, before uploading them to social media.
iPhone video editing apps are a fantastic time-saving tool for making and sharing videos. There are a variety of editing apps available, but it can be difficult to choose which ones are worth purchasing. Listed here are the eight most useful apps for video editing iPhone, compiled for your convenience.
Part 1. Best 8 Free Apps for Video Editing on iPhone
In modern life, with the development of technology, the role of portable devices is increasing. So of course more people will want to complete the editing process directly on their mobile device.The following are the 8 best video editing apps for iPhone:
1. iMovie
Apple's iMovie has been the gold standard in mobile and desktop video editing since its release in 2001. A few of the most fundamental video editing features are available in iMove, just like in Adobe Premiere Rush. iMovie has the kind of elegant simplicity that can only come from an Apple product.
When using iMovie, you may choose a premade design to use as a starting point for your logo, cast list, and credit roles. This app provides you with 10 different filters and eight different themes to work with. The sound effects and music in iMovie are limited, yet functional. It is the best free video editing app for iPhone.
Pros
User-friendly interface
Easy sharing
Effects and enhancement
Cons
Importing MP4 files for editing is complex
2. InShot
InShot has everything you need to make the best video possible, whether it's for Instagram or elsewhere. With the help of some of the greatest features, you may select the ideal background music for your video.
The app gives you the option of using a voiceover or using your own music. Sound and picture may be synced with little effort. The video may be customized with a wide variety of filters and effects, including the addition of text, emojis, and even animated stickers. It is the best video editor for iPhone.
Pros
Compared to similar programs, InShot is user-friendly. It's streamlined video editing.
Your movies may be edited quickly. Few taps and you're set.
Joins video snippets and adds transitions.
Cons
There is only one track in the timeline.
3. KineMaster
If you're looking for a free video editor with a wide range of editing tools and other features, go no further than KineMaster. One may begin a project in a variety of aspect ratios, from the theatrical 16:9 to the Instagram-perfect 1:1. It is among the free video editing apps for iPhone.
The next step is to edit the movie whatever you like, including adding transitions, text, music, and more with a user-friendly interface. A final result might be the result of layering video, photos, stickers, special effects, text, and even handwriting. Several video tools are available for no cost.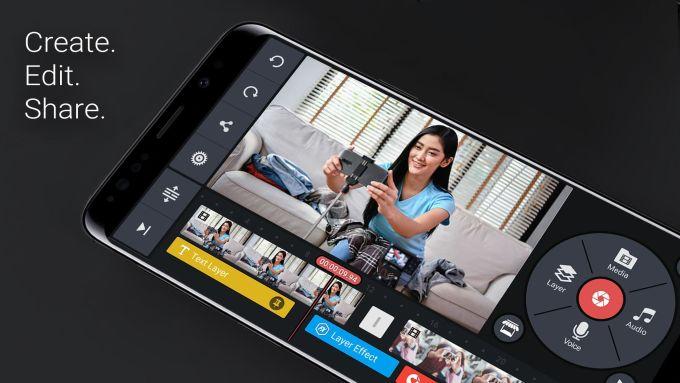 Pros
Used by a large number of mobile phone users
User-friendly design that's a breeze to navigate (Media Panel, contextual editing tools, etc.)
Wide-ranging, built-in effects including blurring and mosaic
4. Adobe Premiere Rush
Adobe Premiere Rush, designed for video editors, is a fantastic choice for anybody with an iOS device. The app's camera feature makes it simple to record footage, which can subsequently be edited within the same application. It is a free video editor for iPhone.
To customize the order of your media, you may just drag and drop the files into the desired location. To further expand your options, try using numerous video tracks. With a simple click, you can easily add zoom and pan effects to your images.
Pros
Clean, clear, simple interface
Good title options
Lets you change the video speed
Cons
Impossible to export with a custom file format or encoding
5. Videorama
A much more reliable video editor is Videorama. The app's interface allows users to switch between three distinct video layouts (landscape, portrait, and square) with a single tap. Instagram demands a square format, thus this is ideal.
The option to download free videos and photographs from Pixabay is handed away as the app's finest feature. Audio and visual effects, as well as royalty-free music, may all be downloaded with this tool. It is also the best free video editor for iPhone.
The standard suite of editing options, such as adding text, photographs, music, and filters, may be found at the bottom of the editing timeline. You may access an additional four features by tapping the video slider in the header. These include options to edit the clip, delete it, duplicate it, and add different transition effects.
Pros
Simple navigation and controls.
The app allows users to film new footage or import and edit clips from a variety of sources.
Select the appropriate size for your project from the available options in landscape, square, or portrait orientation to get started.
Cons
Cannot actively record videos in the app.
6. Videoshop
Videoshop is another excellent, free, iPhone video editor. Even if you have never used a video editor before, you should have no trouble with the UI. As a jumping-off point, you may import a video, make a video within the app, or import a clip from a viral video.
The editing process can be simplified by displaying only the tools you intend to use. Videos may be edited in several ways, including cutting and splitting them into many parts. An audio track can have not just music but also sound effects and even narration.
Pros
Methods of video editing that are quick and simple
Transform your video by including transitions, effects, and audio.
Combine several video sources into one
Cons
It's only free for a limited time
7. Magisto
Magisto removes all the hassle of making a high-quality video, with an emphasis on sharing on social media. All editing is done automatically by the app. The best video editor iOS blends video, still images, sound, text, transitions, and filters using artificial intelligence.
Select an editing mode, such as "caring moments," "memories," or "travel," and then import your media files. After that, you can pick from a wide variety of tunes, ranging from rock to movie themes. Music libraries also allow you to select a certain song to play.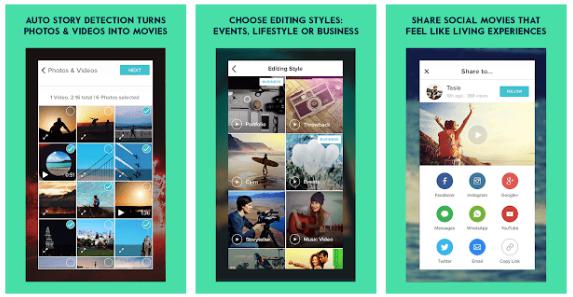 Pros
Compilation of musical pieces and topics
The UI is really easy to use.
A rapid and simple content load time
Cons
Certain features are unavailable in the trial version.
8. Splice
Splice is an application that can take your video and image files and turn them into professional-looking movies. Within minutes, you'll feel like a real pro. Join your video clips and still images into one cohesive whole.
You may modify the length of your videos in any manner you choose. Create slideshows or films out of your photos. It's simple to switch the direction of a video. You can also insert transitions between your video segments.
Pros
Adjust playback speed easily
You can Animate your clips
Nice text effects and filters
Cons
Lacking some basic editing features
Part 2. FAQs of Video Editing Apps
1. Is iMovie free for iPhone?
The iMovie software is user-friendly and cost-free. Easily install it on your Mac or iOS device with just a click.
2. What's the best video editor app for iPhone?
| Apps/Features | Support Platform | Price | Multi-track Editor | 4K Support |
| --- | --- | --- | --- | --- |
| iMovie | iOS & Mac | Free | No | No |
| InShot | Android & iOS | Free, $3.99 per month | Yes | Yes |
| KineMaster | Android & iOS | Free, $3.99 per month | Yes | Yes |
| Adobe Premiere Rush | macOS, Windows, iOS and Android | $9.99 per month | Yes | Yes |
| Videorama | iOS | Free, $4.99 per month | No | Yes |
| Videoshop | iOS | Free, $2.99 per month | Yes | Yes |
| Magisto | macOS, Windows, iOS and Android | Free, $9.99 per month | Yes | Yes |
| Splice | iOS | Free, $2.99 per month | No | Yes |
Part 3. Why I Can't Edit Video on iPhone and How to Fix it?
There could be a number of reasons why you can't edit video on your iPhone. It could be that you don't have the right software installed, insufficient space, or the wifi signal is unstable or it could be that your phone isn't compatible with the video editing software you're using.
If you're having trouble editing video on your iPhone, the best thing to do is check with the software vendor to see if they offer any iPhone compatibility updates or troubleshooting tips. You might also want to try using a different best video editing app on desktop. There are many great options out there like HitPaw Edimakor.
When compared to other complicated applications, HitPaw Edimakor doesn't use as much space on your hard disk. Even if you have never edited a video before, you should have no trouble picking up the program and getting started
Outstanding Features of HitPaw Edimakor:
The user may adjust the video's speed using the speed controller.
Users are able to extract audio from videos with ease. Instead of digging through options, they may merely click and drag an audio file into place.
Users can break a video into smaller segments and then delete just those segments they don't want to keep watching.
A video can be cropped in order to remove unwanted segments that the user does not want to be shown.
Users of the HitPaw video editor may use the mouse to pick the video and then rotate it to any angle they choose.
How to Edit Videos Using HitPaw Edimakor?
If you want to learn how to use HitPaw Edimakor, read on:
Step 02 Just drag and drop the video into the software, or use the "+" button.
Step 03 Simply add the videos by dragging and dropping them into the timeline. At this point, you have complete freedom to change anything you want.
Step 04 After positioning the playhead at the beginning of the clip, select "Split" from the toolbar's action menu to cut the video into two halves. The next step is to move the playhead to the final frame and press "Split" once more. The component will stand out from the rest of the assembly. Delete it by clicking the button.
Step 05 After making your necessary changes, select Export to save your work.
Part 4. Conclusion
Even 4K videos captured with a smartphone may be edited smoothly on the newest iPhones. Any of these best video making app for iPhone may help you edit your videos till you have the best possible movie to show the world.
However, we recommend you use HitPaw Edimakor if you are stuck in the problems of insufficient space or poor wifi signal of iOS device. It is a reliable video editor for desktop users, and you can edit your video with easy steps and colorful templates.