Top 4 AI Video Denoiser Effectively and Fast
Nothing feels more disturbing and irritating than a grainy or blurry video. Right? Many times, it happens that the quality of your video is highly affected due to unknown reasons.
A denoise video ruins the whole quality just because of unpleasant digital noise. So instead of looking at the causes of how a video is denoised, it is more acceptable to look for the solution.
If you are a video creator, you can significantly get rid of this frustration by using an AI Video Denoiser. Continue reading to learn what it is and how it helps denoise with a video.
Part 1. Best Way to Denoise Video With AI Video Denoiser
Getting a neat video denoiser is no less than finding your perfect pair of shoes. Choosing the best one is tricky among plenty of video denoise online tools. Therefore, HitPaw Video Enhancer has come into the market. Moreover, if you want to get auto enhancement along with batch processing, this AI video upscaler should be your first option.
A perfect video denoiser not only fixes blurry videos but also enhances their quality to a pro level. What would be better than the General AI denoise model of HitPaw Video Enhancer? Besides removing noise, let's have a look at what else it does for your videos.
Outstanding Features of HitPaw Video Enhancer
Removes video noise by making them clear and new
Provides effective AI denoise model for animation videos
Restores the video quality with AI upscaling
Repairs upgrades and make your videos flawless with AI video enhancement technology
100% automatic and runs with a single click
It comes with advanced batch processing
100% safe and your videos can only be seen by yourself
Steps of How to Use HitPaw Video Enhancer
Step 1.The first step is downloading and installing the HitPaw Video Enhancer, one of the best free AI video enhancer, on your PC or Mac. After successful installation, upload the video you want to denoise.

Step 2.From HitPaw Video Enhancer, you will get three AI models to denoise a video. You can choose any of them and apply them to your selected video to enhance its quality.

Step 3.Finally, you can preview your enhanced video and download it by clicking on the "export" button on the screen.

Below is a before and after comparison of video quality enhancement.
Part 2. Denoise Videos in Video Editors - Final Cut Pro X
Do you want to remove blurriness from your video without using AI technology? Relax, you can do it easily with Final Cut Pro X. With the noise reduction effects of Final Cut Pro denoise software, you can give a professional touch to your video. But first, let's have a detailed look at its specifications.
Price:

Comes with a one-time price of $299.

System Requirements

To install Final Cut Pro X video denoiser, your system should have the following requirements: macOS 10.15, 4GB of RAM, 8GB RAM for 4K and 360° video editing, 1GB of VRAM (GPU) recommended for 3D titles, 3.8GB of available disk space

Features

To use Final Cut Pro X, you do not need any third-party plugins. You can easily import and edit from SD to 4K videos. It contains premium quality voice reduction and VR headset playlist.
Steps of How to Use Final Cut Pro X to Denoise Videos:
Step 1.Before doing anything else, open the Final Cut denoise software and choose the video you want to upgrade. Then, import the clip you wish to denoise and put it on the timeline.

Step 2.Now, adjust your video clip by opening the effects menu and selecting the level of sharpness and noise reduction.

Step 3.Your video has been enhanced, and all unpleasant noise has been removed. You can finally save and export it to your library.
Part 3. Topaz Video AI - Useful AI Denoiser to Help Denoise Videos
Topaz Labs' Video Enhance AI published its advanced version: Topaz Video AI. You can get a better effect on AI video denoise. And it also supports higher resolutions if you want to upscale your videos.
Price:

Topaz Video AI offers a premium subscription of $299 per month.

System Requirements

To enjoy Topaz Video AI, you simply have a computer with a strong graphics card and Google Chrome/Firefox browsers.

Features

Topaz Video AI provides multiple editing templates, blocks, and layouts. It has powerful features to denoise a video. It supports 100% local processing.
Steps of How to Use Topaz Video AI to Denoise Videos:
Step 1.Select any video you want to enhance on Topaz AI denoiser and customize it accordingly.

Step 2.Using the settings in the sidebar can help you get the result you want from Topaz AI denoiser, such as filters setting.

Step 3.Preview and export your file after you do the best settings for your file.
Part 4. Neat Video - Video Noise Reduction Plugins to Denoise Videos
Neat Video denoiser is the perfect option to save your footage from lousy quality. This denoise premier pro plugin eliminates all kinds of noise from the camera settings and makes the footage worth seeing.
AI and machine learning techniques significantly solve all noise issues from your video within seconds. Read on to see its exceptional video enhancement features.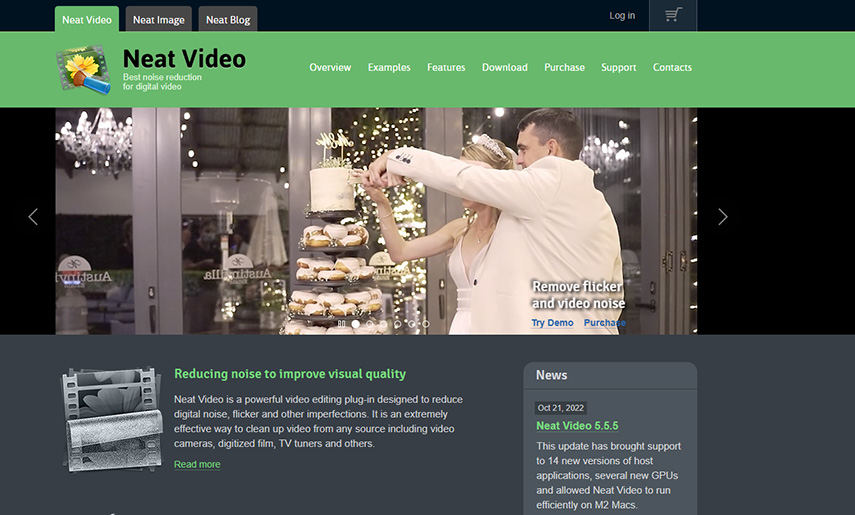 Price:

The subscription price starts from $79.90.

System Requirements

The Neat premiere pro noise reduction plugin is compatible with all Adobe Premiere. Besides this, you can also run it on Final Cut Pro and Vegas Pro.

Features

Neat Video is the best automotive and user-friendly premier video denoise tool. It contains auto-profiling tools for creating noise profiles. Moreover, it features colour banding and includes multiple formats to convert the video.
Steps of How to Use Neat Video to Denoise Videos:
Step 1.First of all, choose the video you want to denoise. Then, drag or drop it on the timeline and start editing to enhance its quality.

Step 2.After uploading the video on the editing timeline, check for available tune profiles. Neat video denoise the footage per your requirements and the level of saturation you select.

Step 3.The AI upgrades of the AI video denoiser will enhance your video resolution in a perfect way. Finally, you can preview and save it on your local files.
Part 5. FAQs of Denoising Videos
1. Which Video Denoiser should you choose?
As mentioned above, you can use different AI and without AI video denoise tools for your footage. However, all of them have their specifications. Therefore, you can choose the one that best matches your video requirements. Let's have a look at the comparison table:
| Specifications | HitPaw Video Enhancer | Final Cut Pro X | Topaz Video AI | Neat Video |
| --- | --- | --- | --- | --- |
| Required RAM | 16GB | 4 to 8GB | 16GB | 4GB |
| Frame Size | 24 fps | 32,768 p | 1080x1080p | 1920x1080 p |
| Video Denoise Results | Excellent | Better | Good | Better |
2. What are the differences between video noise vs audio noise?
There are apparent differences between these terms "removing noise from video" and "removing noise from audio". It is because video and audio noise are two different technical things that need to be solved with different software.
Audio noise simply means splitting up or removing background noise from the audio. On the other hand, video noise means eliminating interrupting noise, such as buffering music from your footage. Moreover, both noise removals are done on different denoise software.
Part 6. Conclusion
It is no doubt that denoising a video impacts its overall quality and enhances your footage. However, choosing the best AI video denoiser online might not be easy. Don't worry HitPaw Video Quality Enhancer is here for you. With AI Upscaling and video denoise models, you can quickly improve your video quality in a few minutes.