Which is the Best Watermark Remover App for Android and iPhone
If you wish to remove watermark while maintaining the original quality of the video and image, you need to use a watermark remover app to get the best outcome. There are many options available for Android and iOS devices. But the main question that remains is which app should users use to get rid of image or text watermark from their mobile phone. This article talks about the best watermark remover apps that users can use on their Android or iOS devices. Read below to know more.
Summary
Video and photo creators may add text, logo, stamps to their videos and photos. These watermarks are placed at any area of the video and photo, which greatly influences visual effects.  In this article. I'm going to share 8 watermark remover apps for Android and iPhone.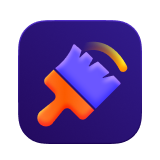 Part 1.

Best Apps to Remove Watermark from Picture

If you want an app to remove watermark completely, then this is the right place. This section talks about the best apps for iPhone and Android that you can use. In this section you will see the top 5 remove watermark app options. Keep reading to more.
1. PhotoDirector : Photo Editor (For iOS and Android)
PhotoDirector for iOS and Android is one of the best apps to remove watermark and can be used by those who not only wish for a smooth watermark removal app but who also want other useful photo editing functions. This includes collaging photos, adding overlay effects to photos, or blurring the background.
The app is a powerful photo editing tool as well. With its strong AI, users can get rid of watermarks from photos easily. The app comes with other helpful functions such as ability to remove background from picture features, photo filters, and photo animation features, thereby making it one of the best options for watermark remover app for Android as well as iOS.
Pros:
Many enhanced effects
Powerful and friendly interface
Extensive support for layers
Impressive editing tools such as body shaper
Tethered shooting
Painterly AI styles
Cons:
Acts more as a photo editing tool and less as a watermark remover tool
Not sufficient lens profiles
Poor noise correction and chromatic aberration features
Some menus slow down occasionally
2. Remove Unwanted Object (For Android)
Remove Unwanted Object to remove watermark from picture is a prolific option for getting rid of objects, stamps, watermarks, and other factors from your photos. This app enables users to recover their old pics. Users do not have to do much to get rid of unnecessary elements from pictures since this tool has a pretty simple procedure to serve its purpose.
Pros:
User-friendly
Deals with different types of objects
Professional-looking results
Cons:
Not for iOS devices
Doesn't offer batch photo editing feature
You need to pay to get rid of ads
3. PicLab (For iOS and Android)
PicLab is a digital logo remover app that you take out watermarks, text, scratches as well as skin blemishes from images. And then the app can virtually restore an old photo into its former spark. The final image is automatically saved in your phone's gallery. The app is available on both iOS and Android platforms. This app gets rid of more than just watermarks. It can also manage adding filters, stickers, and photo overlays.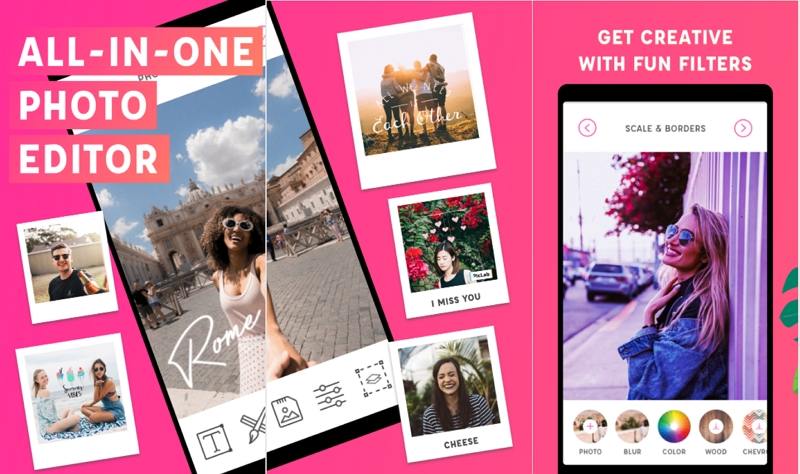 Pros:
Allows for complete image editing
Object Removal in Photos
High-quality outcome
Cons:
Limited features
Crashes
Quality difference in Android and iOS outputs
4. Photo Retouch- Object Removal (For iOS and Android)
Being the next contender in the list for best watermark remover app, Photo Retouch is a tool designed for iOS and Android users. With this app, users can get rid of anything that they do not need in their pictures, including unwanted people, watermarks, or other objects. The app also comes with basic video editing functions which enables users to add texts, stickers, or pictures.
Pros:
Includes efficient beautifying tools
Ability to quickly save finished picture
Numerous additional features
Cons:
Steep learning curve
Free version comes with ads
Costly paid subscriptions
5. AirBrush (For iOS and Android)
Last, but not the least, AirBrush for iOS and Android is yet another well-known retoucher and photo editor for users all over the globe. It is also a tool to get rid of watermark from a pic on mobile devices. Users can also use this app to get rid of watermarks. The built-in watermark removal tool can also be used to get rid of other imperfections from your photography or selfie, such as wrinkles and blemishes. The app is free to download.
Pros:
Ability to enhance the face shape
Professional-looking results
Professional photo retouch
Cons:
Limited features
Costly paid version
You need to pay to get rid of ads
Part 2.

Best Apps to Remove Watermark from Video

This section talks about some of the options that can be a contender for the "best watermark remover app for videos" title. Read below to know more.
1. FDCTool – Add&Remove Watermark
Being the one of the best options to remove watermark from video app, FDCTool is a one-click picture editing app, video editing, as well as video cutting app. The app shows support for different features such as video mirroring, video MD5 modification, video speed change, video reverse playback, video image add text, video filter, video add watermark, text recognition, image add watermark, video remove watermark, image mosaic, image remove watermark, video background audio extraction, video download, and video audio deletion.
Pros:
Provides several powerful editing tools
It is simple to use with an intuitive interface
Easily remove unwanted objects from photos
Cons:
Left a blur on the video after removing watermark
Pop-up ads may interrupt user's experience
2. Video Eraser-Retouch Removal
This video watermark remover app is developed for iPad and iPhone. You can use Video Eraser-Retouch Removal to get rid of unwanted icon, logo, and watermark from their videos seamlessly. The process is quite easy. All you have to do is import the video, choose the watermark section, and then begin removing. But lately, the app only supports 4 video formats, namely MOV, MP4, 3GP, and M4V.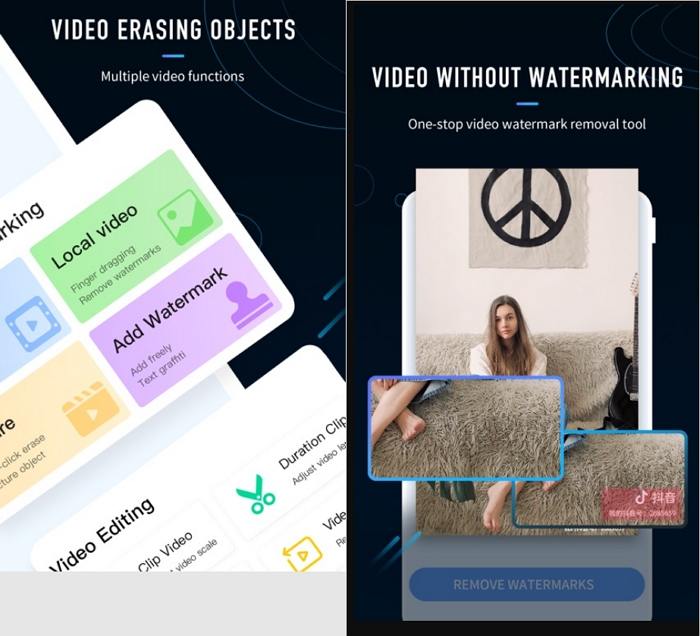 Pros:
Remove objects, including bridges, tents, people, and more
Easy to use app without any video editing skills required
Simple to use
Cons:
App occasionally closes and disappears when removing watermarks
Cannot figure out how to cancel subscription of the app
3.Watermark remover, Logo eraser
Watermark remover, Logo eraser to remove watermark from video is one of the ideal watermark tools that can not only assist users to get rid of watermark from the video, but also to add text and logo to the video as per their needs. You can even add emoji and sticker to any section of the video as per their preferences. In addition to this, the app also offers other editing features such as compressor, cropper, and trimmer, among others.
Pros:
Remove watermark or logo from video
Custom your personalized logo to your video
Friendly UI and easy to use
Cons:
Take a long time to remove watermark
Poor customer service
A litter expensive
Part 3.

Best AI Watermark Remover to Delete Watermark from Video/Photo

Using Android and iOS app to remove watermark from video is good, but only up to a certain limits. In the ends, mobile apps come with a certain limit and these restrictions can only be overcome by using a dedicated desktop app. It is this time when HitPaw Watermark Remover comes into picture. This dedicated watermark remover comes with its built-in AI that precisely detects and removes watermark from images and videos effortlessly and easily. Below are some features of this tool. Have a look.
Comes with inbuilt Al tech to identify and remove watermark precisely
Removes logos, watermarks, stamps, texts, and any objects
Gets rid of watermark from photo and video easily and effortlessly
Offers high-quality output and provides real-time preview
Ability to get rid of moving watermark from video easily
Follow the below steps to know how to remove watermark with this tool.
Step 1.Download, install, and launch HitPaw Watermark Remover on your PC.

Step 2.Tap on the window at the center to add the video file you wish to get rid of watermark from.

Step 3.There are five different watermark remover modes that users can select from. The effects of getting rid of watermark differ for different modes. Users can select any one as per their needs.

Step 4.Next, select the watermark and move in the timeline to select the duration of this watermark. If there is a different watermark, users can continue to select and select the duration. Tap the Play icon to preview the removing effect during the moving watermark.

Step 5.Lastly, click the Export option to remove the watermark and save it. Once done, users can tap Open folder option to see the video without watermark on your PC.
Conclusion
In short, we just had a look at some of the best options that can be used as watermark remover app for Android and iPhone. I hope that you can find the one you like to solve your problem. We also saw that users can easily and precisely remove watermark from videos and images with the help of HitPaw Watermark Remover.