Top 5 Watermark Remover Apps for Android/iOS/Desktop in May 2021
Video and photo creators add text, logo, image to their works to protect the copyright. These watermarks are placed at any area of the video and photo, which greatly influences visual effects. There's another situation. We want to delete people, buildings, stickers,trash cans and skin blemishes from video and photo. Either situation, you will need a watermark remover to meet your desires.
In this article. I'm going to share 5 watermark remover apps for Android, iOS and desktop with you that you've probably never heard of before. Some of these will be pretty popular, while others will be very indie. They'll range in price, function, and steps of use so that you can chose at least one app that you love.
I'm very excited about this month's watermark remover apps and hope you get a lot of enjoyment with them. Alright, enough preamble, so let's get into it!
Top 4 Watermark Remover Apps of Android & iOS
1. Remove Unwanted Object for Android: Remove Any Contents from Your Photo
Price: Free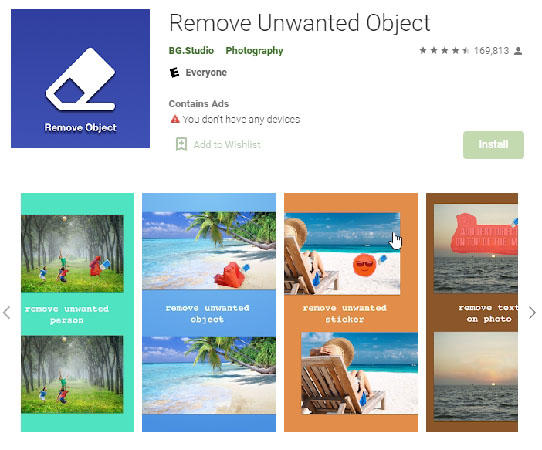 First up on our list of best watermark remover app is Remove Unwanted Objects. Remove Unwanted Objects is an awesome platform that you can remove any unwanted contents from your photo. For example, you can erase person, logo, text and even surface scratches, skin blemishes on your photo. It's all free!
How to use?
Pick photo from camera or gallery and choose objects you want to remove which selected in red. Then press "process" button and see magic on your photo. Finally, save or share this image to your social media, friends and families.
2. Background Eraser for iOS: Erase the Backgrounds of Your Photo
Price: Free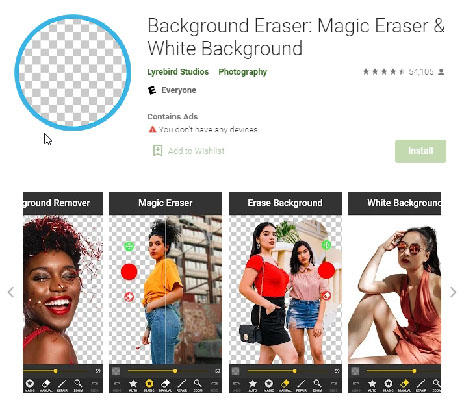 Background Eraser is an app I use so often that I can't believe it hasn't been included on my top of series yet. With the marvellous magic background eraser, just choose the area that you wish to remove, and use png maker to blurring it instantly. In another way, we can cut people out and then paste them to another image's background you like to get rid of the watermark, or leave the photo with a white background so that the watermark is not obvious.
I find the app is really interesting. You can change the photo's background with any images you like and pretend you are in that scene. You can pretend that you are under the Eiffel Tower, in a coffee shop, etc.
After removing the unwanted part, you can add funny stickers, beautiful filterers or effects to improve your photo.
3.TouchRetouch for iOS: Make Unwanted Objects Vanish from Your Photos
Price: $1.99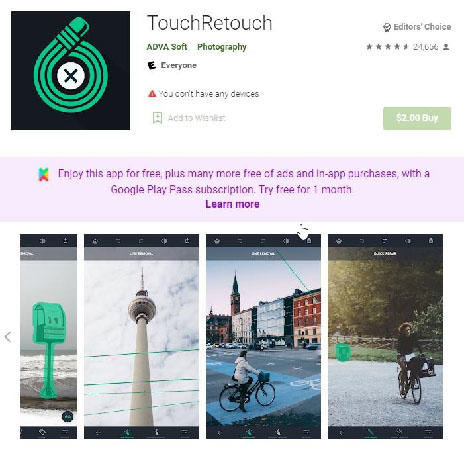 TouchRetouch has all of the powerful features needed to be an awesome app to get rid of watermarks. But even with all of the newest features and modes, TouchRetouch still is a basic and easy-to-use logo remover app. This makes it friendly for the average user .
It has line remover, object remover and quick repair features. With line remover, you can remove telephone wires , posts and power lines. The object remover applies to human-made objects like stop lights, street signs, trash cans. Using brush, lasso or eraser tool to paint, mark or wipe the object to be deleted to eliminate distractions from photos. With quick repair, the app can touch any minor blemish and delete it forever.
4. PicLab for iOS: Clear Watermark and Restore the Photo
Price: Free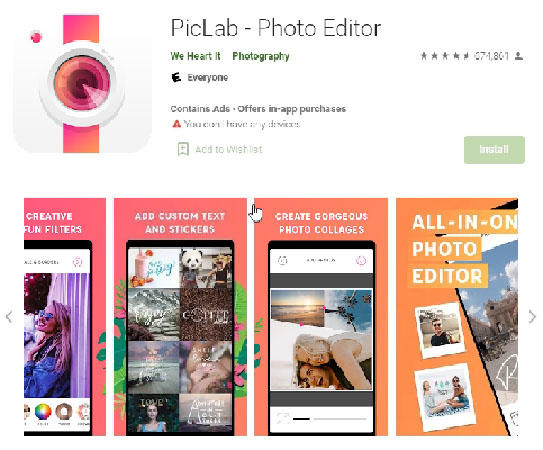 PicLab is a digital logo remover app that you take out watermarks, text, scratches as well as skin blemishes from images. And then the app can virtually restore an old photo into its former spark. The final image is automatically saved in your phone's gallery.
If you're looking for an easy way to create unique looking pictures and convey a unique message, this is also a wonderful photo editor to do it! It carries multiple tools so that you can edit photo enjoyable.
Using PicLab is not complicated, upload the photo that you want to remove the watermark, choose marker tool, highlight the watermark and save the photo. You can see a photo without watermark then.
Top 1 Watermark Remover App for Desktop
HitPaw Watermark Remover: Remove Watermark from Video and Photo
HitPaw Watermark Remover is a reliable watermark remover for PC. The software has a highly intuitive user-interface that makes it easy to use for people of all ages. Furthermore, it allows you to remove any watermarks from videos and images.
The steps below tell you how to remove watermark with HitPaw Watermark Remover.
Step 1.Please download and install HitPaw Watermark Remover.
Step 2.Open up it and click on "Remove Image Watermark "or "Remove Video Watermark" as per your wishes.
Step 3.Click on "Choose File" to upload your file.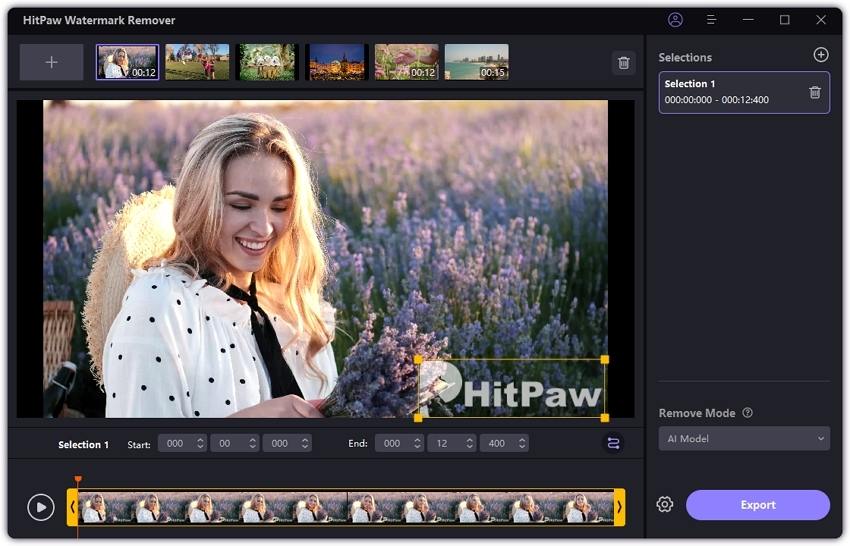 Step 4.Then you need to place the rectangle on the watermark and adjust size of the rectangle.
Step 5.Finally, click on "Remove and Export" to remove the watermark and export the processed file.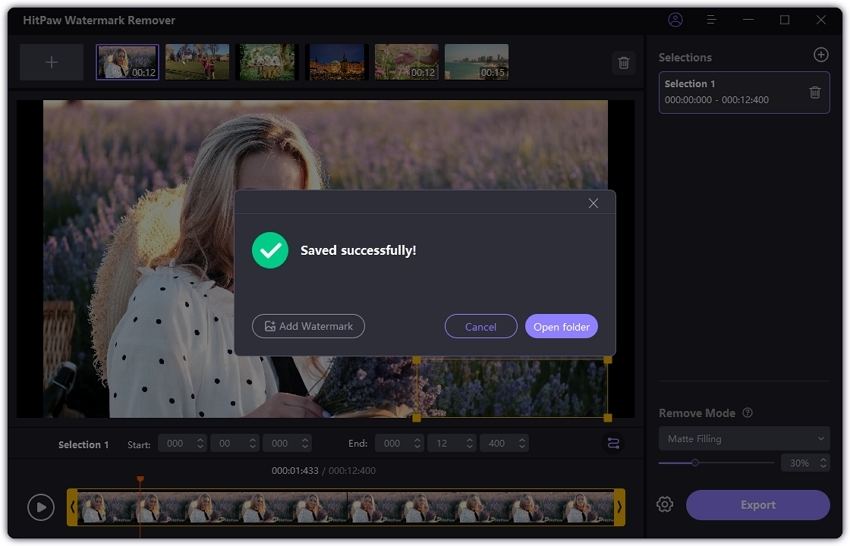 Conclusion
After learning these watermark remover apps, I hope that you can find the one you like to solve your problem. Whatever you choose, it won't let you down. Last but not least, if you need a watermark remover app for desktop, I believe the HitPaw Watermark Remover can fulfill your needs well.