Flexible Ways to Remove Logo from Video without Blur
When downloading videos from online streaming sites or converting videos from discs, you may find some logos and watermarks on the video. The logo that overlays the essential content on video might hamper the viewing experiences. And if users wish to use a video in their homemade clips, the logo is also a huge problem. Hence, this article will introduce you to the best method that can help users to remove logo from video. Read below to know more about the best video logo remover as well as other methods too.
Summary
A reliable video logo remover can efficiently remove logo from videos downloaded from TikTok, YouTube Vimeo or created by the trial version of a few video editors like Filmora. Here we have the best video logo remover for you.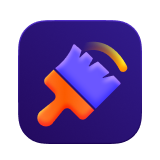 Part 1.

Best Way to Remove YouTube/TikTok Logo from Video

HitPaw AI Watermark Remover is the name that comes to mind when you need to remove logos from videos. This tool works very smoothly and you can hardly tell that there was a watermark or logo in the original video. The reason behind this is the AI tech. This technology detects the watermark in an efficient way and helps in removing it easily.
AI tech to detect and remove logos from videos automatically
Erase text overlays and logos from videos with ease
Remove TikTok/YouTube logo from video in seconds
Get rid of multiple logos from videos in one go
Recreate the background and maintain video quality
Easy to use and no video editing skills are need
The tool offers different watermark models to remove different kind of logos depending on the type of watermark. This makes sure that a wide range of watermarks and logos are covered, thereby allowing users to remove Vimeo logo from embedded video as well as from other videos easily. All you have to do is follow the below steps to know how to remove TikTok logo from video.
Step 1.Download, install, and launch HitPaw Watermark Remover on your PC.

Step 2.Tap on the window at the center to add the video file you wish to get rid of watermark from.

Step 3.There are five different watermark remover modes that users can select from. The effects of getting rid of watermark differ for different modes. Users can select any one as per their needs.

Step 4.Tap the Play icon to preview the removing effect during the moving watermark. Lastly, click the Export option to remove the watermark and save it.
Part 2.

How to Remove Logos from Videos Free Using VLC

You can also remove TikTok logo from video with the help of VLC. This tool is actually a multimedia player frequently used to play music and videos as well as different media files. But users can also use it as a free tool to remove YouTube logo from video since it has the feature to blur and hide watermark and logos when playing the video. Follow the below steps to know how to remove logo from video using VLC.
1.Begin by open the video in VLC player.

2.Now, go to Tools and select Effects and Filters tab. Here a new window will pop up.

3. Tap on Video Effects and select Overlays option. Check off the Logo Erase option from the list.

4.Now, go to Mask option and click the three dots icon to select a picture from your device. Move the pic over the logo by adding the value in the Left and Top boxes.

5. Next, tap Close option when you are done. you already remove logo from video temporarily.

6. To remove logo permanently, click on Media and select Convert / Save.Press Add and select the video that we are working with to add to the VLC media player.

7. Click on Convert / Save and then hit Browse to choose a destination folder. Press Start to remove logo from video with VLC.
Cons:
Using VLC to remove the TikTok logo from a video comes with certain drawbacks. Have a look.
The process or method is a bit complex to know and implement
This video logo remover does not entirely remove the logo but instead only blurs the logo with images
VLC often generates an unplayable file as an output
VLC does not work 100% for commercial movies
Part 3.

How to Remove Logo from Video Online

You can also remove TikTok logo from video online as well as other video logos. This can be done easily with the help of HitPaw Online Watermark Remover. The tool is one of the best online platforms that can be used to remove logos from videos online. Before we see it, let us see how to remove logo from video online using this tool.
1.Visit the official website of this logo remover from video online. Upload your video with the drag and drop functionality.

2. Choose the watermark you need to remove from the video.

3. Once done, click the Save option to save and download the video.
Cons:
Using this online logo remover from video comes with a certain drawbacks. Read below to know more.
The platform takes time to download and upload the file
Can't remove multiple logos from a video.
Part 4.

How to Remove Logo from Video on Android Devices and iPhone

This section talks about different tools that acts as easy video logo remover for Android and iPhone. Read below to know more.
1. Remove Logo From Video
How to remove the TikTok logo from a video? Remove Logo From Video is a perfect logo remover for video app for Android devices that can not only assist users to get rid of logos from the video, but can also be used to add logos to the video as per user preferences. Users can even add emoji or sticker to any section of the video as per their need. In addition to this, the app also provides other editing features such as compressor, cropper, and trimmer.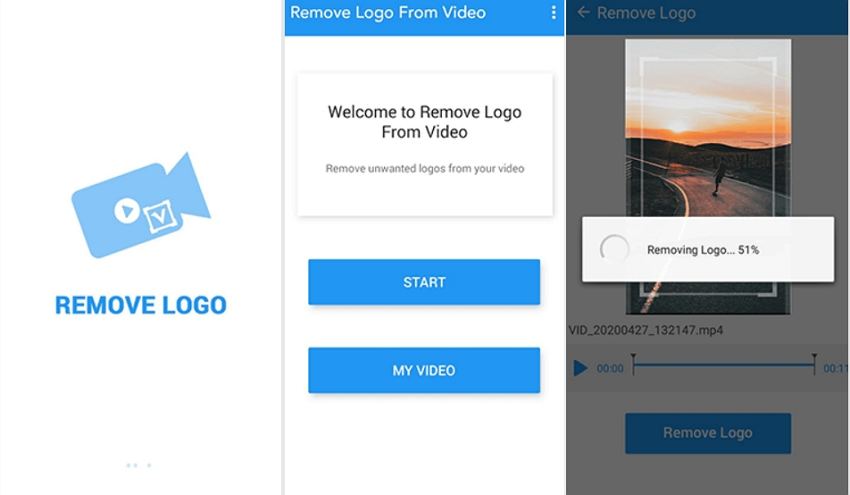 2. Video Eraser-Retouch Removal
This logo remover from video app is developed for iPad and iPhone. You can use it to get rid of unwanted icon, logo, and watermark from their videos easily. The process is quite easy. All you have to do is import the video, choose the watermark section, and then begin removing. But recently, it only supports only limited video formats.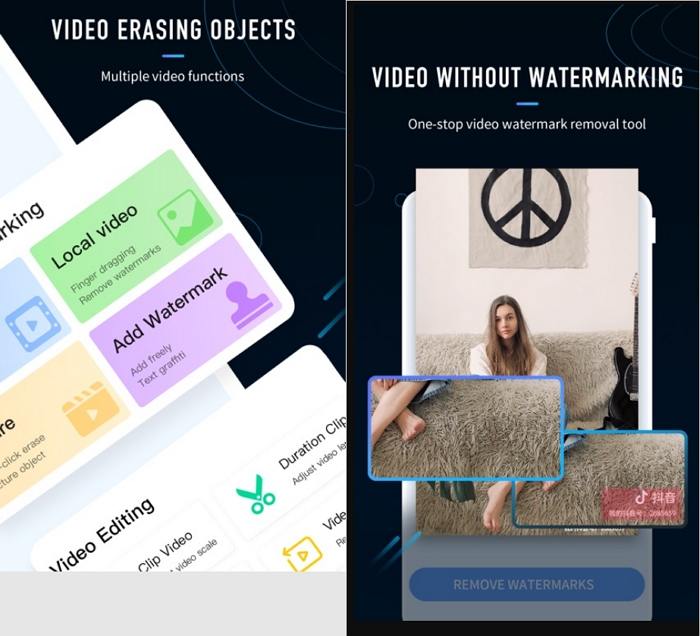 Conclusion
In short, we just had a look at different methods that can be used to remove logo from video. All the tools in this post help you remove the logo from a video, but if you want more advanced functions and better output quality, HitPaw AI Watermark Remover should be the best logo remover for video.