Brilliant AI Watermark Remover to Delete Watermark from Videos/Photos
An AI watermark removal program is a tool that uses AI-based methods and tech to get rid of watermarks from videos and images both offline and online. This AI is normally built within the watermark removal tool to delete any watermark automatically that has been chosen for removal from the video or image. Here we present you quick and innovative tools to automatically remove watermarks from videos and photos as well as some other online options and apps. Keep reading to know more.
Summary
A watermark is an overlay, logo, pattern, or text that is placed intentionally over a digital video or photo. This article will show you how to add and remove watermark from photos/videos efficiently.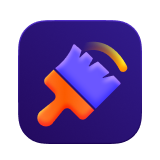 Part 1.

Best AI Watermark Remover to Remove Image & Video Watermark Using AI

Designed with AI auto detection technique, HitPaw Watermark Remover is the best AI watermark remover that allows users you to get rid of watermarks/logos/stamps/texts from photos and videos automatically. You preview the watermark removing effect in real time so that to make sure that the quality of the video is top notch. Below are some features that makes this tool the best choice to remove watermark AI. Have a look.
Automatically detect and remove watermarks from video
Remove watermark on every frame of the video effortlessly
AI tech to erase watermark from photos with best results
Not only watermark, but anything like logos, stamps, texts, objects
Preview watermark removing effects before saving the video
Remove multiple watermarks from a image/video at the same time
Supports almost all the video and photo formats
User-friendly for both professionals and beginners
Follow the below steps to know how to use this AI video watermark remover tool to remove watermark from videos.
Step 1.Download, install, and launch HitPaw Watermark Remover on your PC.

Step 2.Tap on the window at the center to add the video file you wish to get rid of watermark from.

Step 3.Select AI model from the list of different models provided by the automatic watermark remover tool. This model detects and removes different kinds of watermarks automatically from videos with its AI-based tech within no time.

Step 4.Once done, click the Export option to remove the watermark and save it. You can tap Open folder option to see the video without watermark on your PC.
That's all for how to remove watermark from videos automatically using AI. HitPaw Watermark Remove also have the AI image watermark remover feature and you can follow our product guide to know how to remove watermark from images using AI tech.
Part 2.

Best Online AI Watermark Removers to Delete Watermark with AI Technology

This section talks about different online AI watermark removal tools that you can use to remove the watermark from video and image free online. Read below to know more.
1. WatermarkRemover.io
Watermarkremover.io is an online platform and website that is can be used to get rid of the watermark from the image. The platform does not need any download and is quick when it comes to removing the watermark from the pic. This online platform does not impact the quality of the picture as it employs AI to get rid of any type of watermark that users have on their image.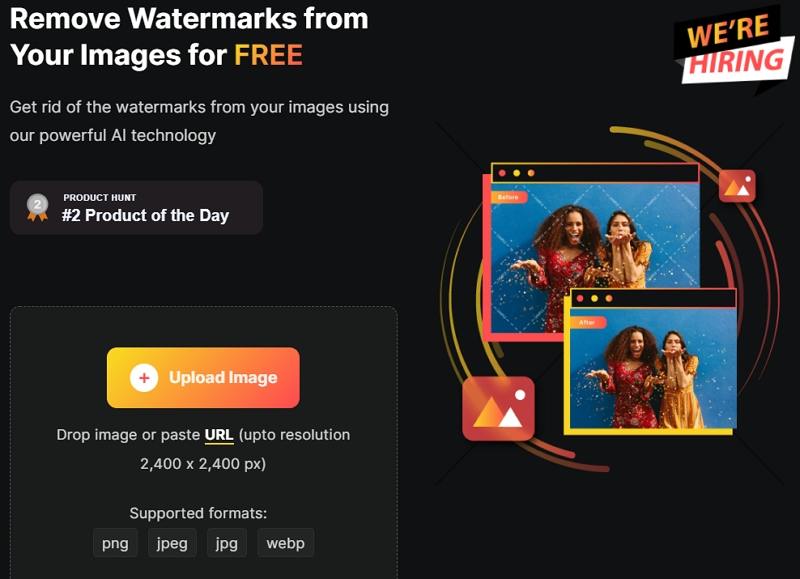 Removes more than one watermark at the same time
Detects watermark automatically
Offers up to 25 GB to 800 GB of cloud storage
Shows support for multi-color watermarks
Limitations
The platform asks users to complete a survey before saving the file
Lack of other photo editing features
Online watermark removing is a time consuming process
2. HitPaw Online Watermark Remover
HitPaw Online Watermark Remover is a very secure platform that allows users to select the watermark for removal in images and videos. The processed videos can be exported easily and there is no limit on the number of images and videos that users can process. Users can even add their own watermark as a substitute in the form of text or image.
Remove watermark from any video like TikTok, movies, or YouTube
Easy to use and preview the results in real-time
No annoying ads, pop-ups and links when in use
offers other basic and advanced video/photo editing features
Limitations
The watermark removing results for complex or colored
watermarks may not be very well.
3. Free Watermark Remover Online
Vidmore Free Watermark Remover Online is an AI-based watermark remover that easily processes the uploaded files and allows users to save the output easily. Users just need to circle the regions they wish to remove watermark from during editing. Below are some features provided by this online AI removal tool.
Removes more than one watermark at the same time
Detects watermark automatically
The tool shows a preview of the output before saving
Shows support for formats such as BMP, PNG, TIFF, and JPEG
Limitations
The tool does not support videos
Quality of the end file is not up to mark
Comparatively slow processing speed
Part 3.

Best AI Watermark Remover Apps for Android Phone and iPhone

This section talks about the different AI watermark remover apps that Android and iPhone users can use to remove watermark from photos and videos with ease. Read below to know more.
1. WatermarkRemover.io - AI Watermark Remover for Android
WatermarkRemover.io app helps users to remove watermark from any image for personal and professional user. The app is one of the most-intuitive and fastest AI-powered watermark removal tool that users can use. The app can get rid of watermarks from images and does not need any technical know-how to use.
Most-intuitive AI-powered watermark removal tool
Automatically remove the watermark from the image
Retain the original quality of the image after removing
User-friendly for skilled professional or a novice
2. Remove Unwanted Object
Remove Unwanted Object is a simple and easy-to-use app. The app is one of the best watermark remover app and can also remove objects, stamps, people, and other hindrances from photos.
Remove different watermarks present in an image
Save time to retouch your image with simple steps
Fast, effective and easy to use
3. Picsart Photo Editor & Filters
Picsart is a multi-use video and photo editing app used by more than 150 million users all over the world. The app focuses on its photo editor and has different features such as background eraser, photo filters, stickers, an object removal tool, and AI-based blur. Users will need to use the object removal and background eraser tools. A drawback of the app's free version is it adds.
Remove unwanted objects with the Remove Object tool
Advanced photo editing features
Quality output
FAQs about AI Watermark Removal
Q1. Is there an AI that removes watermarks?
A1. Of course, yes. HitPaw Watermark Remover is an AI-powered tool that automatically removes watermarks from images and videos automatically in a matter of seconds.
Q2. How do I remove a watermark from a video in AI?
A2. With HitPaw AI Watermark Removal, you only need to upload the image/video, select the watermark and the AI model will automatically remove the watermark on the image or video without affecting the background.
Q3. What is the best AI tool to remove watermarks?
A3. HitPaw AI watermark remover is the best AI tool to remove watermarks from photos and videos in seconds. No photo editing skills needed. Just upload your image/video, and utilize its handy brush tool to highlight watermark area, then the AI system will clean it in a flash.
Conclusion
All in all, we just had a look at the best AI watermark removal tool. We saw that users can easily remove watermark from video with the help of HitPaw AI Watermark Remover. We also had a look at different online platforms as well as apps that can be used for watermark removal.