Best Mandela Catalogue Text to Speech Recommended in 2023
If you are among those people who are not aware of The Mandela Catalogue, let us tell you that it is a horror web series that was launched earlier in 2021. The web series was successful in creating a solid fan base throughout the world. People started looking for ways to recreated voices similar to what were used in the series. And thus began the search for Mandela Catalogue text to speech voice generators and tools. If you are among those people looking for an AI voice generator to create the Mandela Catalogue voice, then there is a good news for you. This article talks about the best tool in the market as well as covers other options too. Keep reading to know more.
Part 1. Best Mandela Catalogue Generators to Make Mandela Catalogue Voice
HitPaw Edimakor is the best Mandela Catalogue voice generator with a user-friendly interface and advanced features. The tool comes with a huge library of AI-based voices. With this library, users can select from different categories such as movies, actors, impressions, memes, sports, games, and more to find their favorite voices including the characters from Mandela Catalogue.
Major Highlights of HitPaw Video Edimakor:
Recreate the captivating and haunting voices from The Mandela Catalogue with high accuracy.
Get to experience real-time voice changes, thanks to the AI algorithm built within the tool.
Allows customization of the generated voices as per user preferences by tweaking speed, tone, pitch, and other parameters.
Comes with tons of sound effect to suffice users' needs.
HitPaw also supports video editor features with tons of media library, stickers, filters, effects and more.
Part 2. Best Online Mandela Catalogue Text to Speech AI Recommended
This section talks about different online Mandela Catalogue TTS tools. Have a look.
1. FakeYou Text to Speech
FakeYou is an online text to speech Mandela Catalogue generator that uses AI to generator voiceovers. The tool comes with range of voice categories, offering users access to tons of voices that users can easily integrate into their Mandela Catalogue projects. The platform is an open-source accessible tool available to both PC and mobile users via the web. To uses this voice text-to-speech generator, users need to sign up and create an account on the platform.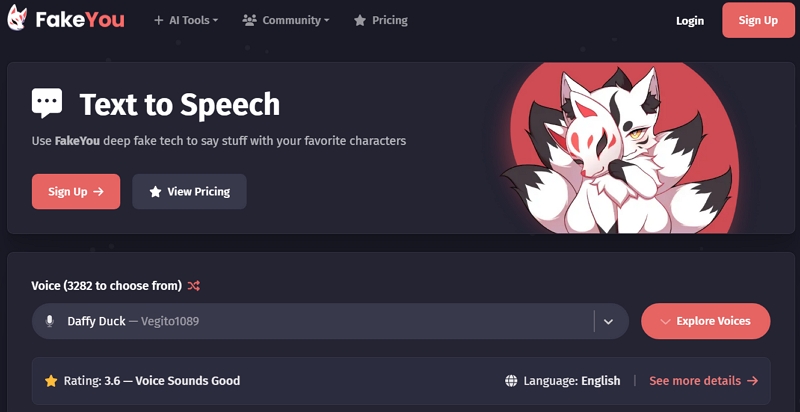 Pros
Enables uploading audio samples
Tons of AI voices to make favorite characters talk
Simple UI for a hassle-free experience
Variety of voice categories catering to different themes and preferences
Ability to save voiceovers for quick access and future use
Cons
Slow speed of conversion for free users
Needs internet connection to work
2. Typecast's Online AI Voice Generator
Typecast is another voice generator that can be used to know how to make Mandela Catalogue voice. The tool converts text into speech and also makes videos with different customizations and characters. This online AI text to speech generator allows users create expressive and realistic voices for their needs. Users can select from tons of characters with different settings, such as age, gender, tone, emotion, and mood. This platform is ideal for making scary voices for Mandela Catalogue with different styles and emotions, such as sadistic, angry, mysterious, or creepy.
Pros
Various voice actors
Strong AI-based algorithm
Ability to convert text into speech quickly
Offers original and realistic voice AI voice actors
Super fantastic and easy tool
Compatible with all platforms
Ability to synchronize audio and video files nicely
Cons
Unstable and sometimes unavailable
Needs registration to access all features
3. MURF.AI Text to Speech Generator
Murf AI is the next Mandela Catalogue voice generator in our list. The platform is one of the best AI voice generators, providing different customization options to generate the ideal voice for your requirements. Murf offers both female and male voice options, as well as a variety of languages to select from. Apart from this, the tool provides a huge range of built-in sound effects that can be utilized to personalize the output further. All in all, Murf is a good option to consider and offers a huge range of customization options and features.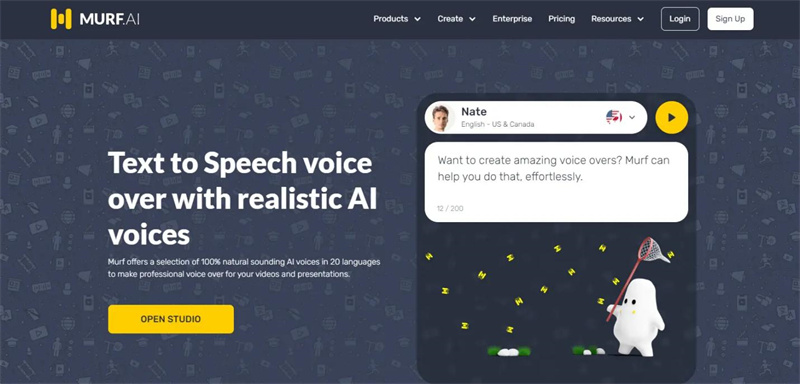 Pros
Comes with wide range of different accents and voices
Offers human-sounding voices
Offers personalization for a customized experience
Comes with simple-to-navigate, user-friendly interface
Cons
Costly
No advanced features for free users
Can be difficult to use for new users
Part 3. People Also Ask about Mandela Catalogue Text to Speech
Q1. How do I get Mandela Catalogue voice?
A1. To get the Mandela Catalogue AI voice, users can visit the platform or its official website that can create the series voices. One such platform is HitPaw Edimakor where users can find options to interact with the AI voice of the Mandela Catalogue.
Q2. What is the voice used in The Mandela Catalogue?
A2. Well, the characters in the series have their own voices. However, if you wish to create voice for prank or other purpose, you can use voice generators to generate Mandela Catalogue voice.
Q3. Can I customize the Mandela Catalogue AI Voice?
A3. Mandela Catalogue voice generator tools such as HitPaw Edimakor allows customization. This enables users to adjust parameters such as speed, pitch, and emphasis. This also allows users to adjust the voices to suffice their specific preferences and needs.
Conclusion
To sum it up, we just had a look at different Mandela Catalogue voice generator tools. Amongst all the options that we looked at, HitPaw Edimakor stands out. With a user-friendly interface and advanced features, the tool seems an ideal option to use. The tool also offers a wide range of customization options and features to enhance your audio creations.