15.ai Voice Generator And Its 3 Best Alternatives In 2023
The internet has become a very wide platform where different campaigns always need a captivating voice-over to gain crucial attention. The current public is not well aware of popular brands as well as their features. If you are looking for a platform in making your content appealing then you can look for 15.ai natural text to speech for your help.
This platform is always recommended for various purposes hence widely acceptable as a real-time voice-generating tool. Let's directly look into more details about this platform so that we can get more benefits here.
Part 1: What Do You Know About 15.ai Voice Generator?
If you are looking for the details of 15.ai text to speech voices and their features we are going to learn them here. It is software that is working on an artificial intelligence-based website for free. It allows different users to create the desired natural text-to-speech voices to express everything they want.
Here we have a complete range of voiceovers that are extracted from different fictional or other characters. You can also have the voices of social media characters hence you can also work on it in real-time bases. The platform has different notable characteristics for its usage in the desired situation.
Part 2: How To Use 15.ai Voice Generator?
If you have ever used any artificial intelligent tool for voice generating you would agree that it always has some twists and turns. Text to speech 15.ai gives you high-quality voice generation with the help of only a few simple steps. You just need to follow the given guidelines to use this tool:
1.

Head towards the official website of 15.ai natural text to speech and then select the desired character, emotion, or any other source you want at the moment.

2.

Now you need to type the desired text you want to be converted into audio. Select the "play" button to listen to the audio for confirmation. If you are satisfied with the audio, select the "download" button for saving it.

3.

Now move towards the official website again and repeat the first step for another conversion. It all depends upon your desired character, emotion or source related to the product of the voice.
Part 3: 3 Best AI Voice Generator Alternatives For 15.ai
We know that you would feel disappointed when you come to know that 15.ai text to speech is not available at present but don't worry we have different options for you in the line. We have the top alternatives for you through which you can get maximum services without any restrictions.
(1) Murf.ai
Murf is one of the top software that helps users in creating voiceovers if 15.ai not working. It has cost-effective facilities and is considered an amazing alternative. You can easily swipe that traditional method with it as it is an artificial intelligent tool.
Advantage
You can have unlimited voices of characters in almost all the plans.
You can download as much audio as you want without any restrictions.
The audio provided by this tool is high quality with realistic features.
Disadvantage
The pricing plan of this tool is quite high as it is between 0-49$
(2) NaturalReaders
If you are looking for a tool that is simple and easy in creating text-to-speech voices the NaturalReaders will help you. It has a working history with different file types and languages. Now you can also turn your images into different text and then get their voices.
Advantage
It has a wide variety of working with different files and languages.
Different people who have trouble seeing, reading, or focusing can get help here.
It can also turn images into texts and then voices.
Disadvantage
You can get limited characters with voiceovers as compared to others.
(3) Narakeet
If you are looking for a platform that can help you in your international projects with multiple languages then Narakeet is for you. It is a voice generator working as a text-to-speech with almost 80 different languages having more than 500 voices. It is a widely used tool in content creators at various points.
Advantage
It is a tool that supports more than 80 languages to create voice.
You can also add different background music to your audio according to your video.
You can customize your template for content creation according to your platform.
Disadvantage
The video would be only generated in 2560×2560 pixels, not more than that.
Part 4: Bonus Tip: Recommended AI Video Editor With Text-to-Speech Feature
HitPaw Edimakor is listed among the most recommended AI video editors that allow users to convert simple text into a speech. This content then can be used in different projects for different purposes.
HitPaw Edimakor
HitPaw Edimakor is also a perfect alternative to 15.ai as it comes with such amazing features that make it a wonderful AI text to speech generator. You can easily get access to its interface and can benefit from its advanced algorithms that utilize the power of artificial intelligence.
Features Of HitPaw Edimakor
The available TTS feature at HitPaw Edimakor proves to be a blessing for users who have visual impairments
Users are also allowed to add animation to their videos without sacrificing their quality
Customer support is available 24/7.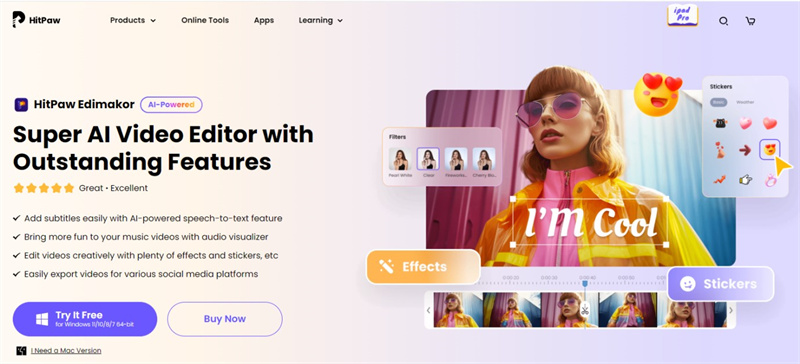 Part 5: FAQs About 15.ai Text to Speech
Q1. What Happened To 15.Ai?
A1. It was founded for preparation of an upcoming update, 15.ai Voice Generator was temporarily taken down on 8 September 2022. It is still offline in August 2023 and will come with the latest updates.
Q2. Can I Use 15.Ai Text-To-Speech For Commercial Purposes?
A2. 15.ai Voice Generator is listed among the non-commercial web-based application that is designed to be used for the creation of high-fidelity emotive text-to-speech voices. Therefore, it can't be used for commercial purposes.
Q3. What Are The Available Character Voices In 15.Ai?
A3. 15.ai supports several character voices that include Twilight Sparkle from My Little Pony, SpongeBob from SpongeBob SquarePants, Wheatley from Portal, Jane Lane from Daria and many more.
Final Remarks
15.ai has successfully made a distinct position in the world of text-to-speech converters. But sometimes, users can't access its services and have to take help from other available tools. The above-mentioned alternatives of 15.ai will be beneficial and come with the same service as that of 15. ai.