How Do I Record Screen and Audio on QuickTime Player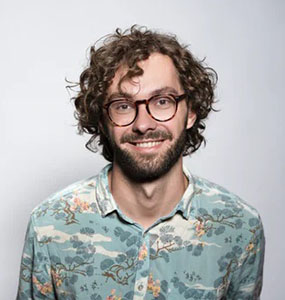 Joshua Hill
Can QuickTime Recorder record screen with audio? Are you finding a best recorder software to record both screen and audio? Since the instant popularity of live streaming and online office, the demand for screen recorder software has increased greatly. After reading this article, you will find the best screen recorder you have been concerned about.
Part 1: How to Use QuickTime Recorder
QuickTime Player is an outstanding software created by Apple Inc. Quicktime is one of the most popular screen recording software for Mac devices to edit music or add audio to video. Now, let's know more about it.
Can QuickTime Record Screen Recording with Audio?
Does QuickTime Player record screen with audio? This question has been frequently asked by many users. I have to say QuickTime can not record your screen with audio from your device. Fortunately, there is a trick for QuickTime Player screen recording with audio. If you still want to use QuickTime, you have to download Sunflower software first.
Soundflower is a free system extension that lets you channel audio from one application to another. By emulating the interface to audio devices, it allows any audio application to send and receive audio without the need for additional support from the inter-application audio driver. Therefore, it can help to solve the problem of QuickTime not recording audio.
Steps to Record Screen and Audio in QuickTime with Sunflower
Here are the steps to QuickTime record screen and audio with Sunflower software.
After installing Sunflower software, please restart your device. Then open QuickTime to click on the File on the top menu and choose New Screen Recording in the pop-up panel.

Click the down arrow to the right of the red record button, and you will see the microphone option in the pop-up panel. Choose Sunflower(2ch) option. And you can choose to show your mouse clicks in recording as well.

Open the application you want to record.

Click on the Record icon to start your recording, and click the Stop icon on the top menu if finishing.

Click Save or Export option to save your recording video.
Cons of QuickTime Player for Recording:
The recording mode is limit. And it only has the basic screen recording functions.
It can not record audio from device, which is commonly complaint by users.
QuickTime Player was no longer supported by Apple Inc. and lots of security vulnerabilities had no longer been patched, so uninstall QuickTime for Windows was strongly advised.
To record screen with audio from device, Sunflower software has to be installed as well.
Time-consuming and user-unfriendly design.
Part 2: The Best Screen Recorder for Screen Recording with Audio
HitPaw Screen Recorder with a user-friendly interface, is a versatile screen recording software that allows users to record screen, game, webcam and picture-in-picture video. Perhaps you are interested in it. Here is everything you may want know about HitPaw Screen Recorder.
Features of HitPaw Screen Recorder:
Aimed at improving users satisfaction, HitPaw Screen Recorder has been added new features all the time. Here, let's have a glance at its distinctive features.
Three recording modes are available, namely record screen, record game and record webcam. Besides, you can record picture-in-picture video as well.
With its user-friendly interface, it is quite easy to use, perfect for new creators.
Works well on Windows 10/8/7 64 bit, and its Mac version is coming soon.
Contains a wide range of features, such as customize screen and resolution based on your requirement.
The feature of hardware acceleration enhances its working speed. 
Steps to Record Screen with HitPaw Screen Recorder:
Here are the simple steps to record screen with HitPaw Screen Recorder, follow them and begin your work.
Click on the following Download button to install the software to your desktop first.

Launch the application, and choose one recording modes: Record Screen, Record Game or Record Webcam. If you want to show your mouse cursor and keystrokes, you can go to the Settings to choose Effect. If you want to record with audio, you can click the Device in the Settings.

Click the red Record button to start your recording. Click it again and the Pause button will come out. You can also choose PIP function and take screenshot when recording.

Click the red button again to stop recording, and the editing windows will pop-up automatically. If you don't need to edit your video, click the Export button to save your video.
Conclusion:
In this article, the way to use QuickTime Player record screen with audio has been shown and HitPaw Screen Recorder is highly recommended. In case you want to record short videos for free, here is an additional guide of HitPaw Online Screen Recorder for you.