How Do I Remove a Background in Pixlr Remove BG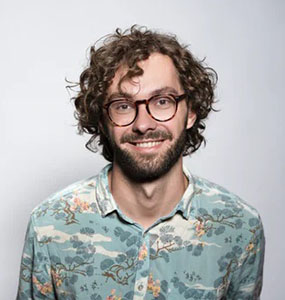 Joshua Hill
Recently, with creators demanding higher quality photos, many companies in the video editing software industry have improved their technology to achieve fast and efficient background removal. Pixlr Remove BG, an automatic and free image background removal, enables you to remove background online with a few seconds. In this article, you will learn the steps to Pixlr delete background. Now, let's dive right in.
Part1: How Can I Remove Background from Image Pixlr
Pixlr is one of the top 10 Graphic Design Software products, whose user satisfaction is up to 98%. Pixlr is an AI-powered tool with many effective features, providing a platform for you to edit your photos, including removing backgrounds. Here, we are going to introduce Pixlr Remove BG and its steps to remove background online.
What Is Pixlr Remove BG
Pixlr Remove BG is a web-based image editing tools with no hidden charges, perfect for freelance artists and small businesses. With AI, it can automatically remove the backgrounds on several images at the same time for free within a few seconds. What's more, it is 100% secure as the images created by users on it will definitely not be leaked out, so you don't need to worry about the problem of security and privacy any more.
Steps to Remove Background from Image Using Pixlr Remove BG
Pixlr Remove BG is an online tool for background removing, so you can go to its official website to try to erase bg. Follow the below steps of removing bg with Pixlr Remove Bg and begin your work.
Open the website of Pixlr Remove BG, and click the OPEN IMAGE button.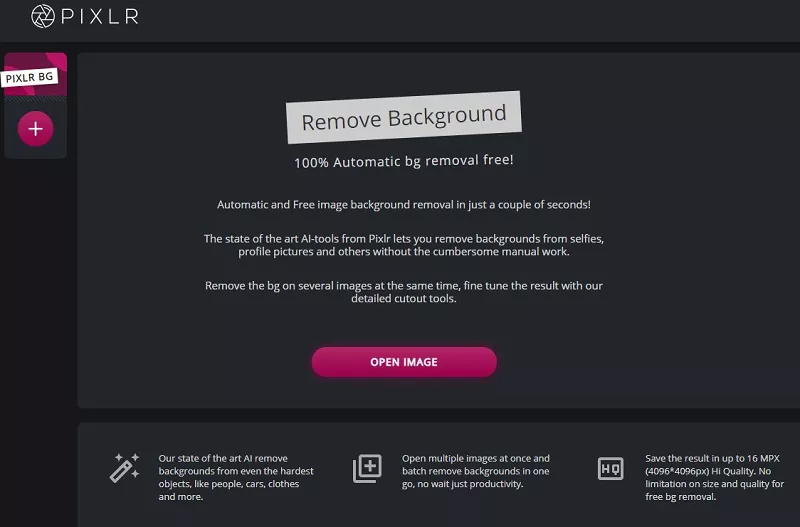 Wait a few seconds for the machine to recognize the background of the picture. If you are happy with the result, click the DOWNLOAD button to save your image. If not, click the FINE-TUNE button to edit your picture.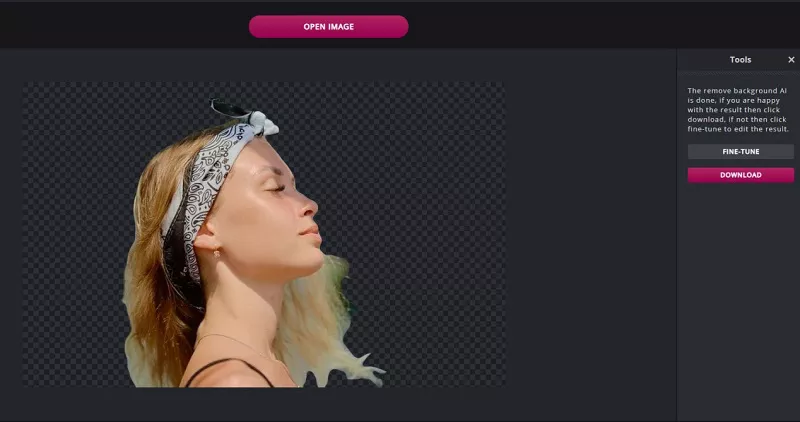 The Cons of Pixlr Remove BG
Undoubtedly, Pixlr Remove BG can automatically remove backgrounds from images within seconds sometimes. However, there are still some limits found when we are deleting background in Pixlr Remove BG.
Low Quality

If the picture is too complicated or the color of its background is not single, such as separating the hair from the background, its effect of removing the background is not ideal.

AI-powered

Pixlr Background BG supports automatic image background detection by AI, however, the background detected by AI is not always the same as the one you want to remove, and you can't customize the background selection, resulting in a less-than-satisfactory exported image.

Require the Plug-in

Pixlr Remove BG is built by the Flash, so it must require the plug-in to work.
Part2: The Best and Easiest Way to Remove Background Instead of Using Pixlr
Since Pixlr Remove BG already has these critical disadvantages, we can consider other background removals, such as HitPaw Online Background Remover. Here, let's have a look at the best alternative of Pixlr Remove BG.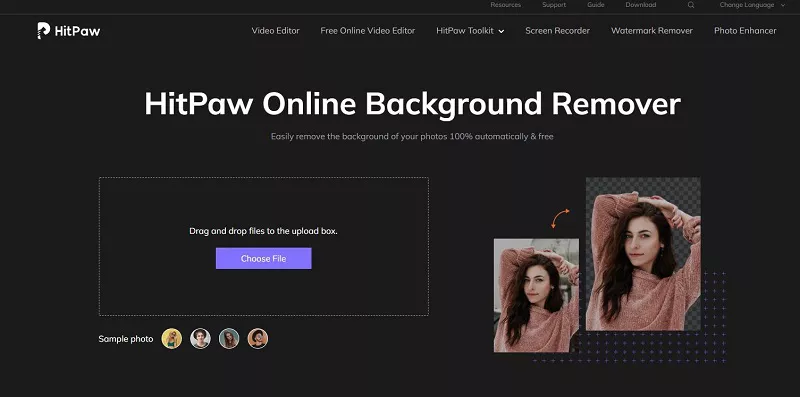 The Features of HitPaw Online Background Remover:
HitPaw Online Background Remover features a lot, completely perfect for and attractive to new creators. Here is a brief summary of some of its features.
User-friendly design and no technical skills required.
100% secure is assured so your images are kept private in HitPaw Online Background Remover.
Only a few clicks to remove background automatically for free in few seconds.
No need to download to your desktop, and no purchase is guaranteed.
Works well on many device, such as Windows PC, Mac, iPhone and Android.
With no-ads and no-virus, 100% safe to your files and your lovely Computer.
The Steps to Remove Background with HitPaw Online Background Remover:
Here are the detailed steps to Remove Background with HitPaw Online Background Remover. Follow them and begin your work.
Drag and drop your image into the upload box or click the Choose File button to upload your file.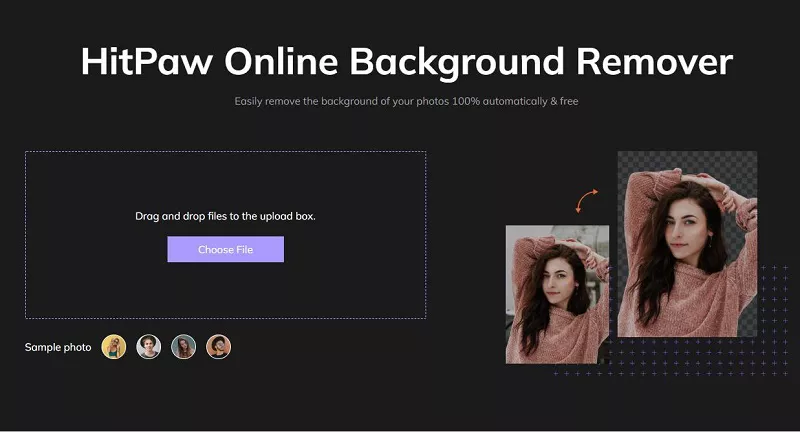 Click the Remove Background button and wait a few seconds to preview the removed backgorund.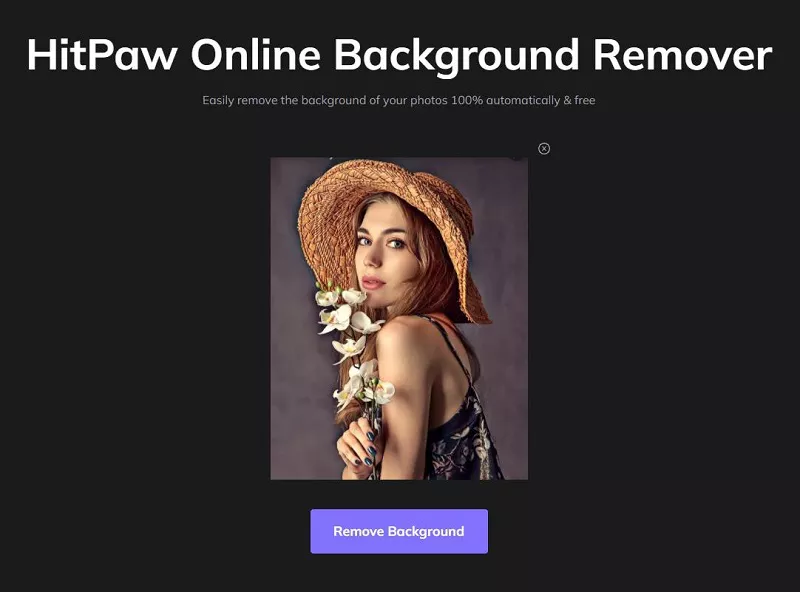 You can click on the Edit button to perfect your image, and then click download to save it. If you are satisfied with it, just click the Download button directly.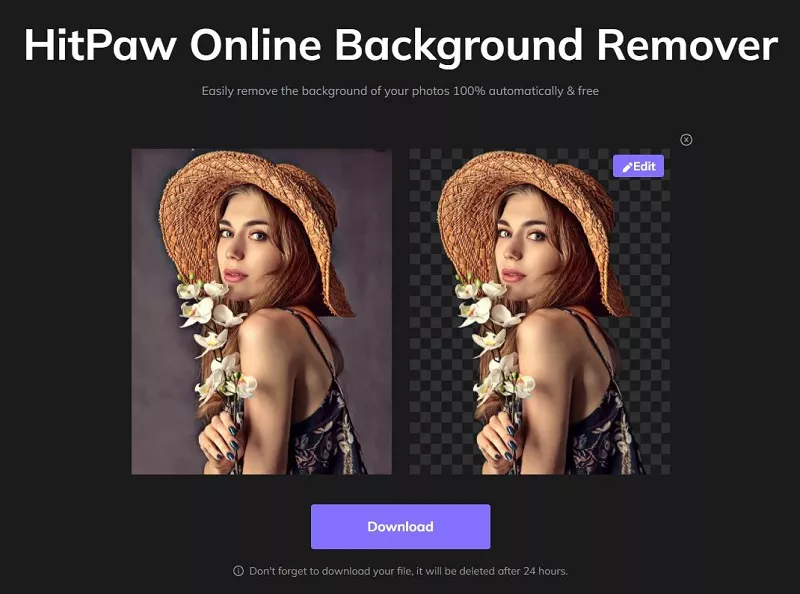 Conclusion:
The article introduces 2 online tools for removing image backgrounds in detail, if it is necessary to choose one of them, then HitPaw Online Background Remover is recommended by many users from a comprehensive consideration of performance, price, design and other aspects.
To remove a background, HitPaw Online Background Remover with no-charge, no-ads and no-virus, can definitely help you out. To product a creative work, several editing tools are required. Just in case you need to know about tools for video editing to share videos to YouTube, here is an article for your reference.