[Fun Github] Face Depixelizer AI to Turn Your Pixelated Faces into Clear Ones
Taking pictures is fun and games. Until you take a look at them and notice that you will have to take them all over again - because they turn out blurry or pixelated.
However, you don't need to worry about this at all now. It's because with evolving technology- there's many tools available on the internet that can solve this problem with face depixelizer ai. Read on to find more about face depixelizer.
1.

What Is Face Depixelizer and Its Feature

Taking into account the need for this tool - a Russian developer named Denis Malimonov came up with an AI tool that you can use to remove pixels on your face.

The tool came out a while back. And as usual - the Twitter users have tried it out for fun. Most users are impressed with what the app can do. However, a major chunk of people are just using it for fun and games.
Here are the features of Face Depixelizer.
It's an excellent tool to remove pixels from any image. For example, if you've downloaded an image from the internet. But it's of now use due to the pixels that are on that picture.
In this case, you can use a face depixelizer tool to get rid of those pixels and use that image. Alternatively, many times photographers don't take a second look at the pictures they take. And when it's time to edit - some pictures are just not what they want. In this case, people can easily use this tool to solve their problem.
Moving on, it's just pure fun. Imagine you can use this tool on anything. Now the AI algorithms will use their power to sort the image out. And you're always going to have a fun experience after you see the results.
2.

How Does This Face Depixelizer Works

Now you must be thinking how does this thing actually work? Well, it's not easy to understand but if you have an understanding of how AI works. You can easily get it into your head.

This tool works using the StyleGAN algorithm. StyleGAN is a type of generative adversarial network (GAN) that is used for generating high-quality, realistic images. It was introduced by researchers at NVIDIA in 2018 and has since been widely used in the field of computer vision and image synthesis.
StyleGAN allows for greater control over the image generation process by separating the network into two parts: the generator and the mapping network. The generator is responsible for generating the image, while the mapping network controls the style and appearance of the generated image.
StyleGAN is known for its ability to generate highly realistic and diverse images, with applications in fields such as art, design, and entertainment. It has been used to create photorealistic portraits of people who do not exist, as well as generate realistic images of animals, landscapes, and other objects.
3.

How to Use This Face Depixelizer

Many people would think that it will be hard to use this face depixelizer mainly because it's an AI tool. However, that's not the case.

All you have to do is get hold of it from Google colab. After that you need to open it up and use an image that has tons of pixels.
Moving on, you have to click on let's rock. You can upload the file by tapping on "choose files". After that the tool will take some time to process the image.
You can use it on any type of image. However the algorithms are designed to work best on images where people are directly looking into the camera.
Therefore, if you need best results. You'll have to upload the image that works best with the tools. Otherwise, you won't be impressed by the results.
4.

What Face Depixelizer Can't Do

Face depixelizer is an amazing tool that you can use to remove pixels from any image. Using the AI algorithms- it's very fast and effective in its job.

However, just like everything in life - this app is not perfect and there are some shortcomings that you need to be aware of before you invest into it.

For example, it works best to remove pixels from a picture that has a person looking into the camera. However, if the image is not defined - face depixelizer won't do a good job.

Moving on, this tool also does not work if you want to enhance the image or change its dimensions. For this - you will have to use another tool like the HitPaw Photo Enhancer tool.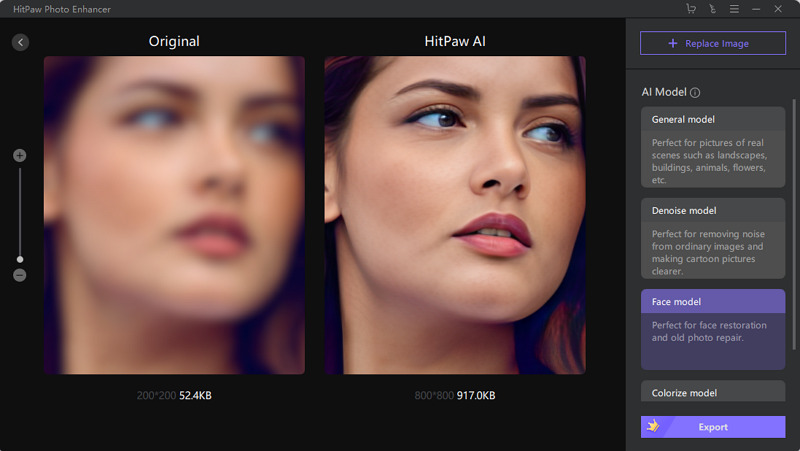 HitPaw Photo Enhancer is an excellent tool that you can use to enhance your images. The best thing about this tool is that there is a batch processing option that you can use to enhance multiple images at a time.
Super effective
One-click enhancement feature
Batch processing
Customize your photo size
Here is how you can use the HitPaw Photo Enhancer tool.
Step 1.From the button below - download the tool

Step 2.After that, upload the original file that you want to enhance onto the tool

Step 3.Choose the AI model that you want to use to enhance your picture

Step 4.You can also preview the effect - until you're satisfied

Step 5.Once you think the picture is good enough - export it
Conclusion
Using a face depixelizer app - you can remove the pixels on any image. It's an easy way to get rid of these problems. However, if you want to enhance the pictures - face-depixelizer won't be of help. You can use the HitPaw Photo Enhancer tool. It will enhance the images using a single click.