Remove Blurs Effortlessly with the Best 7 Blur Remover Tool
In today's digital age, capturing high-quality photographs and videos has become easier. However, even the best cameras and equipment can sometimes produce blurry images or videos, frustrating for professional photographers and amateur enthusiasts.
In this article, we will introduce you to the top 7 blur removers for your Windows and Mac device, providing a comprehensive overview of each tool's features, benefits, and limitations. Whether you are looking to enhance your photo collection or improve your professional portfolio, these blur removal tools are sure to help you achieve the results you desire.
1.

Best AI Blur Remover - Unblur Images with One Click Right Away

HitPaw Photo AI is a user-friendly and powerful software tool that helps to enhance the quality of your photos quickly and easily. With its advanced algorithms and simple-to-use interface, you can quickly transform blurry, dull, or low-quality images into vibrant, high-resolution pictures.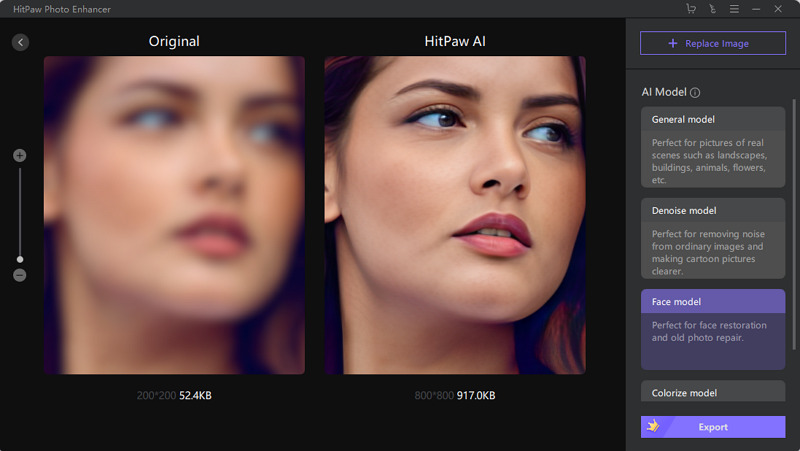 It also allows you to adjust the brightness, contrast, saturation, and hue of your photos to achieve the desired look. The software supports various image file formats, including JPG, PNG, and TIFF, and is compatible with Windows and Mac operating systems.
One of the standout features of the HitPaw Photo AI is its batch processing capability, which enables you to enhance multiple photos simultaneously, saving you time and effort.
A HitPaw Photo AI is an excellent tool for anyone looking to quickly and easily enhance the quality of their photos. It's an easy way out if you're worried about how to remove blur from the Image.
Swift editing
One stop solution
Easy UI
Here are the steps you must follow to use the HitPaw Photo AI tool.
Step 1.First things first, you need to download the HitPaw Photo AI tool from the official website

Step 2.Once you have the tool on your desktop, open it up. From the "upload images" tab - upload the image you want to process

Step 3.Once the picture is downloaded - choose the AI model that fits the purpose of remove blur from photo

Step 4.Now, you can preview the results. Once you're satisfied - click on export to save the file
2.

Top 5 Free & Paid Online Solutions to Remove Blur from Photo

In case you want to use other apps to remove blur from photos - here are the top 5 paid and free apps you need to remove blur.
Fotor
Fotor is a comprehe nsive photo editing software that offers a range of features, including how to remove blur from image to help you enhance your photos and create stunning visuals. The software is available for both desktop and mobile devices, making it easy to edit your photos on the go.
Image Upscaler
An image upscaling is a software tool or algorithm that is designed to increase the resolution or size of an image. It takes a low-resolution image as input and uses advanced interpolation techniques to produce a higher-resolution image. You can use an image upscaled to remove blur from your image within a few seconds.
Image Amigo
Image amigo is your amigo in times when you need a quick fix for your editing process. The website may seem cluttered to you - but it gets the job done. And that's too for free.
LunaPic
LunaPic is a free online photo editor that allows users to edit, enhance, and manipulate their images. It offers a wide range of tools and features that enable users to edit their photos with ease, without the need for any specialized software or technical skills.
LunaPic offers a variety of editing tools, such as crop, resize, rotate, flip, and color correction, that allow users to adjust the composition and appearance of their photos.
Photokit
There are many times when you just need a quick fix for your photos. For example, if you're on your way to an event - and you get a call from your client about some adjustments. Tools like photo kits are especially built for these things.
The tool is extremely easy to use. All you have to do is upload the image that you want to fix and the rest of it will be done by the algorithm itself.
3.

[Extra Tip] Blur Remover App - How to Remove Blur from Image on Your Phone

There are many times when you cannot get hold of a desktop for urgent editing work. So, if you're thinking about how to remove blur from a photo on the go, you can use the HitPaw Photo AI mobile app to get the job done.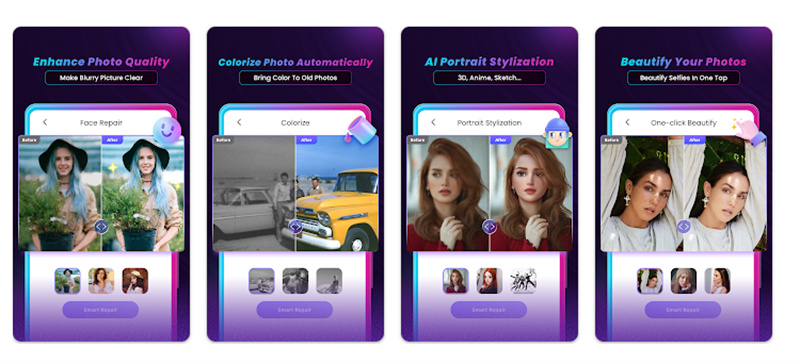 It's a one stop solution for all your editing needs. For example, it can enhance your portraits in just a few clicks. Other than that, you can also animate your pictures into 3D style for some fun.
You can use it on the go
Easier to use
Fast and efficient
Conclusion
A blur can ruin an otherwise perfect photo, but with the right blur remover tool, you can easily restore the clarity and sharpness of your images. The HitPaw Photo AI got the best feature lineup. And the best part about it is that you can also get the app when you have to remove blur from photo on the go.