Find More Information and Steps of Antique Picture Restoration Here
Antique photo refers to old photos at least 100 years ago, which features with antique sense and fading color usually. Most antique photos is a portrait of the family ancestor.
So the antique photo restoration serves for reviving the memory of old people and restore the details embodied by the antique photo. It's difficult and time-consuming to restore the antique photo completely offline. Here we are going to share more information about antique picture restoration online.
Part1: The Importance of Antique Photograph Restoration
Photography pictures witness most of important moments, no matter in the history or in the modern times. In addition, antique photos attach great importance to our life.
Emotional Connection:
Antique photos present the previous generation. The memory of past family members is saved through this way. It makes people's missing more visible.
Images of the Times:
Antique pictures also include the wearing and life style of the times, which is a precious material for descendants to study.
Time Tunnel:
Antique photograph is the only way to record past life and precious moments, which makes it an only channel to connect past and present.
Until now, we have understand the importance of antique photo. But because of the fragility of antique photos, photos tend to be damaged, faded because of improper display or storage.
So it's undeniable to make antique photo restoration to revive their life again. Online repair is a more suitable way to save your photo perfectly. Here we'll share how it works and how we can do it.
Part2: How Antique Photo Repair Works with Robust HitPaw Photo Enhancer
HitPaw Photo Enhancer, available on Windows and Mac, is a robust photo processing tool for your old photos. It applies various AI model to restore your photo with just one click. In addition, it supports to improve your photo quality with AI-powered technology. It's definitely a practical tools to help you restore the past memory through antique picture restoration.
Now we are here to figure out how the repair works. The process of antique photo repair can be usually achieved by following key features of HitPaw Photo Enhancer.
Feature 1: Change the Photo into a Digital One
No matter what steps later online, the first thing you have to do is scanning the photo, which is the best way to have a higher resolution as you can. It's a crucial step to make the antique photo restoration successful. Also, this way can ensures there is no risks of damaging the original one.
Feature 2: Retouch Digital Photos with Improved Quality
HitPaw Photo Enhancer offers the function of Face Model to improve the face of low-quality photos by AI. You can choose Soft or Sharp Look for the face effect. The function is ideal for the portraits of many antique photos.
Feature 3: Reconstruct Damaged Part
Antique photos usually confront damaged issues such as creasing, or missing part and so on. So in the process of antique photo repair, it's a necessary step to retrieve those damaged parts. The robust tool HitPaw Photo Enhancer allows you to repair those issues with just a click.
Feature 4: Enhance Photo Colors
The anther problem of antique photos is fading and yellowing because it wasn't stored properly as the time goes by. So we need to correct the color of the picture by some additional tool. It can be achieved by adjusting the brightness, contrast, saturation, and RGB level to restore the original color. HitPaw Photo Enhance provides the one-click service to automatically correct the color by Color Calibration and Low-light Model.
Feature 5: Colorize Black and White Photos
Sometimes for its long-term damage, the correction of photos may not brings a significant effect. So we here can use HitPaw Photo Enhancer to colorize the antique photo. The Colorize Model also can color black and white photos to make it more lively.
Feature 6: Details Enhancement
The antique photo enhancement also includes other quality enhancement such as removing noise or increase the clarity of the old photo. Here HitPaw Photo Enhancer brings the function of Denoise Model to remove the noise from images and General Model to enhance photo details.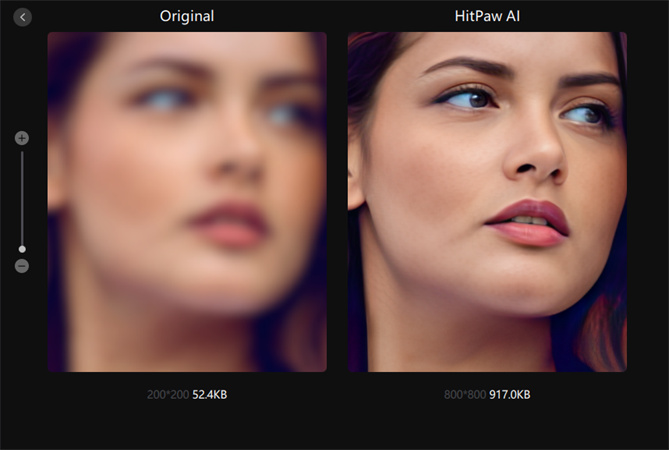 Feature 7: Offer Higher Resolution
The last important part is to give antique photos a new and fresh feel by improving its resolution. The function is aimed to make the items and people in the antique photo to looks much clear. HitPaw supports to choose various resolution without changing the ordinary contents of the picture.
Feature 8: Preserve Antique Photo Losslessly
Last but not least, after the complement of all process, storage comes to the end. Digital preservation of antique photos nearly eliminate the risk of damaging and losing. You can make back-up on your device and take it out to yearning at anytime and anywhere.
After knowing so many features of using HitPaw Photo Enhancer to restore antique photos, we should learn the detailed steps on how to use the robust tool now.
Part3: Detailed Steps on Antique Photo Album Restoration
Follow the steps to start antique photo restoration with HitPaw Photo Enhancer.
Step 1:Install the software from the official website.

Step 2:Run it and upload the picture you want to restore.

Step 3:choose the model that you want to apply on the picture. Notice: you can tickle two models to process together.

Step 4:After choosing, you can Preview and Export the restored picture.
More: If you want to enhance other details, just repeat the step 2-3 again. Remember to export and save the picture every time you make a change.
Part 4: FAQs about Antique Photo Restoration
Q1. Can I restore damaged old photos?
A1. Yes, use the Repair function of HitPaw Photo Enhancer to restore damaged part with just a click.
Q2. How long is the photo restoration takes?
A2. Offline restoration usually takes few days to process. If you just want to restore the color and repair some details, online may take few seconds only with HitPaw Photo Enhancer.
In Summary
In the whole article, we have shared the importance of antique photos to people and society. Also we introduce how the antique photo restoration works and take a excellent tool as an example. Except restoring antique photos, the robust functions of HitPaw Photo Enhancer also offer various possibilities for your other photo enhancement. Take this tool to start your photo enhancing adventure.