How to Find Who Sings the Song: 9 Best Ways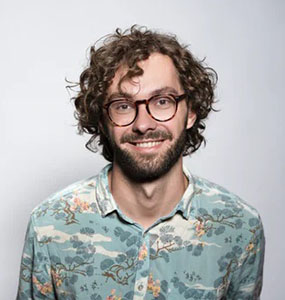 Joshua Hill
There are times when you listen to music that catches your attention, but you know who the artist is. There are even times you may be unsure whether the song belongs to your favorite artist or a different person. Asking, "Who sings this song Google?" will help you find out more about the artist and discover more interesting music that you will love.
1. Is It Possible to Find Who Sings This Song?
It is possible to find who sings a song, especially if the artist is known at the national level. Songs promoting upcoming artists can be found on blogs and music repository sites such as Mixcloud, Mixlr, and many others. More popular artists and their songs can be found on the results of Google Search Engine.
2. How to Find Who Sings This Song Google Hum-To-Search
Google Sound Search allows users to record parts of songs and search them on Google to find out who sang it. The Google Sound Search feature is supported by some selected countries. Android users need to run on Android 4.0 and later to use this service. First, you need to add Google Sound Search to your Android device.
Visit Google Play Store and type Google Sound Search App in the search apps bar.
Install Google if it hasn't been already installed on your Android device.
Leave your internet connection on and open the Google Sound Search App.
Allow the app to listen to the song and it will automatically bring search results that show who sings the song. If Google cannot find the artist, you may get a message that says, "Couldn't find any close matches."
Alternatively, you can use the Google Voice Search feature.
Open your Google Search App.
Tap on the Recorder icon to make Google listen to the song playing around you.
You should see a song card and get search results for the song. If Google cannot find the song, you may get a message that says, "Couldn't find any close matches."
3. How to Find Who Sings This Song With Google Assistant Help
Google Assistant can help you identify who sings a song around you in different ways. You can let Google Assistant listen to the song and find the artist. You may also sing some parts of the song or him the song and allow Google Assistant to find it on the search engine.
Touch and hold your Home button and say Hey Google.
Ask "Google who sings this song "Or "Ok Google who sings this song".
Play the song when the recorder is on. You may also him the song or sing a part of the song that you know.
Play the song option allows you to see the song's video on YouTube with the name of the artist.
Hum and sing-along option uses lyrics to search for potential matches. You should be able to see full lyrics and YouTube video links for related and potential search results.
4. Find Who Sings This Song Siri/Alexa
Siri
Siri is Apple's music inclined Virtual Assistant. It can identify music playing around you and tell you about the song and who owns it.
Ask Siri, "Who sings this song playing?" or "Who sings this song, Siri".
Siri automatically engages Shazam and gives you related results.
Tap the result to play the song on your iPhone.
Alexa
With Alexa Song ID, users can identify the name of the artist and their song before each play. This feature is available in the US and UK. Users can only use Song ID with Prime Music and Amazon Music Unlimited.
As you are playing music on Alexa, ask Alexa to turn on Song ID. After confirming Song ID is on, Alexa will state the title of music and artist before playing each song.
5. Who Sings This Song With These Lyrics?
If you know some parts of the lyrics of a song, you can simply type it on Google search using the format below:
"Someday when my cry is gone + song" or "Tell me who sings this song + Someday when my cry is gone"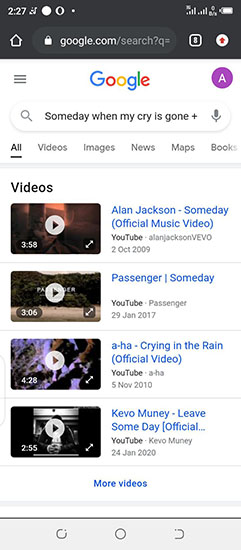 You should find songs that bear the lyrics and narrow the results down to the actual song you need.
6. The Best 5 Music Finder for "Who Sings This Song"
1. Shazam
Shazam remains the best Who sings this song app. It supports both Android and iOS devices. It has become so popular that people use the words, "Shazam that song." In less than 10 seconds you can identify the artist of a song and get the Karaoke version of the song. Its very simple user interface also makes it most users' favorite.
2. Google Music Recognizer
The Google Music Recognizer is pre-installed on many recent Android smartphones. It works like the Google Assistant to identify songs playing around users. You can also hum or sing parts of a song while the GMR locates the song on YouTube with the complete lyrics. This is one of the fastest music finder tools you will find.
3. Music ID
If you need a simple yet effective search engine for music, Music ID should do. It has a very simple and minimalist user interface. It simply detects the name of the artist with the song. Users can also see the artist's profile on popular social media or artist promotion platforms like Mixcloud, Spotify, and others.
4. BeatFind
What makes BeatFind unique from the other music finder tools is its ability to detect and find tunes and give results in a short time. It also detects songs playing around the user. The only challenge users face with BeatFind is the sheer amount of ads they must put up with before they can use the app successfully.
5. SoundHound
SoundHound uses A. I to deliver an excellent music video experience to users. Just like Google Assistant, you can say, "Hey SoundHound. Who sings this song on the radio?" or "Can you tell me who sings this song?" SoundHound plays music videos. Users only complain that SoundHound music goes off when your screen is in idle mode.
7. How to Add Music to Video Online and Offline
HitPaw is the latest popular video editor online. It combines all the tools required to make professional videos in one kit. HitPaw can be used both online and offline to add music to video.
HitPaw Online
It only takes 3 simple steps to add music to video on HitPaw Online:
Visit HitPaw Online and click the button Add Music to Video Now.

Open the Folder icon to locate the video on your device or simply drag and drop the video on the timeline.

Select music from your device and adjust the music to fit the video.
Click Save and download the new video with music.
HitPaw Offline
HitPaw Edimakor can be downloaded on Windows PC and used to add music to video without an internet connection.
Download and install HitPaw Edimakor.

Launch the HitPaw software and import video and audio file into the media box.

Drag video and audio file to the track.

Click "Export" to export the edited video.
Conclusion
Do you wonder who sings this song who sings this song? We have detailed all the tools you need to find who sings the songs you love. You can download the songs and add them to videos using HitPaw Online or HitPaw Edimakor.