6 Best YouTube Video Maker Apps For Creating Attractive Content
YouTube video maker apps are like helpful assistants for making videos. They're designed to make creating videos easier, no matter if you're just starting or you're really good at it. These apps have lots of cool stuff in them that makes it simple for people and video creators to make great videos for their YouTube channels.
They have easy-to-use screens and tools that make the whole video-making process smoother. Also, each YouTube video maker app usually has a bunch of music, sounds, and cool effects that you can use without worrying about copyrights. This makes your videos look and sound better, even if you're not a professional at editing.
Part 1: 6 Best YouTube Video Maker Apps For Creating Fascinating Videos
If you are running a YouTube channel then you will know the importance of creating stunning videos so that more views can be made. You can get help from the above-mentioned YouTube Video Maker apps to create stunning videos by applying different editing features to them without sacrificing their quality.
(1) KineMaster
KineMaster is no doubt the best app to make YouTube videos. It has been created by the biggest name in the world of editing for years. The thing about this tool that is most appreciated is its procedure of creating a video that is not only best for YouTube platform but for all kinds of social media platforms.
Pros
This tool is designed in such a way that beginners can also take advantage of it easily
It supports a streamlined video creation process hence saving time
You don't have to be a skilled person to use its services
Cons
You have to get access to the paid version to use some advanced features
(2) Quik by GoPro
Any simple tool can create a video but the real task is to create a video that is not only according to the preferences of a particular platform but also has capabilities of attracting a large audience. Quik by GoPro has brought a user-friendly interface for content creators searching for a perfect tool for YouTube video creation.
Pros
It offers affordable variance to content creators
Several customizable templates are available for different video types
It supports efficient editing options like cutting, trimming and merging of clips.
Cons
You will face limited customization options as compared to other professional tools
(3) VideoShow
VideoShow has never failed to provide ease to its customers while creating videos for the YouTube platform. The available editing tools help the user in creating an engaging video by controlling the sound, speed, and color adjustments of the video. Hence, it is listed among the best apps to make YouTube videos for free.
Pros
You can easily add captions and text to your video
You can make a smooth video by using a variety of transition effects
You can make your video more engaging by adding different animations and filters
Cons
The free version comes with limited features as compared to the paid version
(4) Power Director
There are different video creation tools that allow users to create videos but don't let them add music to their videos. Power Director is a perfect choice for you if you want to get access to a library of built-in music to create a stunning environment.
Pros
You will be provided with royalty-free music to add to any kind of video
Voiceovers can also be added to a video easily
It supports the creation of multi-screen and split-screen videos
Cons
This tool may require a stable internet connection
(5) YouCut
If you are in search of a tool that provides you the facility of green screen edits for your YouTube videos then YouCut is a perfect choice for you. This tool comes with a list of editing features and options that are contained by different professional editing software.
Pros
Users are also allowed to use green screen effects for more engaging backgrounds
Users can easily export videos in any format
This tool keeps on updating and bringing the latest features to the users
Cons
The quality of the resultant video may not be as high as using professional video editing software.
(6) InShot
Lastly, we are going to discuss the simplest but most reliable app for making YouTube videos. InShot is included among the free apps to make YouTube videos that will surely attract the audience's attention in seconds. This tool has been decided in such a way that the created video will be according to the YouTube preferences hance you don't have to access any external tool for shaping the video.
Pros
The available interface is helpful for beginners to create videos easily
Different helping tutorials are available to edit and create videos more perfectly
You can export the resultant video directly to YouTube
Cons
It includes a few complex features that are difficult for beginners to use.
Part 2: Bonus Tip: Efficient AI Video Editor For Making YouTube Videos
Now, let's discuss an exceptional video editing software that has revolutionized the video editing process. The extensive functionalities of this video editing tool empower users to convert raw footage into captivating and engaging video content, guaranteed to captivate a broad audience.
HitPaw Edimakor
In the past, individuals had to resort to multiple video editors to make edits to a single video. However, HitPaw Edimakor, renowned as an AI video editor, has proven to be a game-changing solution. It offers a seamless platform for comprehensive video editing, enabling a complete transformation of video content effortlessly.
Features Of HitPaw Edimakor
Unlock the capability to craft captivating YouTube intro videos for your channel or any branding requirements.
Benefit from top-notch customer support, well-versed in understanding and catering to customers' needs and preferences.
Access an extensive array of features, templates, and a rich library of built-in music options to enhance your video editing experience.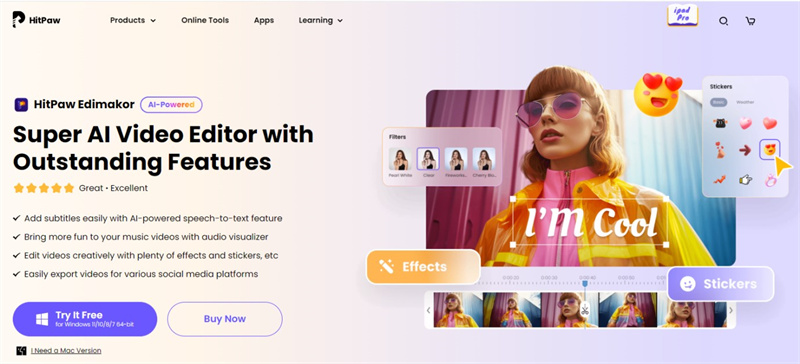 Part 3: FAQs About YouTube Video Maker App
Q1. How Can I Increase My YouTube Views For Free?
A1. If you want to increase your YouTube views for free then you have to follow some simple tips. Firstly you have to add relevant keywords to your content and then pay attention to your content that must be of high quality. Try to collaborate with other YouTubers which will result in growing your channel too.
Q2. What App Do YouTubers Use To Make Videos?
A2. You have seen different YouTubers creating stunning videos that attract viewers at first glance. These videos are not created using such an app that is only available to them but are created using the same apps available in the market that you can access. They usually go ahead with HitPaw Edimakor, InShot, YouCut, KineMaster etc.
Q3. What Is The Best Free YouTube Video Editing App?
A3. If you step out to search for a perfect YouTube video editing app then you will be provided with a great list of them. But if you are in search of the best video maker app for YouTube that is not only reliable but also never sacrifices the quality of video then it is suggested to go ahead with HitPaw Edimakor.
Ending Lines
If you are a YouTuber and want to grow your channel then the most important and crucial step is to enhance your YouTube uploaded video content. This can only be done by using HitPaw Edimakor(Video Editor) that has all the editing features and specifications that a professional video maker must have. The above-mentioned YouTube video maker will be a perfect choice for you in this regard.