Top 5 Wedding Invitation Video Makers For Preparing Perfect Invitation
Wedding invitation video makers have always been a powerful choice whenever a person has to create a perfect wedding invitation. The available video wedding invitation templates never fail in creating an attractive wedding invitation and making someone's day more special.
The most amazing fact is that every wedding invitation video maker comes with inbuilt templates that are featured elegantly and have fonts as well as different animation portions. Users are also facilitated by allowing them to go ahead with several customization options like the addition of images, text, and videos to the template.
Part 1: What Are Wedding Invitation Video Templates?
Before learning about the best wedding invitation video makers it's important to know what exactly wedding invitation video templates are and what their purpose is. Pre-designed digital layouts that play a great role in creating a foundation for attractive wedding invitations in the form of videos are referred to as video wedding invitation templates.
The crafting of these templates includes various design elements like animation graphics, voiceovers, typography, and many more. The main purpose of free video wedding invitation templates is to bring a creative and modern alternative to old paper invitations. It is a very delightful way of expressing the wedding details with the guest.
Moreover, couples can also go ahead with different customization options and can make their wedding invitation according to their preferences and the theme of the wedding. The addition of images text and other videos in the template is a very simple task. You can get help from any wedding invitation maker to get access to fascinating wedding invitation templates.
Part 2: 5 Easy-to-Use Wedding Invitation Video Template Makers
Certain tools help you to customize your wedding invitations according to your choice and your taste. In give article: we are going to discuss a few tools that help you put together your desired wedding invitation.
(1) InVideo:
InVideo is a great platform for young couples that want to create beautiful wedding invitations for their special day. This application helps you to customize your wedding invitation using the best free wedding invitation video templates according to your taste and choice for your loved ones.
Features:
It creates personalized video invitations for business events that include corporate events, seminars, and product launches.
This platform also helps you to customize birthday invitations.
It has pre-designed graphics that help you make a beautiful and effective video wedding invitation.
Disadvantage
This platform takes quite some time to finalize the invitation. In other words, the video rendering process of this platform is slow
(2) Animoto:
This platform is a cloud-based service that helps users to customize videos using their pictures and videos. This platform also helps in forming slideshows, presentations and the user can also add music to their creations.
Features:
It easily creates professional videos that help engage the audience.
Its visual effects are very beautiful and it allows a user to use a variety of editing tools.
When you sign up to this platform it allows the user to access the free plan and create beautiful videos without using money.
Disadvantage
While using this platform it is very difficult to edit a portion of a video without disturbing the other.
(3) Animaker:
Animaker is a very excellent platform that helps you to create animations on your own. It is a very beneficial platform for amateurs to start making animations and video presentations based on animations.
Features:
It brings the creation of quality animation videos within the reach of the user.
It is easy to use.
It is reliable and allows the user to use a variety of tools.
Disadvantage
This platform is not the right platform to create more complex 3D animation videos.
(4) Biteable:
Biteable is a very good online platform that helps to create videos. It is the world's simplest video maker. Planning a wedding is a very difficult and sensitive topic and designing a perfect wedding invitation makes it even more difficult but Biteable is here to your rescue along with amazing wedding video templates.
Features:
It helps to create concise and engaging videos.
It is super easy to use and handle.
Gives you the power to gain control to make outstanding videos.
Disadvantage
The problem with this platform is that the customization options make it difficult to crop and resize images
(5) VEED.IO:
Veed.io is a perfect platform for video editing. It is a very simple platform that is used to edit videos and create impactful content for viewers. It also helps you to customize your very own wedding invitation videos that will contain all your special moments.
Features:
It is the fastest and easiest way to create videos.
To help to add subtitles to the videos.
On this app, it is easy to record, download, and export videos.
Disadvantage
This app has one disadvantage when you try to use your media the good vibes of this platform disappear.
Part 3: Bonus Tip: Powerful AI Video Editor For Creating Wedding Invitation Videos
Let's have a quick talk about another powerful AI video editor that is playing a great role in the world of editing. No matter what kind of video you want to edit you can easily get access to its services without facing any kind of restriction.
HitPaw Edimakor
HitPaw Edimakor along with its user-friendly interface never fails in facilitating its users and allowing them to create stunning videos effortlessly. Whether it's an educational video or a wedding invitation video, this AI video editor has always been the priority of content creators and other video editors.
Features Of HitPaw Edimakor
One of the main and stand-out key features of this video editor is its intuitive interface.
It allows access to fascinating wedding invitation video templates easily.
The extensive library of transitions and effects has always been the reason for preferring this video editor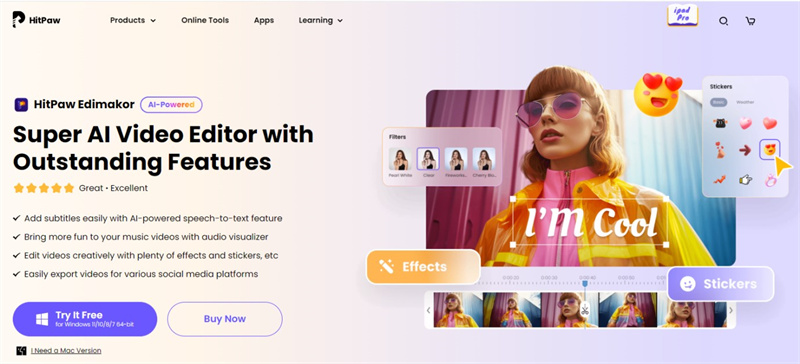 Part 4: FAQs About Wedding Invitation Video
Q1. How To Make A Wedding Video Invitation?
A1. If you want to create a wedding invitation video then you have to keep in mind some important steps. Firstly you have to plan your video concept and then shoot or collect the footage for the video. Then take help from any wedding video invitation maker and create a stunning invitation for your guest.
Q2. Which App Is Best For Invitation Video Makers?
A2. Although there are a lot of invitation video makers that are considered best for your work, if you want to get access to a reliable tool then HitPaw Edimakor is the best choice. You can get access to the free wedding invitation video templates and can create a fascinating video invitation.
Q3. Can You Create A Wedding Invitation On WhatsApp?
A3. To make a wedding invitation on WhatsApp you have to create a contact list of the guests and then design an invitation having information like the date, time, venue, etc. of the wedding. Once you have successfully saved the created invitation then send it to the contact list created before.
Bottom Lines
A wedding invitation plays a great role in creating a fascinating impression on the guests. Therefore it's always the priority of couples to create such a facility in wedding video invitations that are full of cheering moments. The above-mentioned wedding video invitation makers are very helpful in creating attractive invitations by using a variety of wedding video invitation templates.