Top 5 AI Video Editors for Creating TikTok Viral Contents
We all know that continuously increasing technology has resulted in shrinking attention spans and evolving trends overnight. TikTok has successfully gained a significant position in the list of social media platforms that provide a great facility to creators for making their content revolve around social media.
The creation of TikTok videos has been made a simple task because of effective tools introduced in the market to make TikTok videos. Know the details of these video makers to choose the one that meets your need.
Part 1: What Is A TikTok Video Maker and Its Role In Creating TikTok Videos?
A TikTok video maker utilizes a unique set of skills to allow users to create an attractive TikTok by using amazing templates and features. These creators are designed in such a way that they can easily create content that results in hooking viewers in seconds and catching their interest in the video.
The most amazing fact about TitTok video makers is that they are well aware of the ongoing trends and challenges therefore users can easily uncover their creativity with the help of these effective tools. The entire look of the content can easily be transformed by making a pair with such music that fits perfectly.
Hence, if you want to make TikTok video that is according to the trend and attracts viewers then it is suggested to go ahead with a perfect TikTok video maker. You will not have to do anything as these tools are well aware of the current trends and how to catch viewers' interest.
Part 2: 5 Best TikTok Video Makers For Creating Attractive Video Content
If you are a content creator or a TikTok user then you must know about the most recommended and preferred TikTok video makers. Let us have a talk on some of the popular TikTok video makers for the creation of stunning TikTok content:
(1) Canva
Canva is one of the most recommended TikTok video maker free that any content creator can access to enhance his or her creativity and create stunning TikTok content. This tool comes with amazing features as well as editing options that result in increasing the demand for content.
Prominent Features
It has an easy interface so that everyone can use it easily.
It has a large number of unique editing tools.
There is also an option for video recording.
(2) VEED.IO
If you are a TikTok user then you will know the importance of a tool for creating perfect TikTok videos. VEED.IO proves to be a perfect choice, especially for those who are in search of a tool that has a simple interface so that they don't have to put much effort. The available features can be accessed directly from the main interface without any complication.
Prominent Features
The user can also benefit from the music integration feature.
There are a large number of unique video effects, filters, and transitions.
There is also an option of voice-over recording your voice.
(3) InVideo
InVideo TikTok maker is specially designed for beginners who are in search of how to make a TikTok video. This tool has such a simple interface that even lets a layman access its services without any complication.
Prominent Features
You can also adjust the speed of your video or enable slow or fast motion effects.
Users can also add text and stickers for making the video more eye-catching.
You can also collaborate with different users by stitching their videos.
(4) Kapwing
No need to waste time on different useless third-party tools when Kapwing can provide you with the same results that can be achieved by hiring a professional. The available tools will make it easy for you to bring more enhancing effects to your video without sacrificing its quality.
Prominent Features
You can also change the backgammon of the video easily
There are a large number of unique filters.
You can also use the different video templates.
(5) FlexClip
FlexClip is another recommended and popular tool that has been inspiring users with its wonderful specifications. You can easily create a TikTok video on this effective tool and can also add different effects along with other editing options. If you want to know how to make videos on TikTok then this tool will be helpful for you.
Prominent Features
There is also an option for sharing or uploading videos to different social media platforms.
It has a user-friendly interface.
The video editing process is very easy and fast.
Part 3: Bonus Tip: Recommended AI Video Editor For Making TikTok Videos
The significance of video editing tools cannot be denied, they allow users and creators to make videos that are attractive and are loved by the audience. In this era where there are many tools for video editing, HitPaw Edimakor still stands on the top among all the tools that are used for video editing, perfect for crafting TikTok masterpieces.
HitPaw Edimakor
For TikTok enthusiasts, HitPaw Edimakor is a game-changer. It allows users to Seamlessly merge clips, and add vibrant transitions, music, text, and filters to make their videos look more attractive and can trend at the top. This TikTok video editor proves to be an assisting tool, especially for content creators.
Features Of HitPaw Edimakor
Create an unbreakable rhythm in your TikTok videos with fluid transitions and also allow you to add music in the background that makes videos more attractive.
Craft scrolling stories with stylized text overlays, adding context and charm to your TikTok narratives.
It allows sharing and posting videos after editing directly to TikTok.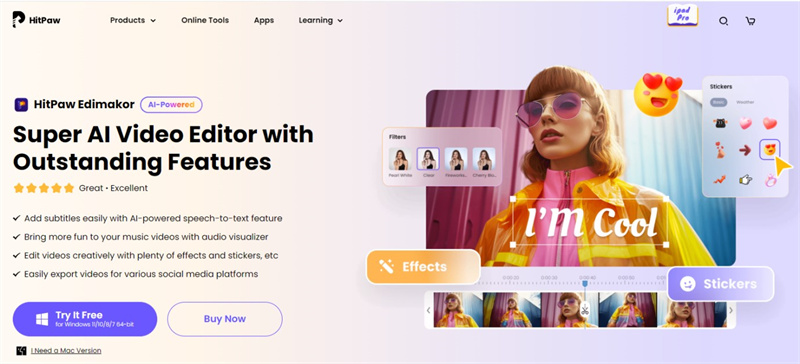 Part 4: FAQs About TikTok Video Maker
Q1. What Is The Best Video Maker App For TikTok?
A1. If you want to create a stunning TikTok video then you can go ahead with different video makers. However, it is suggested to go ahead with such tools that are recommended by professionals. HitPaw Edimakor proves to be a perfect choice if you want to create a tikTok that is according to the ongoing trends and challenges.
Q2. Can You Make A TikTok Without The App?
A2. You can make a TikTok video by using the TikTok app itself or can also take help from any TikTok video maker for the creation of stunning and attractive TikTok videos. You can access such makers and then can share the video directly to the TikTok app instead of saving it on the device and then sharing it on the TikTok account.
Q3. How Do I Get More Views On TikTok For Free?
A3. Increasing views on TikTok for free requires some tips and tricks. Firstly you have to create content that is according to the viewer's demand and try to participate in different TikTok challenges. The addition of hashtags in the video can also result in increasing the views on a video.
Bottom Line
In the world of social media, TikTok has successfully made a strong presence, and content creators are taking full benefit of this tool. Although this tool allows users to create videos on it, we can also create TikTok videos on different video makers and can share them on the account. You can take help from the above-discussed tools and can create stunning videos in seconds.