4 AI Voice Generators To Make Walter White Text To Speech Easily
Text-to-speech converters are getting a significant position in the market and are assisting content creators and other marketers in enhancing their projects. Now, you have a great facility to get text-to-speech forms of different famous personalities and even famous virtual characters.
There are a number of AI voice-generated tools available in the market for Walter White voice text to speech. These tools are allowing users to easily convert a simple text into a speech voice of Walter White
Part 1: Who Is Walter White And How Does His Voice Sound?
Walter White, an iconic television history character has successfully made his name in the industry and every person knows him very well. The most-watched series, Breaking Bad has Walter White as a protagonist. The story revolves around a teacher who turned into a drug lord after finding out that he has cancer.
The reason for so much popularity and preference lies behind the Walter White deep voice that was played by Bryan Cranston. The voice of this character has a gravelly and deep tone along with an authoritative delivery. You have seen a lot of videos having his voice that result in attracting a great audience.
Part 2: 4 Recommended Voice Generators Of Walter White AI Text To Speech
If you are a video editor or need an eye-catching platform that supports text-to-speech features then you are in the right place. There are different platforms with a large number of languages supported. The given platforms are considered perfect for generating the Walter White AI voice:
(1) 101soundboards
An essential soundboard that helps you to convert your text contact into any character voice such as Walter White is 101 soundboards. It has different unique features such as this platform can be used for making videos, podcasts, or prank calls. You can also get voice-over of any character from movies, games, shows, celebrities, etc.
Pros
You can use this platform on most devices. Also, it does not require any type of registration for using it.
This platform can be used for fun or entertainment purposes such as you can change your voice and can prank someone.
This will help you to save the audio in MP3 files. You can also create your soundboards.
Cons
Sometimes the result produced slow quality or outdated.
(2) Celebrity Voice Changer
If you want a voice generator with different celebrity voices then this will be a great platform. It supports artificial technology for the generation of voices and also provides the facility of Walter White text to speech AI. This platform is freely available on the internet so you just have to download it and get the benefits of using it.
Pros
It has a large variety of unique and different character voices.
Anyone can use, access, and take benefit from it.
The most demanding voice of Walter White is also available.
Cons
The result produced is accurate and the sound doesn't look realistic.
(3) FakeYou
Fake You is a unique platform that supports text-to-speech features. It has more than 2400 voices so you can choose the one according to your desire. This platform is also recommended as Walter White voice generator text to speech. This platform is also free of cost and can be accessed by anyone easily.
Pros
It is an easily accessible platform such that you just need an account on a browser and a fast internet connection.
They are different options for voice over and every voice has its uniqueness.
This platform will update on a daily basis and more features and voices are added regularly.
Cons
The uploading recording service is not available.
(4) ElevenLabs.io
Another text-to-speech feature-supported platform known as ElevenLabs.io is also present. This platform will help you to access its features and functions and benefit from it. It consists of different professional characters such as Walter White. It has a large number of spotted languages such as English, Spanish, and French.
Pros
It has an easy interface and a large number of languages supported.
The voice is provided out of high quality.
And a real-time voice changer option is also presented.
Cons
It is only accessible or available on pcs or laptops.
Part 3: Bonus Tip: Alternative AI Video Editor With Text-to-Speech Feature
Now, at last, we are here with a bonus tip that includes another unique, eye-catching platform that also supports text-to-speech service. This platform also has some advanced and unique features which are different from others.
HitPaw Edimakor
HitPaw Edimakor is another platform which users can use to make voices of a large number of characters easily. The ai text to speech feature of the HitPaw Edimakor is unique as it effortlessly converts your written text into any of your required character voices. It has different advanced features and supports a large number of different languages.
Features Of HitPaw Edimakor
One of the most demanding and useful things is the TTS feature which can convert large written content into audio easily.
Anyone can use it because of its easy interface which makes it accessible for every user.
You don't have to charge or have to buy a paid subscription to get benefits from its features.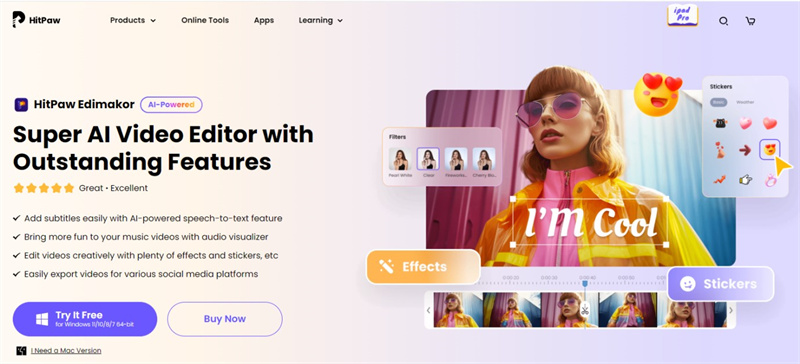 Part 4: FAQs About Walter White Text To Speech
Q1. How To Do A Walter White Impression?
A1. To do a Walter White impression it's important to know that he has a very deep voice tone and he punctuated with few moments of intensity. His character is well known because of his body language and facial expression also. Furthermore, he keeps on changing his parents all over the series.
Q2. How Do You Get Walter White Text To Speech?
A2. You can go ahead with different AI voice generators to get Walter White text-to-speech. Each Walter White text to speech generator has capabilities to fulfill your needs and provide you with the best results. HitPaw Edimakor is a well-known text-to-speech tool and you will always be provided with the best possible results.
Ending Thoughts
If you want to get Walter White voice then you can take help from the above-mentioned AI voice generators. These tools are successfully offering users a great platform to take advantage of their text-to-speech tool and add a sense of creativity to their project. This results in attracting a great audience because of Walter White deep and attractive voice.