Top 5 AI Transcription Tools For Hilarious Speech To Text
2023 has brought a significant amount of advancement in the world of speech-to-text technology that results in the introduction of a large number of transcription tools. These tools not only have the ability to boost exceptional accuracy but also help the user to bring a touch of humor to the text.
These tools prove to be a blessing for those who want to convert hilarious speech to text but are unable to find a particular tool. The people having hearing impairments it is more helpful to get access to the information visually. Hence you can take help from these tools to convert a talk show, an interview, or some news into text effortlessly.
Part 1: What Can You Do To Make A Hilarious Speech With Much Fun
The audience finds the speech more accommodating, amusing, and enchanting if a slight taste of playfulness is added to it. All the qualified speech-makers are well cautioned of inserting playfulness and cheerfulness in their talks. Even a little gleefulness helps in conveying their messages to the audience more compellingly and interestingly.
For delivering your hilarious speech more fascinatingly and compellingly, you can follow the suggestions given below:
Analyze the kind of audience presents there.
Instantly move forward after giving the speech a slight taste of hilarity.
Prevent from using disrespectful and offensive hilarious content.
Part 2: 5 Advanced AI Transcription Tools For Making Hilarious Speech To Text
The speech-to-text feature is now one of the most demanding and trending features. There are some unique and helpful platforms which provide easy interfaces with AI tools for giving access to the user to use and get benefit from their Speech to text feature.
(1) Riverside
One of the most used platforms is known for its modified AI-supported tools and hilarious speech-to-text feature. You will see the use of this platform especially for live streaming, conferences, and virtual events. There are many advanced features such as real-time transcription which can be used for converting spoken words into text.
Benefits
It comes with a feature of real-time transcription.
It is specially used for making videos of virtual events as the result is very eye-catching.
It has an easy interface with fast processing.
Drawback
It supports limited languages.
(2) Speechnotes
Speechnotes is a unique platform that has a large number of accessible languages and access to the user to convert their hilarious speech into text. It also has some personal use features such as it can be used for making notes, dictation, or writing long paragraphs.
Benefits
The required audio can be utilized in different text languages.
It can be used as a personalized platform.
It is accessible to every kind of user with different skill levels.
Drawback
It has limited and simple features.
(3) Otter.ai
Another AI-powered platform with different voice recording tools that are used for converting hilarious speech to text specially for meetings and interviews is otter.ai. It uses unique and advanced features that help in providing accurate and clear voice detection.
Benefits
It has a large number of collaborating and productivity tools.
It has a feature of speaker identification.
Because of AI features, the result produced is highly accurate.
Drawback
In the free version, there are some restrictions and limitations on the transcription and features.
(4) ElevateAI
ElevateAI is one of those platforms that gives accurate results. It is used for converting hilarious speech or audio into clear and high-quality text that saves time and effort. It comes with a large number of unique features with fast processing.
Benefits
The speed of ElevateAI processing is very fast which saves time and effort.
It comes with different unit editing tools for increasing productivity.
It has an easy interface that makes it accessible to every user.
Drawback
The speech recognition software is not well advanced and gives inaccurate results.
(5) Descript
If you want to use a platform that supports speech to text software then descript is a perfect choice. It has a large number of unique features overdub is the best one. It accesses the user regenerates the may make of the own voice and correct mistakes in the recording.
Benefits
An overdub feature is also provided for making corrections in the audio recording mistakes.
For editing you are provided a large number of audio and video editing tools.
Multiple users can use it at the same time. Which makes it one of the most used platforms for teamwork.
Drawback
If you are a professional editor or need high-quality features you have to get a paid subscription for a more advanced service.
Part 3: Bonus Tip: Best Alternative AI Video Editor With Speech-to-Text Feature
A bonus tip is provided to you because of reading this article. Besides other platforms with different features. This paragraph is consisting of a platform named HitPaw Edimakor. Let us have a look at this Ai video editor tool having a feature of speech to text:
HitPaw Edimakor
HitPaw Edimakor is not only a perfect choice for video editing but it also comes with additional features that make the video creation procedure more interesting. You can easily convert a talk show, a new clip, or any interview into a text file to be added to social media or for any other purposes.
This act of speech to text is very beneficial for the users who are not as interested in voices but prefer visual information.
Features Of HitPaw Edimakor
The library of templates and other options makes the whole process more creative
You are allowed to share the results with any social media platform directly through the app
You will be provided control to adjust all the settings of the tool.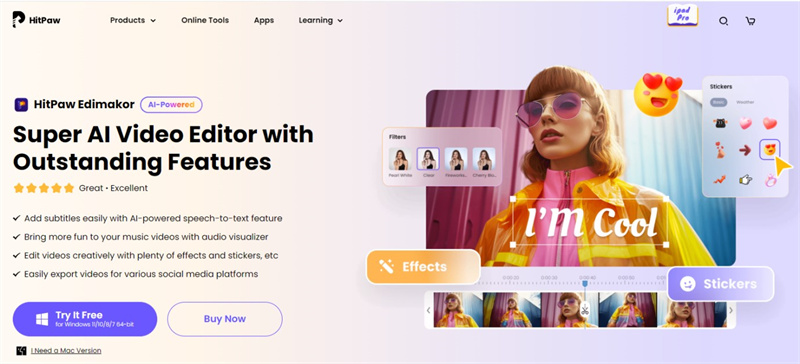 Part 4: FAQs About Hilarious Speech To Text
Q1. Where Can I Find Speech-To-Text?
A1. If you want to access a tool that allows you to convert a speech to text then no need to worry. There are a lot of such tools working efficiently in the market and attracting a large audience. You just have to move to any browser and then search for the particular tool. Once you reach the main interface, the remaining work will be guided to you.
Q2. What AI Turns Audio Into Text?
A2. If you step out to search for an AI that can turn audio into a text file then you will be confused with a great list of such tools. Therefore, it is suggested to go ahead with the HitPaw Edimakor without wasting time on other tools. This tool comes with such specifications that meet your requirements and provides you with the best results.
Q3. Can An iPhone Convert Speech To Text?
A3. People with iPhones can also take advantage of speech-to-text iphone features. They just have to get access to a speech-to-text tool and after inputting the speech, the text file will be handed over to them as soon as possible.
Bottom Lines
Creation of text content through a hilarious speech, that can attract a large audience, has become a very easy task just because of the wonderful tools available on the market. These tools come with a template that automatically converts a speech into text and tries to show the same feelings in the words. If you also want to transform a hilarious speech to text then do try one of the above-mentioned advanced AI transcription tools.