What Is Voice Reader And How To Use It?
VoiceReader is a technology that converts text into spoken words, allowing users to listen to written content. It utilizes artificial intelligence (AI) and speech synthesis techniques to deliver an immersive auditory experience.
In this article, we will explore what exactly a voice reader is and provide step-by-step instructions on how to use it effectively.
Additionally, for those looking for free options, we will present the best alternatives to AI voice reader tools available in the market today.
Part 1. What is Voice Reader?
Voice Reader is a software or tool that converts written text into spoken words. It utilizes advanced technology and algorithms, including artificial intelligence and speech synthesis, to produce high-quality audio output.
Voice Reader can read aloud any type of text, such as articles, documents, eBooks, webpages, and more.
Part 2. How To Use Google Voice Reader
To use Google Voice Reader, follow these steps:
1.

Click on the time display located at the bottom right of your screen or press Alt + Shift + s.

2.

Choose "Settings" and then click on "Accessibility."

3.

Look for the section labeled "Text-to-Speech" and select "Customize Voice Settings."

4.

Under the "Speech" option, choose the desired language and type of voice you want to hear.

5.

If you prefer a more realistic and lifelike voice, check the box that says, "Use natural voice when device is online." Please note that when using a natural voice option, the text you select will be sent to Google's servers for processing.
Part 3. Top 6 Voice Reader Text To Speech
When it comes to voice reader text-to-speech alternatives, there are numerous options available.
Here we will discuss the top 6 alternatives, highlighting their features, as well as the pros and cons of each:
1. Best Voice Reader - HitPaw Edimakor
HitPaw Edimakor is a top-notch text-to-speech tool specifically designed for PC and Mac users.
This software not only offers exceptional text-to-sound capabilities but also provides a comprehensive suite of features to enhance your video editing experience. With its user-friendly interface, even beginners can navigate through the software effortlessly.
Here is how to use HitPaw Edimakor:
Step 1: Download and launch HitPaw Edimakor on your PC.

Step 2: Import videos with ease using the "Import" button or drag-and-drop functionality.

Step 3: Organize videos by arranging them on the timeline.

Step 4: Utilize various video editing tools such as trimming, splitting, merging, cropping & resizing options.

Step 5: Preview edits in real time before finalizing them.

Step 6: Save or export edited videos directly onto your device.
Pros
Powerful text-to-sound AI technology expands creative possibilities.
Wide range of additional video editing features for comprehensive customization.
User-friendly interface ensures seamless navigation for users at all levels.
Add sounds, stickers, and texts to videos.
New upcoming text-to-speech feature.
Cons
The text-to-speech feature is not available yet.
2. HeyGen
HeyGen is an innovative online text-to-speech tool powered by AI technology. With an extensive collection of over 300+ voices in 40+ languages and multiple accents, HeyGen makes it effortless to convert written text into high-quality speech.
Pros
HeyGen offers a diverse selection of over 300 voices across various languages and accents.
HeyGen generates natural and realistic speech output.
The tool eliminates robotic tones commonly associated with traditional text-to-speech software, resulting in a superior listening experience for users.
Cons
Some advanced features may require a premium subscription or a separate purchase.
3. Natural Reader
Natural Reader is a standout among free text-to-speech tools, offering a range of exciting features.
This user-friendly tool allows easy access by directly loading documents into its library, providing convenience to users. With support for multiple files and various formats, Natural Reader offers versatility in managing textual content.
Its built-in OCR functionality further expands its capabilities by allowing accurate audio playback from photos or scanned text.
Pros
Natural Reader is completely free to use.
The tool supports an extensive range of file formats, enhancing usability for users with diverse document types.
Natural Reader's built-in OCR feature enables the upload of images or scans containing text and converts them into accurately narrated audio.
Cons
No enterprise-level support or advanced features suitable for professional use cases.
4. Oratlas
Oratlas is a free online tool that utilizes a speech synthesizer program to convert written text into spoken words. It offers various functions, including dictation, simulation of a speaker, virtual narration, and text playback.
Additionally, it provides the option to enter the URL of a webpage for reading its content aloud. Users can select from different natural voices, both male and female and also choose the language and country of origin for the reading.
Pros
Oratlas offers its services without any cost or subscription required.
The tool serves multiple purposes, such as dictation, speaker simulation, virtual narration, and text playback.
Users have the ability to input a webpage address to have its content read aloud.
Oratlas provides various high-quality natural voices with options for both male and female sounds.
Cons
While there are options for selecting voices and languages, further customization features may be lacking.
5. Murf.ai
Murf is a highly impressive and extensively utilized AI voice generator. It caters to professionals from various domains, such as product developers, podcasters, educators, and business leaders, who benefit from its capability of transforming text into natural-sounding speech.
Pros
Wide selection of voices and dialects
Built-in video editor for voiceover creation
Extensive library of AI voices in multiple languages
Voice changer feature for recording voiceovers
Cons
Paid subscription model for advanced features.
6. PlayHT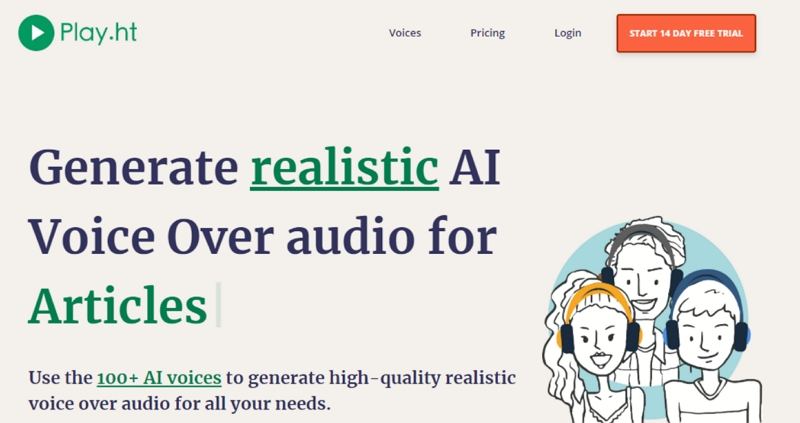 PlayHT is an advanced text-to-speech generator that harnesses the power of AI technology to create natural-sounding audio using voices from leading providers such as IBM, Microsoft, Google, and Amazon.
With its exceptional ability to convert written text into lifelike voices, this tool significantly enhances accessibility and engagement for users.
Pros
Convenient conversion of written content into audio format for easy listening.
Real-time speech conversion without any delays.
Wide selection of over 570 accents and voices to match specific requirements.
Versatile application in generating voice-overs for various purposes.
Cons
Limited customization options for fine-tuning voice parameters or accents.
Part 4. FAQs of AI Voice Reader
Q1. Which algorithm is best for speech to text conversion?
A1. The choice of algorithm depends on various factors such as the specific application, data set, and performance requirements. That being said, there are several popular algorithms commonly used in this domain.
Hidden Markov Models (HMMs) have been traditionally used and are effective at capturing temporal dependencies in speech signals.
Deep Neural Networks (DNNs), particularly with architectures like Long Short-Term Memory (LSTM) or Gated Recurrent Units (GRU), have shown significant advancements in recent years.
Q2. What are examples of voice AI?
A2. Virtual assistants like Amazon's Alexa, Apple's Siri, Google Assistant, and Microsoft's Cortana use voice recognition technology along with natural language processing (NLP) algorithms to understand user commands and provide information or perform tasks.
Q3. Can Google read words from a picture?
A3. Yes, Google has the ability to read words from a picture through its OCR (Optical Character Recognition) technology.
When you upload or share an image with text content, Google's OCR algorithms analyze the image and extract the text from it. This allows Google to recognize and interpret the words within the picture and make them searchable.
The Bottom Line
Voice reader technology has revolutionized the way we consume written content by providing an accessible and immersive auditory experience. Whether it's for individuals with visual impairments or for those who simply prefer listening to texts instead of reading them, voice readers offer a valuable solution.
While AI voice readers are popular, there are also free alternatives available that can meet your needs. One such alternative is HitPaw Edimakor, which not only provides text-to-speech functionality but also offers a wide range of additional video editing features.