Learn Everything About VoiceMaker And Its Alternatives
VoiceMaker is an advanced voiceover software that allows users to generate realistic and high-quality voiceovers. It uses artificial intelligence technology to create lifelike voices, making it a popular choice for various applications such as video production, podcasting, e-learning modules, and more.
We'll also discuss alternative options to VoiceMaker that you can consider based on your specific needs or preferences.
Part 1. What is Voice Maker Text To Speech?
VoiceMaker is a cutting-edge text-to-speech (TTS) software that converts written text into spoken words with remarkable accuracy and naturalness. It employs sophisticated artificial intelligence algorithms to generate lifelike voices, delivering a human-like quality of speech.
One of the standout features of VoiceMaker is its extensive roster of voice options. Users can choose from multiple professional-grade voices tailored for different purposes, whether it's narrating documentaries, voicing characters in video games or animations, or reading out educational materials.
Part 2. How To Use Voice Maker?
Here is how to use Voice Maker:
1. Go to www.voicemaker.in and choose the AI Engine (Standard TTS or Neural TTS). The neural option provides the most natural voices.

2. Type in the text that you want to convert into speech.

3. If you want a pause between lines, add ".\n" at the end of each line

4. Select your preferred language and voice from the available options (over 700 voices in 60 languages).

5. Click on "Convert to Speech" (a yellow button) and listen to your text being spoken out magically.

6. You can also download the speech as an MP3 file for free.
Part 3. Top 6 Voice Maker Text To Speech Alternatives
When considering alternatives to VoiceMaker for text-to-speech capabilities, here are 6 options worth exploring:
1.Best Alternative Of Voice Maker - HitPaw Edimakor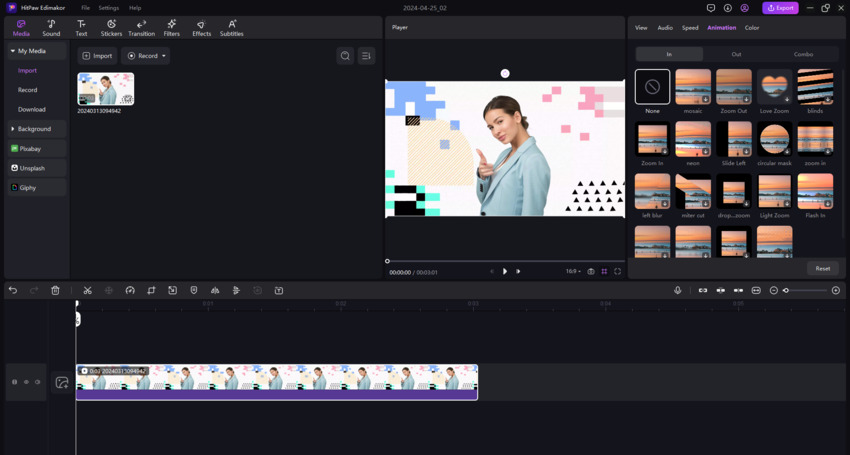 If you're looking for an alternative to AI Voice Maker, HitPaw Edimakor is a top choice. With its text-to-speech functionality and a range of other versatile editing features, HitPaw Edimakor offers a comprehensive solution for creating and enhancing videos.
Pros
Like Voice Maker, HitPaw Edimakor allows you to convert written text into speech effortlessly
In addition to text-to-speech functionality, HitPaw Edimakor provides various editing tools such as video cropping, adding stickers and texts to videos, and more
The software features an intuitive interface that makes it easy for both beginners and advanced users to navigate
Whether you're using Windows or Mac OS, HitPaw Edimakor works seamlessly on both operating systems
Cons
The text-to-speech function will come out with the next version of HitPaw Edimakor
2.HeyGen
HeyGen is an AI-powered online text-to-speech tool that provides users with a vast selection of natural voices.
With its extensive range of over 300+ voice options in 40+ languages and various accents, HeyGen enables effortless conversion of written text into high-quality speech.
Pros
HeyGen offers more than 300 voices across multiple languages and accents, providing users with diverse options for selecting the perfect voice
The speech output generated by HeyGen sounds incredibly lifelike and authentic
Using Heygen can help save time and costs compared to traditional methods for creating studio-quality voiceover videos
HeyGen is easy to navigate and use from any location with an internet connection
Cons
HeyGen's online platform may have compatibility limitations with certain devices or operating systems
3. Colossyan Creator
Colossyan is a prominent text-to-video solution that specializes in providing an affordable content localization service without compromising on product quality. With a strong emphasis on engineering and AI research, they have positioned themselves as leaders in their field.
Pros
Cost-effective content localization solution
Strong focus on engineering and AI research
Able to create engaging videos from various text sources
Customizable actors with facial expressions, tone of voice, and aging options
Cons
Very expensive AI voice maker
4. Descript
With its advanced text-to-speech capabilities and a wide selection of high-quality voices, Descript allows you to create natural-sounding speech effortlessly.
Pros
Ultra-realistic voices with human inflections
Cutting-edge speech synthesis technology
Privacy and security measures in place
Ability to create multiple versions of your own voice
Cons
Limited sharing options for Overdub Voice distribution
5. Murf.ai
If you're looking for an impressive and widely used AI voice generator as an alternative to Voice Maker, Murf is an excellent choice. It offers a range of features that cater to professionals in various fields, including product developers, podcasters, educators, and business leaders.
Pros
Murf excels at converting text into natural-sounding speech, providing high-quality voiceovers
Users have access to a diverse collection of voices and dialects to choose from according to their preferences or project requirements
In addition to text-to-speech conversion, Murf also offers a built-in video editor that allows users to create videos with voiceovers seamlessly
With over 100 AI voices available in 15 different languages, Murf provides extensive language support for global users
Cons
While Murf does offer customization options for voices and accents, it may not provide the same level of detailed control as some other alternatives
6.PlayHT
PlayHT is an advanced text-to-speech generator powered by AI technology. It utilizes voices from renowned providers like IBM, Microsoft, Google, and Amazon to produce natural-sounding audio. With its ability to convert written text into lifelike voices, PlayHT enhances accessibility and engagement for various applications.
Pros
Easily transform blog posts or any written content into audio format for a convenient listening experience
Instantly convert typed or imported text into natural human-like speech in real-time without the need for lengthy processing times
Choose from a vast collection of over 570 accents and voices offered by reputable providers like IBM, Microsoft, Google, and Amazon to find the perfect match for your specific requirements
Generate high-quality voice-overs suitable for videos, e-learning modules, podcasts, audiobooks, and more with ease
Cons
Availability of certain features or compatibility could vary across different platforms or operating systems
Part 4. FAQs of AI Voice Maker
Q1. Is Voicemaker safe to use?
A1. Yes, VoiceMaker is generally safe to use. It is a reputable voiceover software that has been developed and tested by professionals. However, as with any online service, it's important to ensure you are using the official website (www.voicemaker.in) to access VoiceMaker.
Q2. What is the limit on Voicemaker free?
A2. The limit for character conversion varies depending on the pricing tier. For the free version, it allows up to 250 characters per conversion. However, for the audiobook and podcast creation tier, users can convert up to 1 million characters at a time.
Q3. Can I use voicemaker for commercial use?
A3. You have permission to utilize voices created by Voicemaker for commercial purposes and share them with third parties for commercial use.
However, it is important to note that this commercial right does not extend to reselling. You are prohibited from reselling or offering to resell Voicemaker's offerings to any third party.
The Bottom Line
Exploring VoiceMaker and its alternatives has provided us with a deeper understanding of the capabilities and options available for text-to-speech software.
While VoiceMaker stands out for its advanced AI technology and extensive voice selection, alternatives like HitPaw Edimakor offer a comprehensive suite of editing features in addition to text-to-speech functionality.